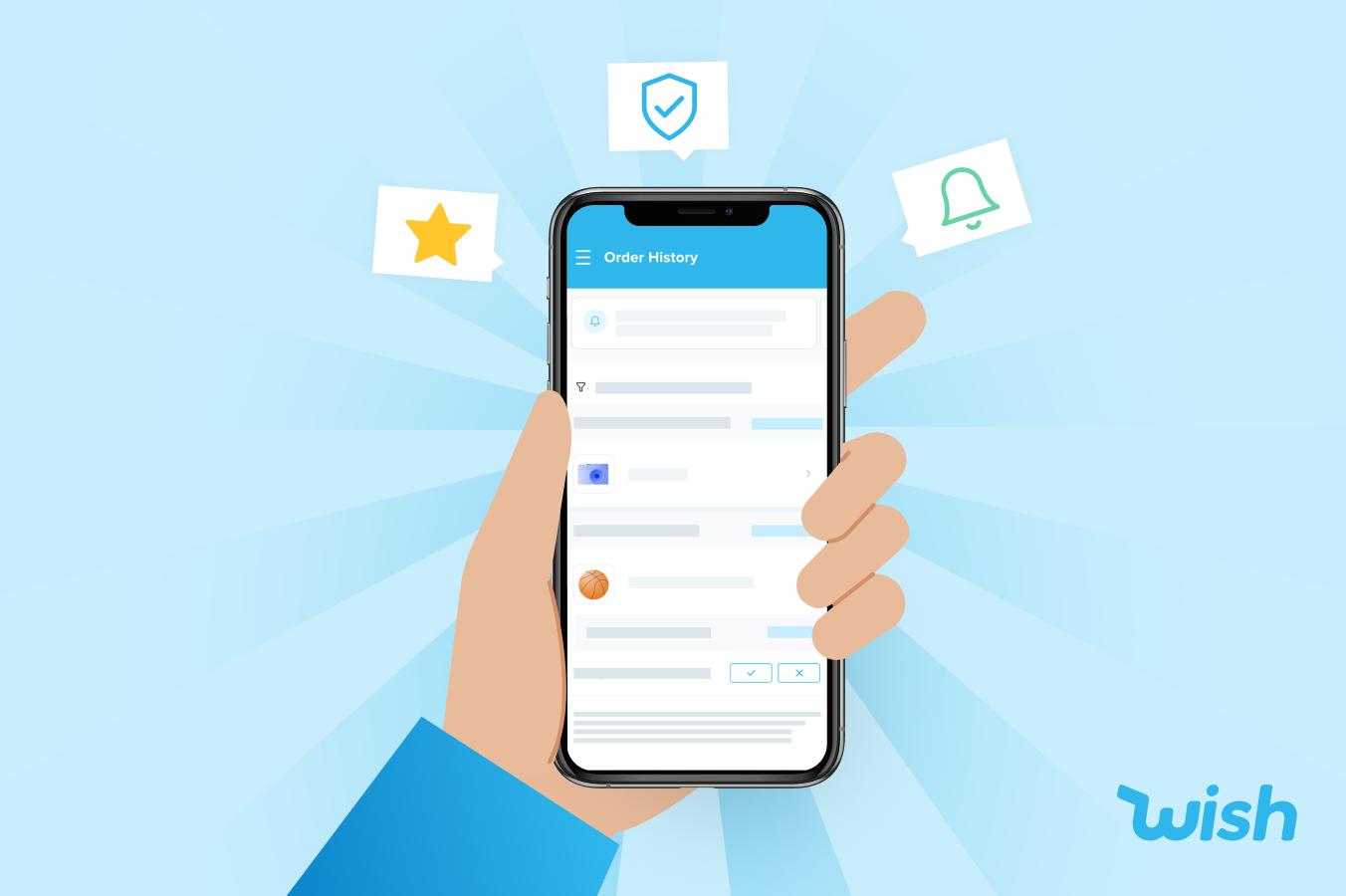 If you're like me, knowing where your package is at all times is the only thing keeping you from camping outside, waiting for it to arrive.
Luckily, once you've purchased an item on Wish, it's automatically logged within the app. Once you purchase the item, you can reference it whenever you want through your order history. Whether you're looking to repurchase it, gift it, or share the link with your friends, it'll be there.
Knowing where to find your Wish order history is also handy because that's where you'll find important information about your package. Read on to discover how to use and troubleshoot all things order history.
About order history
Think of order history as a home base for your purchases on the Wish app. It is a record of everything you've purchased through your account. There, you'll be able to review receipts, track order status, track packages, contact support, and rate/review items.
In your order history tab, you'll be able to see all of the orders you've made. To access your Wish order history, you'll need access to the Wish account you used to purchase the item. If you don't have one yet, be sure to create one so that your future purchases link to it.
How do I check my order history on Wish?
There are a few ways to check your order history on Wish. If you're using Wish on the mobile app, follow these steps:
Click on the

≡

menu icon located at the bottom right-hand corner of the screen
Tap Your Orders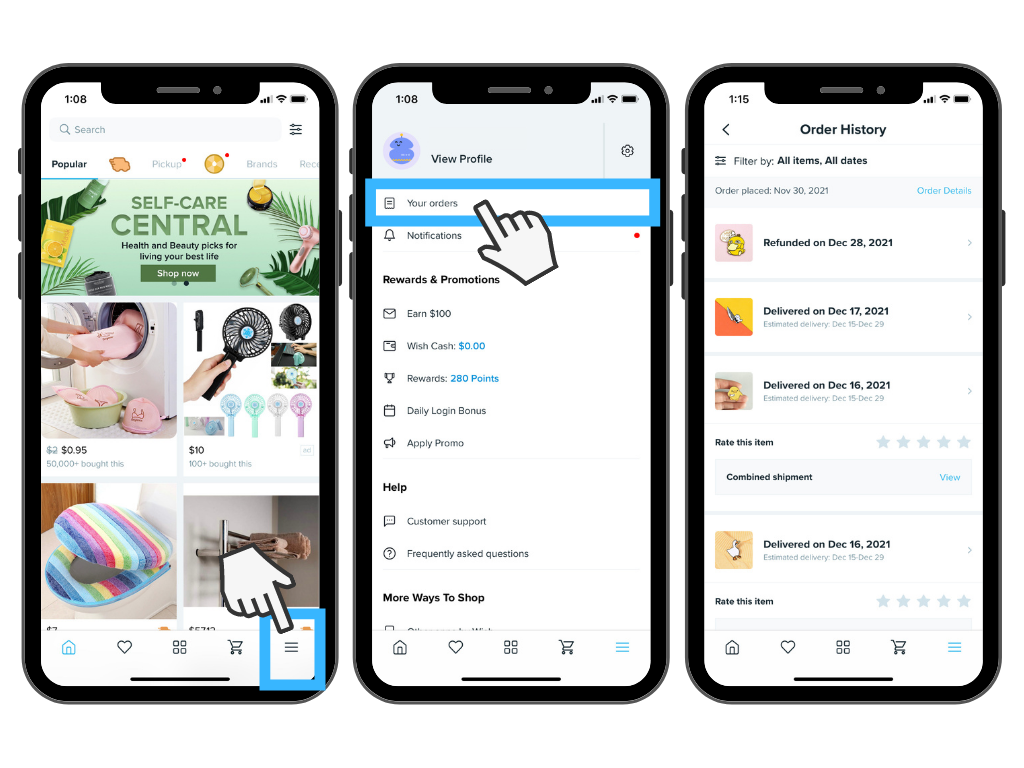 How to find Wish order history in-app
If you're using Wish on a browser, follow these steps:
Navigate to the Wish website and log into your account

Hover over your photo near the top right-hand corner in the navigation bar

Select Order History from the dropdown menu
How to find Wish order history in a browser
How can I use order history to my advantage?
There are a few hacks for searching through order history. Knowing where your order history is can come in handy if you want to leave a review, track shipments, or need help with an order.
Check out clever ways to the order history feature:
Filter order history by item type and order date

Track a parcel using the direct link to the carrier site

Review an item right from the order history page to earn up to 40 points, which you can use to get rewards

Click Need help with this item? at the bottom of the order history detail page to view the

return & refund policy

, visit the

help center

, or contact support
Troubleshooting order history
If you're still having trouble with your order history on Wish, don't worry! Here are a few ways to fix common issues.
Can I clear my order history on Wish?
Unfortunately, there is no way to hide or clear your order history on Wish as of now.
If you share an account and want to purchase an item on Wish as a surprise, consider creating a separate account for your own use. You'll need to use a different email address to create a new account on Wish.
My Wish order history is not loading
On rare occasions, even if you've followed all of the steps above, you may find that the order history page isn't loading. When that happens, there are two things that you can try.
First, check for updates for the Wish app on your phone. To do this, search for the Wish app on The App Store or The Google Play Store and follow these steps:
Download the latest version of the Wish app if there's a new update

Then, try navigating to your order history again
If you still can't view the order history after updating the app, try logging into your account from a browser. You can use any internet browser on your mobile or desktop device.
In the navigation bar, type in

www.wish.com

Log into your Wish account and try navigating to your order history again
There's no order history in my account
If you log in and find that your order history is blank, double-check that you've logged into the right account.
Once you log out of that account, you'll see that there are a few other ways to log into Wish. If you have another email and password that you often use to shop on Wish, try logging in with those credentials. You can also try a one-tap sign with your Apple ID, Facebook account, or Google account.
Can I check on my order as a guest?
Currently, there's no way to check on your Wish order as a guest. You must log into your Wish account to see your order history. If you can't sign in because you don't remember your login details, you can reset your password by clicking Forgot password? on the login page.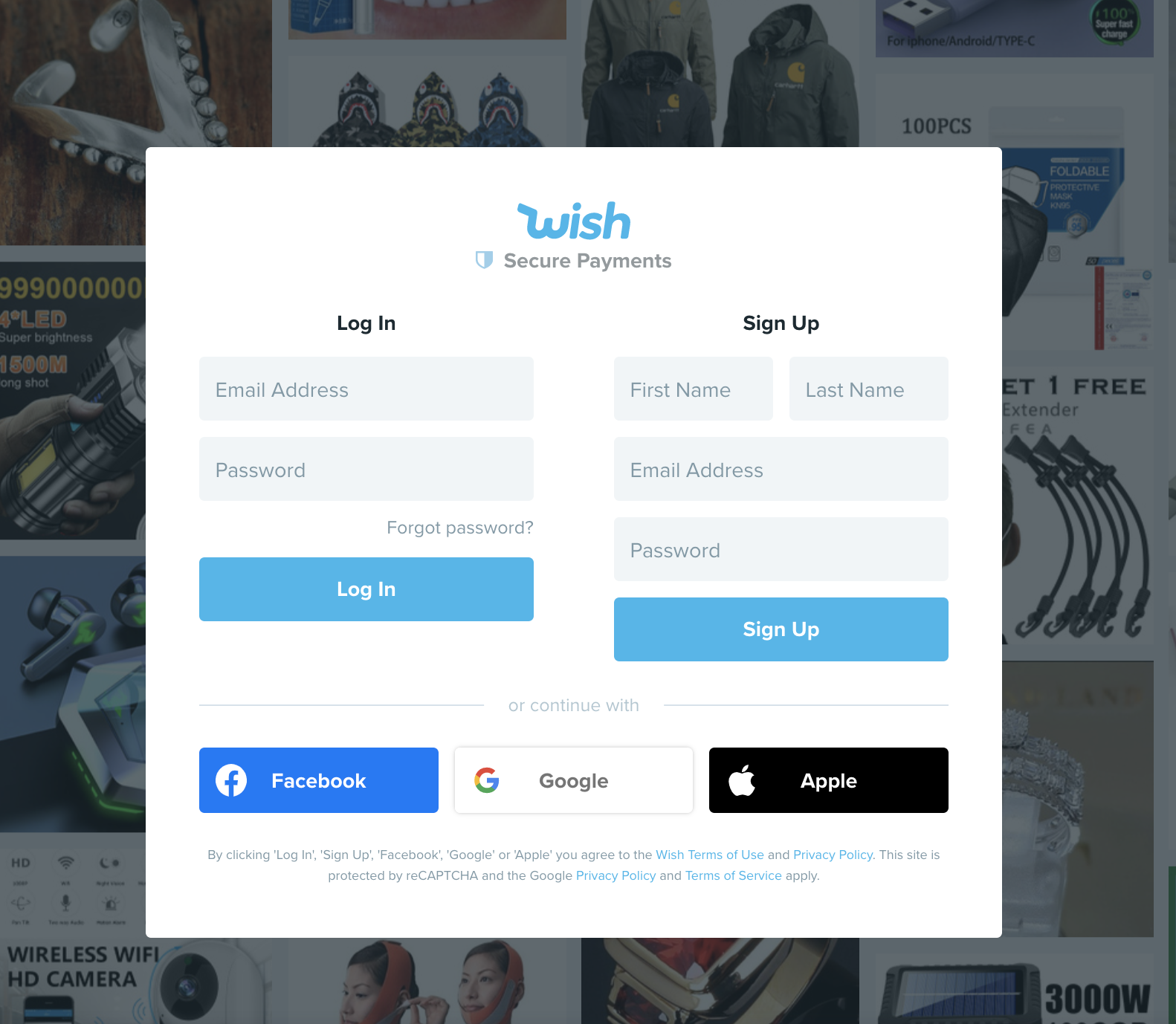 Wish sign-in options
If you don't want to reset your password, you can still review your order status from the email confirmations sent to your email address. Every time you order from Wish, you'll receive three emails about your order:
The first email notifies you that your order has been placed

The second email notifies you once the package has shipped

The third email notifies you that your package has been delivered
Each email listed above will have your order ID, shipping address, tracking number (if it's been shipped), and delivery estimate in it. So, even if you can't log into your Wish account, you should still be able to get information about your order as long as you haven't deleted those emails. Check your spam folders if you have not received the emails above.
Pro tip: if you'd like to get order status notifications in the app, make sure you check off that you'd like to receive these updates in your Wish account settings.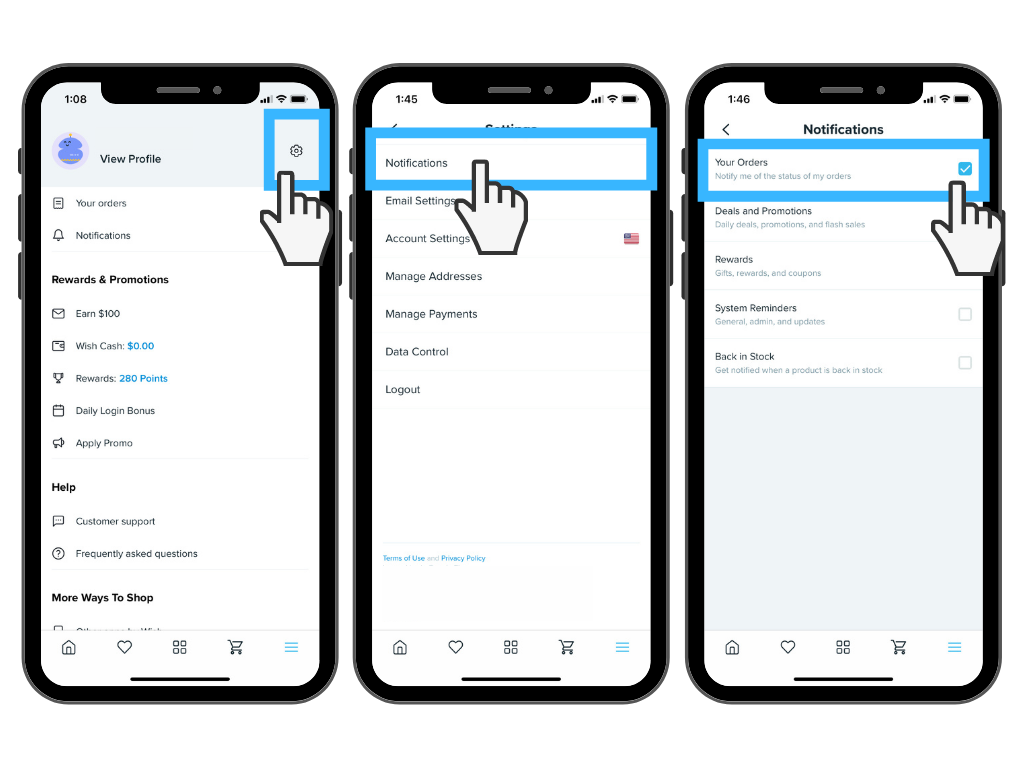 How to turn on order notifications in-app
When to contact Wish Customer Support
Sometimes, it's just easier to talk things through with a human. If you're experiencing issues with your account's order history and need to resolve a problem immediately, follow these guidelines about when and how to contact Wish Customer Support.
It's always best to use the Need help with this item? at the bottom of the order history detail page if you have a question or problem with an order. This way, our Support Specialists can quickly help you with your exact item.
If you're experiencing a problem with your account or detect suspicious activity, select Customer support, found within the ≡ menu button.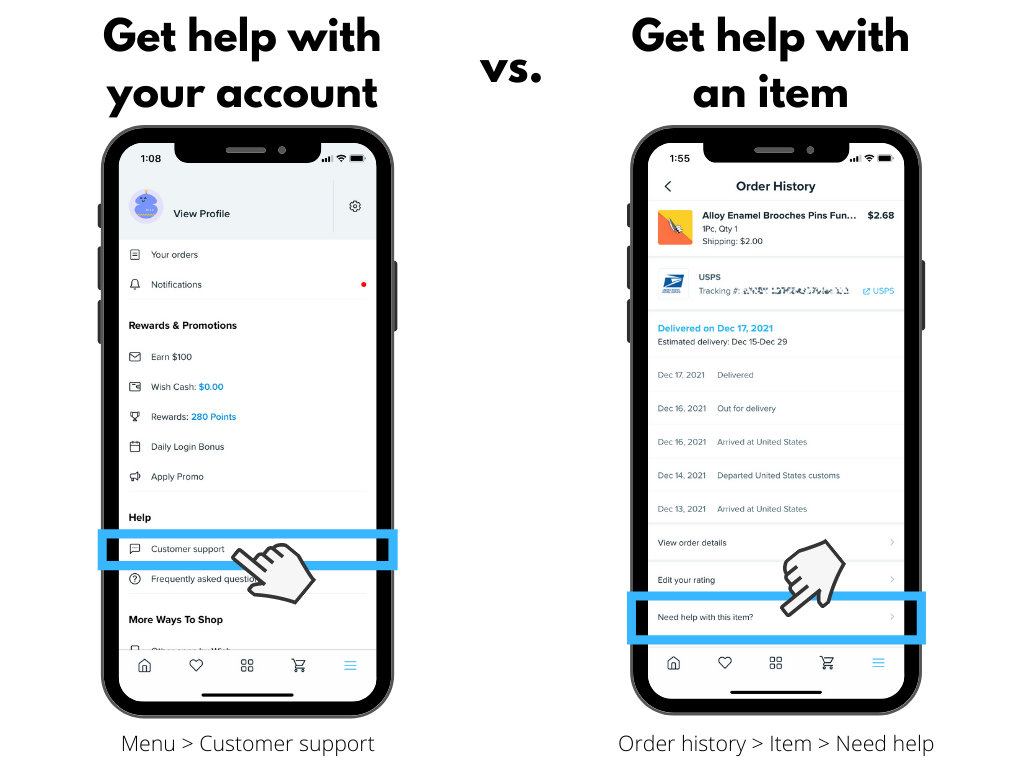 How to contact Wish customer support in-app
In circumstances where you can't access the email associated with your account and cannot log in, you should contact Wish Customer Support directly.
The takeaway
Congratulations! You're officially a pro. Understanding order history and where to find it in your Wish account means your order information is at your fingertips. You won't have to hang onto any receipts to return items, and isn't that the real win here?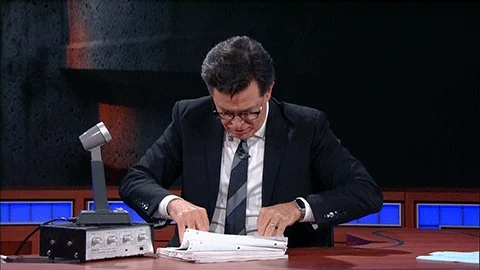 Ever been curious about where the unique products on Wish come from? For details about how packages make their way to your home, find out where Wish products come from.