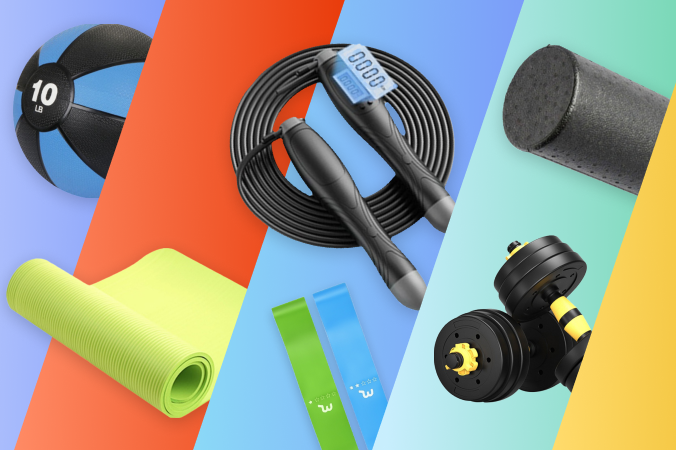 The start of 2022 is a chance to start fresh and put new fitness goals into action. But, before you can get moving, you'll need to grab some at-home exercise equipment. With that in mind, we've rounded up a wide selection of affordable workout items to help you get started on your fitness journey, without slimming down your wallet. As an added bonus, these items won't occupy too much space and are easy to transport when you want to take your routine away from home. Whether your goal is weight loss or to simply get more active, we've got you covered. Ready to set up your home gym? Keep reading.
Mini foot pedals
No more waiting in line to use a bike at the gym. Keep your legs moving without having to invest in large machines with an exercise bike peddler. Plus, you can use the machine to sneak in some movement while watching your favorite T.V. show, or place it under a desk to cycle while working. Most mini foot pedals also do double-duty for both legs and arms with multi-level resistance options.
Workout mat
Whether you're doing yoga, floor exercises, or stretching, mats are a must-have for cushioning and stability.
Resistance bands
Resistance bands are a versatile way to add strength training into your routine, especially if you want to avoid bulky lifting equipment. They come in a variety of colors, lengths and thickness levels so you can select the right bands to fit your needs.
Mini exercise trampoline
If you're looking to get in some cardio, but space is an issue, then look no further than a mini trampoline (also known as a rebounder). It takes up minimal space and you'll have so much fun jumping, you'll forget you're even exercising.
Dumbbells
From bicep curls to overhead presses, dumbbells can be used for a number of different workouts. You can purchase individual free weights or, to save even more space, opt for adjustable sets which replace several dumbbells as one compact size.
Medicine ball
Looking to get an intense full body workout with just one piece of equipment? Medicine balls are available in various weights and sizes and the exercises you can do with them (e.x. throwing, slamming, squatting) are virtually limitless.
Jump rope
Jumping rope isn't just for kids. It's an effective way to get your heart pumping and burn some serious calories. When you're ready, you can even upgrade to weighted ropes for a more challenging workout.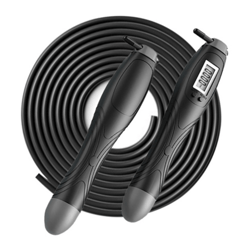 Foam roller
Because you're working out so hard, you may want to incorporate self massage into your routine. That's where a foam roller comes in. Keep one on hand to loosen up tight muscles before or after exercise.
Ultimately, deciding which fitness equipment to buy depends on your goals. To browse more budget-friendly options for your at home workout needs, visit the Wish app.