Shop With Confidence: Introducing Premier Merchant Badges And Wish Standards
What's little, blue, and new?
Premier Merchant badges! These blue ribbons are just that—badges of honor for outstanding merchants! And they're made possible by the Wish Standards program.
Whether you're the type to scroll through Wish Clips every day or more of a check Blitz Buy once-a-month type, we've made it easier for you to know what to expect when you buy on Wish.
Read on to learn more about Wish Standards, Premier Merchant badges, and how they help shoppers like you buy with confidence.
About Wish Standards
The Wish Standards program helps shoppers and merchants alike.
For shoppers, Wish Standards helps identify which items are highly rated and shipped on time. For merchants, Wish Standards rewards exceptional merchants with benefits that may increase visibility on the platform and help their business grow.
There are 4 tiers within Wish Standards:
Platinum
Gold
Silver
Bronze
Merchants are awarded specific tiers based on various factors, like customer feedback ratings, if they send out orders quickly, if they follow Wish policies, and more. Every qualifying merchant is automatically enrolled in the Wish Standards program.
Wish tracks all of these metrics in an automated way, so Platinum and Gold-tier merchants that consistently meet or exceed those metrics are awarded the Premier Merchant badge.
What is a Premier Merchant?
Premier Merchants are Platinum or Gold tier merchants that have risen through the Wish Standards rankings. Products with this icon on the page help you identify that the merchant selling the item is a Premier Merchant.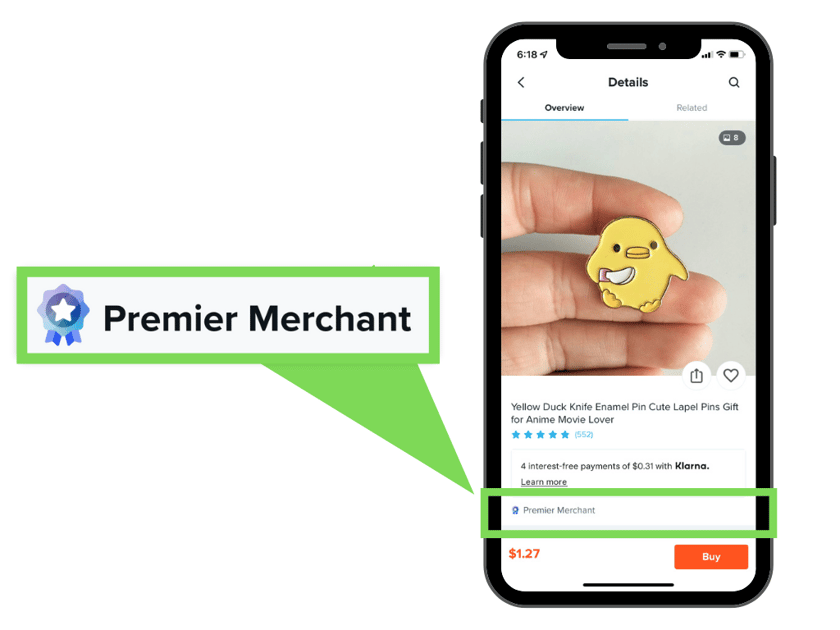 A close-up of the Premier Merchant badge
What if the merchant has no badge?
See a listing where the merchant doesn't have a Premier Merchant badge? If there isn't a Premier Merchant badge on a listing, it could be because the merchant is new or hasn't met the tier rating requirements yet.
That doesn't mean the merchant isn't an excellent seller, though. New merchants that join Wish must meet and maintain certain milestones to receive tier ratings. Until they meet those milestones, they're considered unrated merchants.
You can still purchase from merchants that don't have a Premier Merchant badge. If you're happy with your purchase, leave a positive rating, review the item, or buy from them again to help them achieve Premier Merchant status.
Clever ways to use Premier Merchant badges while shopping
Here's how shoppers can use Wish Standards to make informed purchasing decisions.
Buy from vetted merchants
To use these features to your advantage, you'll want to know what purchasing from merchants with Premier Merchant status means.
Premier Merchants are awarded their status based on:
Item rating: Average star rating for this merchant's orders is 4 stars or more
Seamless logistics: Orders are promptly fulfilled with up-to-date tracking
Customer satisfaction: This merchant has low refund rates, positive feedback, and generates repeat purchases on Wish
This strategy is great for first-time shoppers. If you see a Premier Merchant badge on a listing, that's a good sign. They have a track record for providing outstanding customer experiences!
Narrow down your options
Imagine this: you've become a pro at trimming your hair at home. Bangs, back-of-the-head layers… you can even hold your arms up in the air for a full minute to cut without getting tired. You look in the mirror to admire your work; yep, it's just how you like it, until you look down and see tiny little trimmings in the sink, on the floor, and stuck to the caulking. Arrrg.
Enter the wacky (but genius) umbrella hairdressing cape you discovered while scrolling through Wish. But, there are, like, thousands of results. How do you choose which one to get? Check the page for the Premier Merchant badge.
Now, you can rely on customer reviews, Wish's Money Back Guarantee, and Wish Standards to have your back.
Discover new products from Premier Merchants
If you've purchased something from a Premier Merchant before and had a great experience, you may like other items in their inventory.
Luckily, you can check your order history to get back to their store. Here's how to view the rest of their offerings from the order history page:
Navigate to the item in your order history

Click on the image to get back to the product page

Scroll down to where it says Sold by
Click Visit Store

Select the tab according to your device

On iPhone, select the Latest tab
On Android, select the All Items tab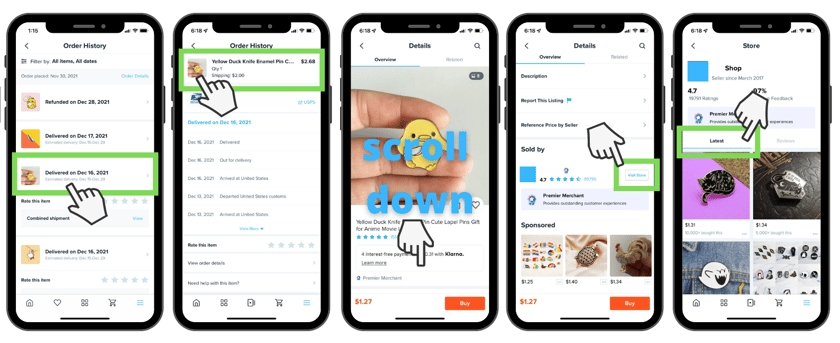 If you're curious about checking a Premier Merchant's inventory from the product page, follow only steps 3-5.
How to find Premier Merchants
Other than making sure you're using the latest version of the Wish app, there's nothing extra you have to do to see Premier Merchant badges on the product page.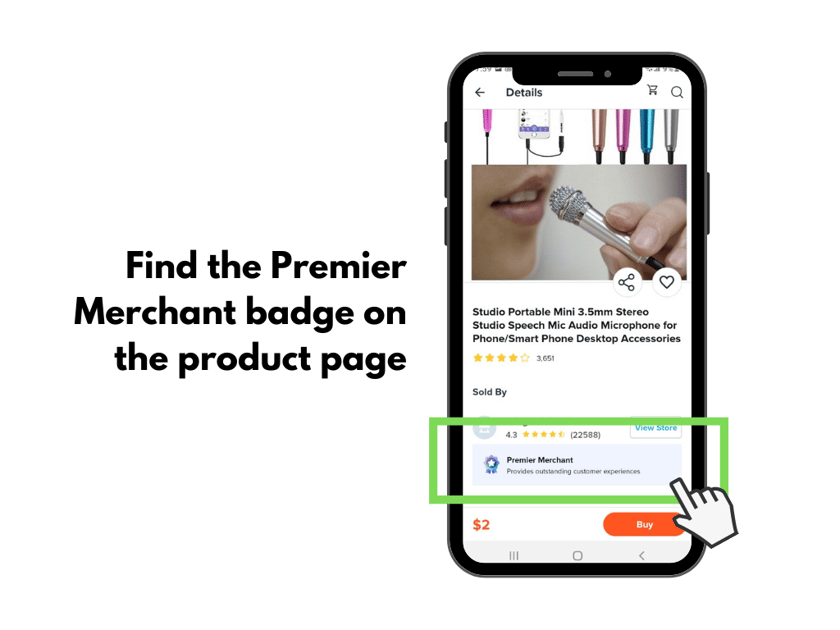 Soon, you'll see Premier Merchant badges sprinkled throughout the app. It will likely appear on your discovery feed, search queries, related products, or recommendations to help you discover dependable picks.
If you're shopping on Wish and don't see Premier Merchant badges, the update may not be available on your device yet. But it won't be long until it is! We've got plans to help you filter for Premier Merchants, review Premier Merchant collections, and more.
More updates to come
Wish Standards is just one way that we're working to improve your shopping experience on Wish. There may be many new changes to the program and how it works for shoppers, so stay tuned!