The Flavors of Autumn: 12 Easy Fall Baking Recipes
There's something uniquely delightful about fall, the season of change and transformation. As soon as green leaves begin to turn vibrant hues of amber and gold, we find ourselves preparing for all the wonders autumn has to offer. In addition to cozy sweaters and that refreshing chill in the air, we get to enjoy spooky Halloween costumes, grand Thanksgiving dinners, and scrumptious harvest baked goods that fill the tummy and warm the soul.
This last delight is easily one of the season's most beloved offerings. Whether it's a hot-out-of-the-oven apple pie, fresh and fragrant pumpkin spiced cookies, or a slice of moist, fluffy carrot cake— fall is a time to satisfy sweet cravings and share homemade confections with those we love.
And the best part? You don't need to be an expert at fall baking to whip up delicious treats that will impress your friends, co-workers, or family members. You just need to know a few key ingredients and techniques. And remember, baking is all about bringing joy to those around you, so try not to take it too seriously. If your first batch doesn't turn out the way you hoped, keep trying! Practice makes perfect.
Keep scrolling for all our favorite fall baking recipes, tips, and tricks!
The Elements of Autumn Flavor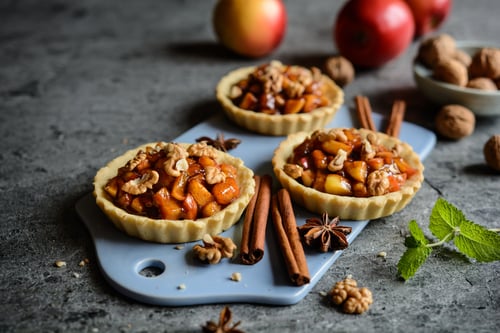 Photo credit: noirchocolate - stock.adobe.com
There's a reason why fall baked goods are so distinctly delicious— they share a flavor palette that's earthy, rich, warm, and toasted. Specific ingredients are used to achieve this signature taste, which is synonymous with the season, and evokes feelings of comfort and coziness.
Here are some of the most essential ingredients for fall baking:
1. Cinnamon
Cinnamon is an absolute must-have for anyone looking to whip up some inviting fall treats. This super-aromatic spice adds a complex, woodsy, and rich flavor to both sweet and savory dishes. It pairs beautifully with nuts like almonds and pecans, or with seasonal fruits like cranberries, oranges, and apples.
2. Nutmeg
The strong, sharp, nutty flavor of nutmeg is always a great addition to any fall baking recipe. In fact, many of your favorite autumn treats, like gingerbread cookies and eggnog, use nutmeg for that little extra pop of spice. You'll want to show restraint with nutmeg, though, since just a small amount will have a big impact on the overall flavor of your dish.
3. Apple
When you think of wholesome, homemade baked goods, it's almost impossible not to think about apples. There are apple fritters, apple crisps, caramel apples, and of course, the traditional American staple— apple pie. These crisp, tart and versatile fruits come in many different varieties, including granny smith, pink lady, honeycrisp, golden delicious, and winesap. Each variety has its own unique flavor profile, so it's always a good idea to experiment with different types until you find one you like best.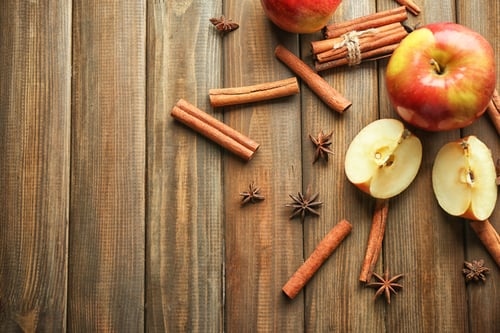 Photo credit: Pixel-Shot - stock.adobe.com
4. Caramel
Sweet, sticky, and buttery, caramel is the perfect choice for bakers looking to add warmth and creaminess to fall-themed recipes. It can be used to sweeten sauces, baked with nuts to make a brittle, or simply drizzled over your favorite latte. Just remember that caramel hardens when it cools off, unless you mix it with an acid (like lemon juice) or add water/cream to your recipe.
5. Cloves
Cloves are a potently aromatic spice with a biting taste and somewhat sweet aftertaste. They are frequently used in both sweet and savory dishes, adding a peppery flavor that pairs well with seasonal produce like pumpkin, squash, or beetroot. You can also add cloves to proteins like beef and pork for richer, more robust seasoning.
For even more inspiration, we encourage checking out ingredients like star anise, turnip, sweet potato, fig, pecans, and maple. Just do a little research to familiarize yourself with their various flavor subtleties before you begin baking!
How to Prepare Your Pantry for Fall Baked Good Recipes
Baking requires a lot of precision, planning, and perseverance. Things can (and do) go wrong, but when they go right they're so worth it. What many novice bakers fail to realize is that the world's best bakers set themselves up for success long before they begin mixing ingredients or pre-heating their oven. The more proactive you are about turning your fall baking ideas into a real, tangible gameplan, the less likely it is you'll run into difficulties along the way.
Here are the primary pantry items you'll want to stock up on ahead of time: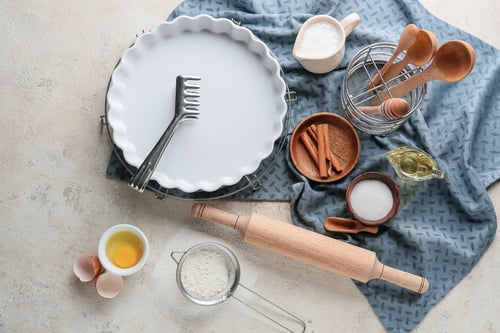 Photo credit: Pixel-Shot - stock.adobe.com
1. Small Appliances
Why do everything the hard way when you can use state-of-the-art appliances that make baking a breeze? With just a few vital pieces of equipment, you can not only churn out heavenly confections in less time, but also enhance flavors and textures for that professional-grade finish. Our must-have kitchen baking appliances include a stand mixer, a bread maker, and a high-quality convection oven.
2. Handheld Tools
There are several tools a pastry chef or baker simply can't function without. The first one is a good set of durable and easy-to-store measuring cups. Baking requires the utmost attention to detail and a set of accurate measuring cups (for both liquids and dry ingredients) will ensure you never miss the mark. You'll also need a rolling pin, ideally made from silicone or a sturdy wood like maple or walnut, to ensure you achieve perfect, evenly-leveled dough each time you bake. And last but certainly not least, you'll need a silicone spatula to easily maneuver around the side of your mixing bowl and scoop up batter without leaving any goodness behind.
3. Extracts and Spices
We mentioned a few of the most popular fall spices above (which we strongly recommend stocking up on prior to finalizing your list of fall treats to bake), but there are some other key staples you'll need to add to the list. Vanilla extract, for instance, is an absolute must-have. It enhances all the other flavors in a particular recipe while adding a gentle sweetness— what's not to love? We also recommend stocking up on other sweeteners, like chocolate, brown sugar, and honey, since each will enrich your recipe in its own way.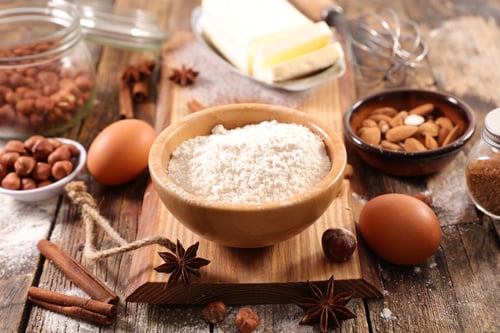 Photo credit: M.studio - stock.adobe.com
4. Strengtheners
Strengthening ingredients are used to ensure baked goods don't fall apart or lose their shape after they come out of the oven. The most common strengtheners are flour and eggs, but it's important to remember that there are many different types of flour to choose from, including whole wheat flour, all-purpose flour, almond flour, self-rising flour, and rye flour. There are also a wide range of substitutes for eggs that can be used in baking, like applesauce, ripe banana, peanut butter, and ground flaxseed.
5. Fats and Shortenings
This is the final fundamental component of any baking recipe. Many people use the terms "fat" and "shortening" interchangeably but there is actually a difference. Technically, shortening refers to pure, 100% hydrogenated vegetable fat. Other fats, like butter, margarine, and lard serve the same purpose as shortening in a baking recipe but aren't the same ingredient. Ultimately, fats and shortening are used to keep baked goods moist, gooey, and extra delicious.
With these staple items in your pantry, you'll be ready to make everything from cakes and cookies to pastries and pies. Remember, always double-check your recipe before your big baking day to ensure you have everything you need!
12 Easy Fall Baking Recipes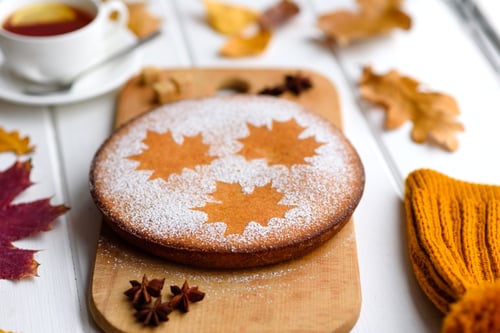 Photo credit: chernikovatv - stock.adobe.com
Sometimes simple desserts are more than enough to delight the senses— and this apple cranberry crumble is proof! The acidic bitterness of cranberries is balanced out by the deep sweetness of brown sugar, while the crunchy oat topping provides a lovely crisp texture that will keep your guests coming back for more. A fantastic choice for anyone seeking easy fall baking recipes.
Quick Tip:

Use a shallow baking dish when making crumble and avoid the temptation to add heaps of topping. If your crunchy oat layer is too thick, your dessert will be too rich and buttery (yes, there is such a thing!). You want to be able to enjoy the tartness of the fruit as well.
All the sweet, buttery goodness of a cinnamon roll— but in loaf form! This is a no-brainer for anyone seeking to emulate fall bakery ideas. The bread itself is spongy and moist, while the crackling crust top provides just the right amount of contrast. It's great with a little warm butter and a fresh cup of coffee in the morning, or as a post-Thanksgiving dinner delight.
Quick Tip:

You'll need a bread pan for this recipe, and you'll want to consider the size of your bread pan when measuring out ingredients. If your bread pan is much bigger than the one used in the recipe, you'll need to leave your cinnamon swirl bread in the oven a little longer.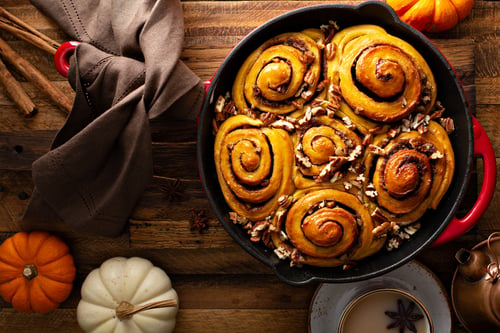 Photo credit: fahrwasser - stock.adobe.com
Sometimes a bite-sized treat is all you need to satisfy your sweet tooth after a hearty harvest meal. These tiny pumpkin pies are perfect for large gatherings and can be topped with whipped cream for a little extra creaminess. Talk about good things coming in small packages!
Quick Tip:

You'll need a hand mixer to blend your pie filling. While an electric hand mixer will likely be the fastest and most convenient option, manual ones also work well. The choice is entirely yours!
Trust us, you won't be able to eat just one of these caramel butter pecan cookies. These mouth-watering little pieces of joy are truly made with sugar, spice, and everything nice. And the caramel sauce on top? Pure heaven!
Quick Tip: Give your cookies that special personal touch with cookie cutters! There are all sorts of fun shapes to choose from and it's a fantastic way to let your creativity shine. This a great tip if you're baking for kids or a holiday party.
Did you know the very first recipe for gingerbread dates back to Greece in 2400 BC? There's a reason this recipe has stood the test of time— it's lip-smackingly delicious. And with this gingerbread bundt cake recipe, you get all the traditional flavors of gingerbread with the moist texture of cake and a warm, sticky, sugary glaze on top.
Quick Tip: There are many different types of bundt cake pans. You can get a traditional stainless steel pan, a silicone pan, or a ceramic one. They also come in a wide variety of patterns to give your cake a unique look. Experiment to find which one you like best!
The word "cheesecake" speaks for itself, but if that wasn't enough to sell you on this recipe, the addition of pumpkin spice will likely do it. This pumpkin cheesecake roll is everything that makes fall enjoyable, all rolled up into one yummy dessert. (Pun intended!)
Quick Tip: Use a sieve shaker to evenly dust your pumpkin cheesecake rolls with powdered sugar when they're done baking. After all, it never hurts to add a little sweetness!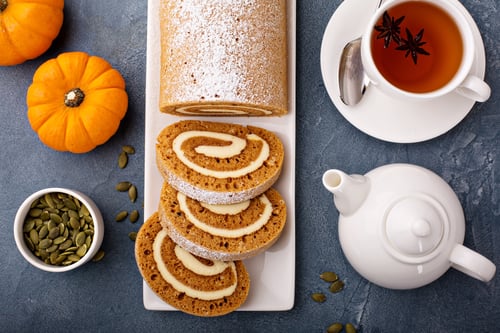 Photo credit: fahrwasser - stock.adobe.com
When it comes to fall recipes, baking enthusiasts often overlook breakfast recipes to start their day off right. However, there are plenty of baked goods that are best enjoyed in the morning— including these orange and cardamom muffins, which offer a harmonious blend of spice and citrus. You'll begin to crave them as soon as their warm scent begins to waft through your home and your loved ones will almost certainly ask you for a second (or third!).
Quick Tip: We suggest heating it up in the microwave and adding a dollop of butter for a breakfast you'll savor down to the very last crumb. Also, use a lemon juicer to squeeze fresh orange juice instead of opting for store-bought orange juice. Nothing beats freshly squeezed!
]Nutmeg, ginger, allspice, and cinnamon blend together melodically in this quintessential fall cake recipe. You'll love how tender and soft the cake itself turns out, and with the creamy sweetness of cream cheese frosting, it's all but impossible not to go back for another slice. In fact, it may become the #1 crowd pleaser out of all your fall baking recipes!
Quick Tip: Invest in a cake stand so you can appropriately display your masterpiece during Thanksgiving celebrations.
Maple is rich, buttery, and woodsy, making it an obvious choice for fall baking. When you combine its amber syrupy goodness with a soft, ooey gooey cookie recipe, only incredible things can happen! Try these maple brown sugar cookies for the ultimate indulgence.
Quick Tip:

Use an ice cream scoop to get the perfect amount of dough for each cookie. They'll come out evenly-sized and you don't have to worry about some baking faster than others.
Molasses is similar to maple syrup, but has a darker and slightly smokier flavor. It can be used to add a carmellic sweetness to baked goods and is an excellent ingredient for fall treats. These cookies rely on white sugar, ginger, cinnamon, and cloves to counterbalance the more intense flavor of molasses, resulting in cookies that are equal parts sweet and savory.
Quick Tip:

We recommend serving them with a piping hot cup of vibrant, citrus tea, like lemon, hibiscus, or orange ginger. Made too many cookies again? You can also store these baked goods in a decorative cookie jar where family and guests can easily access them.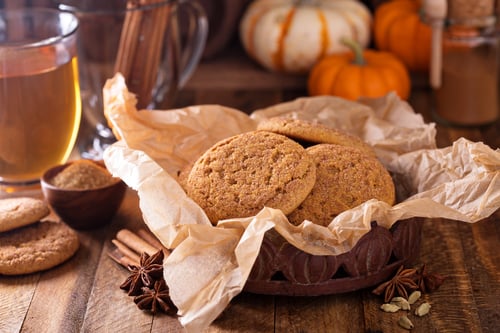 Photo credit: fahrwasser - stock.adobe.com
Strudels are layered pastries that were first made in Austria during the 17th century. Strudels can have many different types of sweet or savory fillings, including cherry, blueberry, peach, chicken, mushroom, and parmesan. This particular recipe uses dried apples, cranberries, and raisins for a distinctly autumnal taste. They also come out of the oven golden crispy on the outside, but tender and fresh on the inside. Definitely a must-try!
Quick Tip: Having company over for Thanksgiving? Serve your autumn fruit strudels on top of a holiday-themed tablecloth for that extra special touch— and get a plastic one for that messy kids' table!)
Coffee is one of the most comforting and familiar flavors in the world, but who says you have to limit your enjoyment to your morning cup of joe? Savor the flavor anytime with this recipe! It's filling, heartwarming, and seasoned with fall spices that give it that signature harvest-time zing. You can give it as a gift to a friend or family member, keep it for yourself, or bring it to work and share it with your co-workers. Either way, it's sure to be a hit!
Quick Tip:

Serve your coffee raisin bread on a rustic wooden serving tray for an authentic autumn vibe. You can add to the aesthetic by placing decorative pumpkins, aromatic candles, or faux leaves on the tray as well.
Wish Has All Your Fall Baking Needs
Wish's discovery-based shopping platform is designed to help you find the items you need at the right price. We have countless items in stock to make your fall baking experience better than ever, including:
With more than 500,000 registered merchants, there's no limit to what you can find on Wish— so get in on the fun and start shopping today!