5 Creative Watch Party Ideas for the Big Game
The drama of an underdog win, a heartbreaking loss, a nail-biting matchup: the emotional rollercoaster of any sports game is always better with friends and fellow fans! Throwing a watch party isn't just fun, it's a great way to get loved ones together to create those precious memories.
Nothing brings people together more than watching their favorite team, so why not be the one to host? Here are some killer ideas for how to throw an epic sports watch party!
What is a Viewing Party?
A viewing party, or watch party, is exactly what it sounds like: it's a social gathering with the purpose of watching something as a group. Viewing parties are perfect for big sports games but they're also fun for any televised event. Whether it's watching the finale of a popular reality show or watching a legendary wrestling rivalry, it's always better with friends.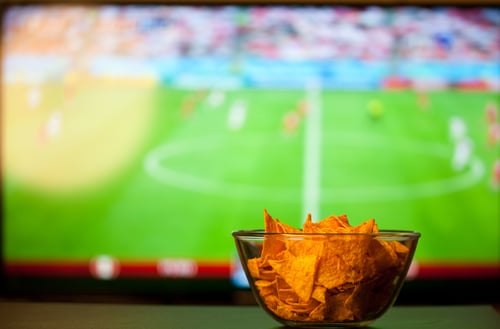 Photo credit: Melinda Nagy - stock.adobe.com
5 Watch Party Ideas for Any Sporting Event
All ages and demographics love sports — it's one of the few truly unifying activities in the world. If you've ever been to a sports event, you already know how quickly you can make friends over shared loyalty to a sports team.
Whether it's a hometown, college, or professional team, here are five viewing party ideas that are sure to impress any sports fan.
1. Virtual Watch Party
Did you know that 28% of Americans prefer to stream sports? To throw a virtual watch party, it's easiest to have attendees all use the same streaming platform. That way everyone can watch together, even if separated by distance. Tune in at the same time, and encourage everyone to prepare their own drinks and snacks.
A virtual watch party is also perfect for streaming worldwide events with friends around the globe. Start brainstorming virtual watch party ideas for major summer sporting events now: call up your international friends and make a plan! It's a chance to learn about sports you may not be an expert in, like rugby or bobsledding, and connect with friends across time zones.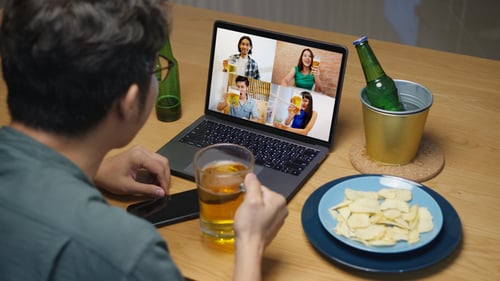 Photo credit: Chaay_tee - stock.adobe.com
2. American Football Watch Party
with Comfort Food
Any good football watching party should have finger-licking good food. A football viewing party can last all day, so having plenty of snacks available is a must. And with an air fryer to make chicken wings and a slow cooker crock pot to cook homemade chili, your home will never smell better.
If your watch party is for the Big Game, keep in mind that some people just tune in for the commercials and the half-time show. If you're hosting a large crowd, it's not a bad idea to have the game playing in two different rooms: one for the die-hard sports fans, and one for the casual viewers. Make the rooms festive with special touches such as touchdown balloons and football garlands.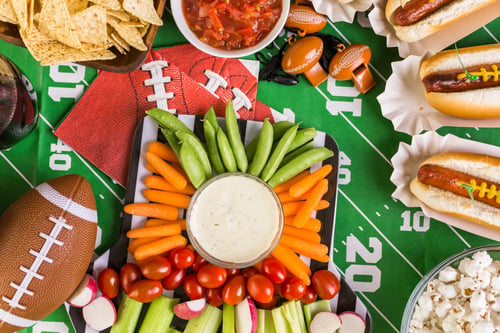 Photo credit: arinahabich - stock.adobe.com
3. Potluck
Soccer Watch Party
For family-friendly watch party ideas, consider a soccer match potluck! This is the perfect way to get a kids' soccer team to bond off the field. A potluck takes the pressure off the host: just prepare the space with decorations, and have on-theme dishware and some soccer napkins on hand.
To ramp up a friendly rivalry, encourage guests to dress up wearing the jersey of their favorite player. A potluck soccer watch party is just as fun for adults, too. Just be prepared: soccer fans are very passionate!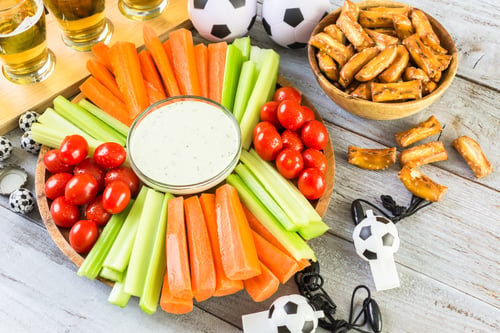 Photo credit: arinahabich - stock.adobe.com
4. Baseball Watching BBQ Party
For a baseball watching party, take the party outside! Set up a projector to show the game in the driveway, backyard, or back deck. That way you can have the grill going, and the designated grill master won't miss a second. Grill BBQ, steaks, or veggie burgers — your options are endless!
On a sunny day, why not invite the neighbors? Set up outdoor games like cornhole or a bean bag toss outside to entertain the kids (and the young-at-heart adults). A BBQ party creates a relaxed vibe that is welcoming to all, even for those who don't know what a grand slam is.
5. Breakfast Tennis Watch Party
Many sports games take place in the afternoon or evening, but some of us are early birds! For watch party ideas tailored to early risers, host a tennis-themed event. This time-honored tradition for tennis fans involves feasting upon classic strawberries and cream breakfast as you watch the final match of a tennis tournament. When the match is over, say "cheers" with a Pimm's Cup – a fruity British cocktail that's perfect for summertime.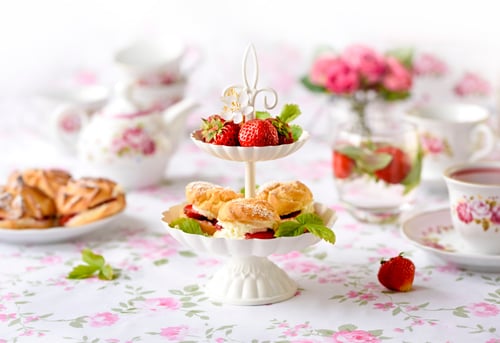 Photo credit: whiteflower - stock.adobe.com
Want to take your tennis watch party to the next level? Decorate the party room with British flag decorations or set up a spot for table tennis to play during the commercials!
Shop Wish for the Best Party Prep
Once you've chosen your favorite watch party ideas, it's time to gather all your party materials. For party essentials, gift shopping, and more, check out Wish for year-round online deals. Plan the perfect watch party today!