Happy Women's History month, Wish fam! You may have noticed that across our social channels (Instagram, Facebook, and YouTube), we've been honoring #WishWomen to celebrate and empower each other during March.
As we all know, women have not had it easy historically. The pressure to do it all can be overwhelming at times, and we often need to look outside ourselves for support. But no matter who you are, what you do, or where you live, Wish can make life a bit better by providing affordable things you need.
Here at Wish, we strive to make life easier and more joyful. The women who shop on Wish are uniquely different, but Wish is their common ground -- and the same thing goes for the ladies who work here. We're sharing some of our favorite #WishWomen employee stories right here on the blog, Instagram, Facebook, and YouTube for Women's history month.
First up is Jan Sundar, our very own lead product designer. Jan is in charge of ideating and designing all four products for our app: Consumer, Marketplace & Logistics, Wish Local and Wholesale. In Jan's own words, "We are the team that integrates people's needs, technological possibilities and business requirements to build fun, innovative and user-friendly solutions." And as we all know, shopping on Wish IS super fun, so she's doing it right!
Jan started at Wish about 3.5 years ago and soon realized she loved the freedom of generating ideas from scratch. During her time here, she has collaborated with other teams to build a scalable design system. As a Wish Woman, she has the autonomy and the ownership to develop features and products with other groups and keep the Wish App playful, trustworthy and inclusive. And she loves to shop for her Wish faves too!
During this long year of working from home, Jan and her partner have been looking for affordable ways to make their home cozier. When it comes to shopping for their house, they're always looking for products that will brighten their days.
One of their favorite finds is this outdoor wicker furniture set, which fits perfectly in their home. Thanks to Wish, they can sit back and relax outside while working remotely in their new comfy chairs.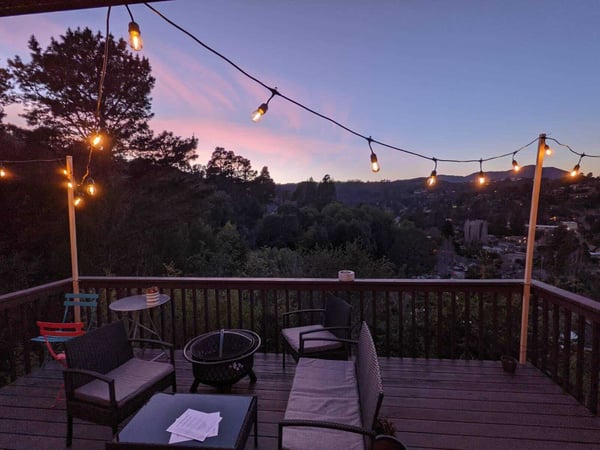 The Wish Express option offered with this product also means they got it super fast and enjoyed it right away.
When it's time for a little work break, a cup of tea is always soothing. Jan loves this portable ceramic Japanese tea set for everyday use. It's compact, pretty, and keeps their tea warm for a long time. It even matches these cute tea canisters, which keeps their beverages tasting fresh all the time.
Last but not least, Jan and her partner decided to bring a little greenery into their home since they love the great outdoors, and staying inside has been a big theme as of late. Wish's plant store has everything they need for creating an uplifting environment, necessary during these uncertain times.
Have you ever ordered plants online, Wish fam? These come packaged perfectly (according to reviews!) and the varieties offered are endless. Don't forget a pretty basket to place your new green friends in as well.
During this pandemic, some of us have struggled to find some semblance of peace by creating our ideal environment. Others have been striving to keep our families and partners happy while also maintaining self-care. There were times when that relaxing cup of tea made all the difference, and Wish was more than happy to make that possible for Jan.
As Women's History Month continues, we're excited to keep sharing stories of #WishWomen with you all. Keep an eye on our social pages for more content coming soon, on our blog, Instagram, Facebook and YouTube channels.