16 Beauty Gift Ideas to Impress Beauty Lovers
Have a friend whose makeup looks are always flawless? Know someone who's always experimenting with the latest skincare trends? Or, perhaps, you're stumped about what to get a hair care guru. Searching for the best beauty gift for someone special can be a challenge because chances are, they have piles of every product imaginable, so gifts will need to stand out and excite them. Surprise your beauty-obsessed giftee with under-the-radar finds that are sure to put a big smile on their face by using our beauty gift guide. After you see the list, you'll probably want to treat yourself, too (you deserve it).
Affordable Beauty Gifts: Makeup, Skincare, Hair & More
Below are our top picks we think beauty lovers will actually want. The best part? Our selections include the best beauty gifts for every budget so you can choose a totally awesome gift without putting a strain on your wallet. Plus, they are perfect for anyone on your list, whether you're searching for a meaningful gift for your besties or a hard-to-buy-for teenager.
Makeup Gift Ideas
The best gifts for makeup lovers aren't just what's popular — they're unique products they haven't even heard of yet. Get ready to dazzle them with these one-of-a-kind cosmetics!
1. Skone Cosmetics Lash Bling™ Mascara - If you're looking for a gift that will garner oohs and ahhs from a makeup lover, then Lash Bling is a glittering masterpiece that is sure to impress. The mascara's decorative cap features dazzling hand-placed gemstones, and the formula is designed to lengthen and volumize lashes for a dramatic falsies effect. Bringing drama from the inside out, this is one of the best beauty gifts for that friend who loves a little glitz and glamor!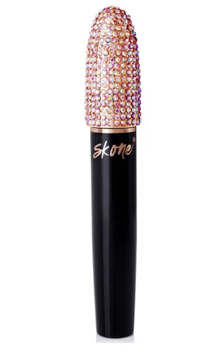 2. Gerard Cosmetics Glitter Lipstick in Cupid - What's better than a bold, red lip? A bold, red lip with glitter! For the beauty aficionado who loves to make a statement, this lipstick in the shade Cupid is an iconic and romantic hue that's been elevated with the excitement of gorgeous glitter flecks. The formula is designed to go on smooth, without any roughness on the lips from the flecks.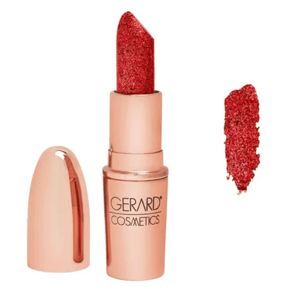 3. Sedona Lace Duo Fibre Set - Every beauty lover knows high-quality brushes are essential tools in any makeup toolbox. This 4-Piece Duo Fibre Brush Set from Sedona checks off all the boxes when it comes to must-have makeup brush essentials for a full-face application. Ranging from large to small sizes, the brushes are designed to help create an airbrushed look with minimal effort and can be used for cream, liquid, and powder foundations, as well as concealers, blush, and highlighters.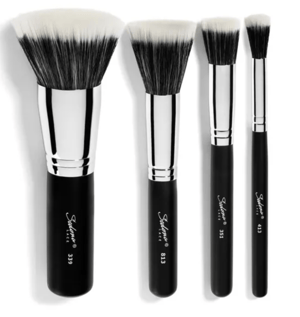 4. SHANY All In One Harmony Makeup Kit - Ultimate Color Combination - Perfect for a newbie or pro, SHANY's All In One Harmony Makeup Kit has everything a makeup lover needs to put their best face forward, and we mean everything! This large makeup kit includes 98 shimmer shadows, 70 pastel shimmer shadows, 3 blushes, and 6 lip glosses. With so many choices to experiment with, your friend might discover a whole new personal style!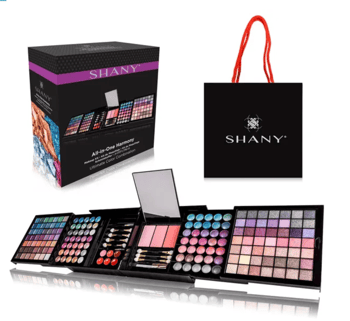 5. Skone Cosmetics - JADE PALETTE™ - With its gold faux leather packaging and pigmented vegan eyeshadows of smokey mattes and sensual shimmers, this Jade Palette will add twinkles to the eyes of a cosmetics enthusiast. Each shade is blendable and buildable and can work for every season and occasion. As an added bonus, it comes with an interior mirror for on-the-go applications.

Skincare Gift Ideas
Who doesn't love radiant and glowing skin? Here are our top picks of the best gifts for skincare lovers!
6. SpaLife Micro Bath Bombs Gold and Silver Packaging, 10 Pack -

This

Mystic Micro Bath Bundle

from SpaLife is a perfect gift for those in need of a little "me" time. When dropped into the tub of water a fun fizzing action occurs to release relaxing aromas. Plus, the transparent pouch can be repurposed as a makeup or toiletry bag, making it two gifts in one!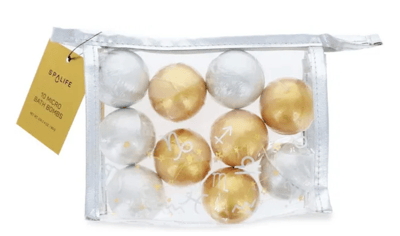 7. Morgan Cosmetics Moroccan Hammam/SPA Gift Set - When you give a skincare lover a gift, it has to be something they can actually use, and that's exactly what they'll get from this Morgan Cosmetics Moroccan Hammam/SPA Gift Set. It is filled with skincare must-haves that can easily be added to any beauty routine, including 100% organic Moroccan Damascus Rose Water, Moroccan "Beldi" Black Soap, Atlas Mountain Lava Clay Green Powder Mask, and Kessa Exfoliating Glove Back Loofah.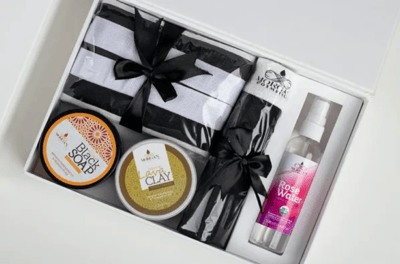 8. Pure Spa Cucumber Melon and Green Tea with Arnica Oil Spa Basket Bath and Body Gift Set - There are plenty of goodies to explore in this beauty gift basket for someone who deserves the ultimate pampering experience. Shower them with self-care essentials such as body butter, waffle slippers, massage soap, spa socks, and more.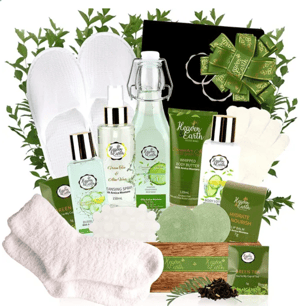 9. ADORAtherapy Chakra Healing Lotion Candle - A candle, lotion, and body oil in one? Yes, please. This 100% vegan soy candle is scented with natural essential oils for a relaxing fragrance experience when lit. Once the flame is extinguished, the melted liquid is packed with four moisturizing ingredients—cocoa butter, shea butter, jojoba, and vitamin E—which aim to nourish and moisturize when applied to the skin.
Hair Gift Ideas
When you're shopping for gifts for beauty lovers, don't forget about hair products. Check out these luxurious gifts for hair gift inspo!
10. Shiny Leaf Head Massager Shampoo Brush Scrubber - For those on your list who are hair-obsessed, think beyond traditional stylers with this Scalp Massage Shampoo Brush. Made with food-grade silicone, the lightweight brush can be used wet or dry as a relaxing scalp massage, and is a fun way to explore adding something new to a usual hair routine.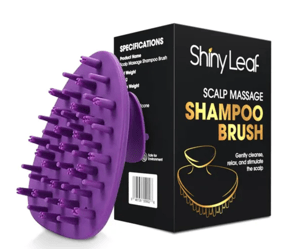 11. Morgan Cosmetics Hair Care Gift Set - If you know a hair care devotee that's into natural products, then this set will be a winner. Made with a blend of plant-based ingredients and essential oils, Argan Sulfate Free Shampoo and Natural Conditioner aim to gently cleanse and nourish all hair types while offering a calming and refreshing aromatherapy experience. The set also comes equipped with a 2-ounce argan oil treatment meant to help manage frizz. This is the best beauty gift for a friend obsessed with getting soft and shiny hair.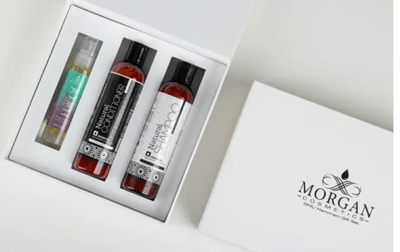 Fragrance Gift Ideas
What's more elegant than a box full of scents? If you really want to pamper someone, consider a more sensory fragrance gift this year.
12. Worldly Finds DIY Gemstone Essential Oil Roller Bottles - Perfect for the DIYer in your life, these roller bottles are filled with captivating crystals for those interested in good vibes, manifestation, and positivity. The top can be easily removed so that the bottle can be refilled with custom essential oil blends, perfume, or other liquids. Plus, its small size makes it an easy and convenient travel-friendly item.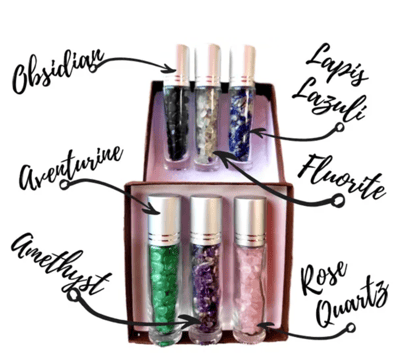 13. ADORAtherapy Joy Chakra Spice Roll On Perfume Oil - Sometimes the best beauty gifts are those that pamper and inspire. This perfume oil is excellent when you need an uplifting boost during the day, for yoga sessions, travel, and more. With top notes of rose, gardenia, and jasmine, the floral and aromatic blend is meant to spark joy and bring forth compassion. Don't let its small size fool you! A little bit goes a long way.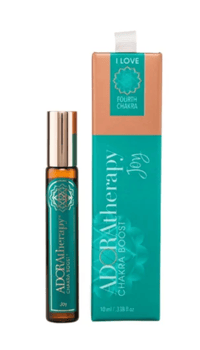 BONUS: 2022 Christmas Beauty Stocking Stuffers
These beauty stocking stuffers come complete with festive holiday packaging, so need to wrap them! Just drop one (or a few) in a Christmas stocking to delight your loved ones.
14. SpaLife Christmas Stocking Stuffer Skin-Clearing Facial Masks - This 12-pack is perfect for stocking stuffing or for hanging directly on a tree as a hidden surprise thanks to functional ornament hooks. Small but mighty, these masks will make their skin glow just in time for New Years!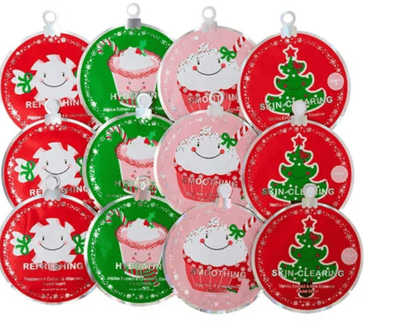 15.SpaLife Santa's Squad Hydrating Facial Masks - Snag this set of 6 different Santa-themed masks so you can give the gift of glowing skin in a festive way.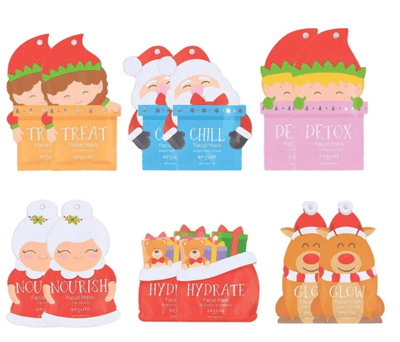 16. Pure Spa Holiday Bath Bomb Gift Set - 8 Handmade Snowmen Bath Fizzers - An adorable stocking stuffer for all ages, this set includes 8 individually wrapped snowmen bath bombs that are formulated with natural ingredients including nourishing oils, shea butter, dead sea salt, and clay.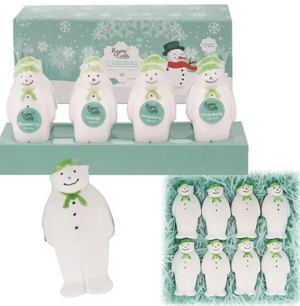 Shop for even more beauty gift sets and products on Wish
This holiday gifting season, whether shopping for yourself or loved ones, there's something for everyone and every budget, all year long on Wish. With products from your favorite brands, you're sure to find the perfect gift at the right price. Need it fast? Select the express shipping option on qualified items to get your last-minute gifts quicker.
Discover holiday beauty gifts on the Wish app today!
*Delivery times will vary. See individual product listings for details.
*Products were in stock on the Wish app at the time this article was published.