16 Christmas Party Outfits for Every Type of Event
It's finally the holiday season! And you know what that means — sweet treats, festive decorations, and holiday parties galore! As those invites start to roll in, you may be wondering what to wear. Well, not to worry! Whether your style is classy or casual, this holiday party outfit guide has something for everyone and every party.
Party hosts and guests want to look their best while spreading holiday cheer – so whichever end of the invitation you're on, get inspired with these 16 festive Christmas party outfit ideas!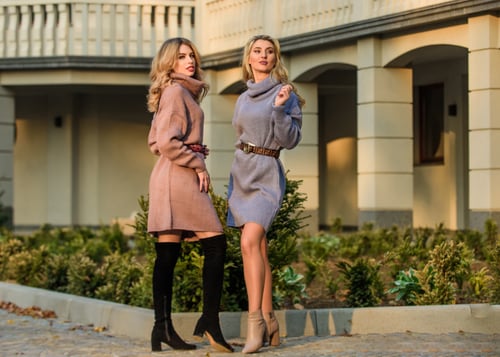 Photo credit: be free - stock.adobe.com
A sweater dress is a perfect combination of comfortable and classy, making it appropriate for all party scenes. Wear it for a daytime office Secret Santa swap or a dinner party with friends. Here are a few fun ways to style a sweater dress for the Christmas season:
Belted with Boots and Tights: A flattering look that keeps you warm and stylish. Add your favorite festive Christmas jewelry to elevate your look.
With a Blazer and Heels: Cozy and chic? Yes, please! This sophisticated look is perfect for business-casual events and office parties. Top it off with some minimalist accessories for a perfectly curated outfit.
Decked Out with Christmas Accessories: Pair a solid-color sweater dress with eye-catching Christmas-themed earrings, necklaces, and charm bracelets. If jewelry isn't your thing, a headband, belt, or purse with Christmas trees, snowmen, or reindeer will add festive details to your holiday ensemble.
For the Office Christmas Party:
Knit Skirts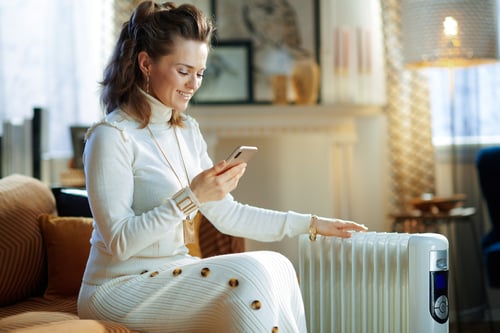 Photo credit: Alliance - stock.adobe.com
Whether your work party is during work hours or after, knit skirts are cute and comfortable. Check out these classy Christmas outfit ideas:
Tucked In Turtleneck: A long cable knit gray skirt with a tucked-in turtleneck of any color will keep you warm all day and night.
Red and White Ensemble: Pair red and white pieces together for Santa-inspired work Christmas party outfits. For example, wear a red calf-length skirt with a white blouse and black kitten heels.
Cable Knit Skirt and Scarf Combo: Try a black knee-length cable knit skirt with a button-down and a chunky cable knit scarf for a warm, cozy, and seasonal office Christmas party outfit.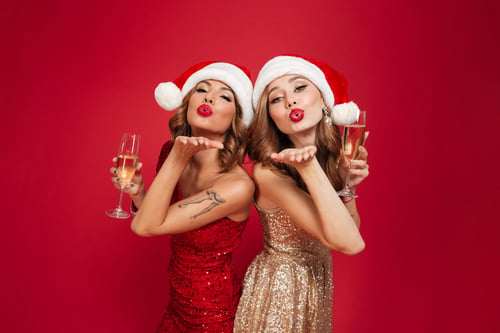 Photo credit: Drobot Dean - stock.adobe.com
Whether you're hitting the town, hosting a Christmas costume party, or just want to spice up your party look, go all out with these extra festive holiday party dresses!
Red Sparkly Cocktail Dress: It's time to wear your shimmery earrings and heels with satin bow ties. You're sure to stand out in this showstopping look!
Nordic Style: Usher in Yuletide with a traditional Nordic-style sweater dress with fleece-lined leggings and faux fur boots. It's the perfect outfit to wear while sipping cocoa, eggnog, or mulled wine.
Go Full Mrs. Claus: Rock a long-sleeved dress with a Christmas scene, such as a gingerbread house. Or, go classic Mrs. Claus in a red velvet dress with fluffy white trim to match Santa's suit! For the ultimate Christmas ensemble, elf-style pointy shoes with bells on the toes just may earn you a placement in a Christmas costume contest.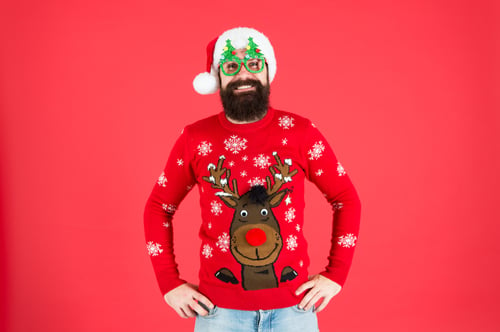 Photo credit: be free - stock.adobe.com
Fellas, need some holiday style suggestions? Claim your crown as the King of Christmas Spirit by wearing any of the following:
A Patterned Suit: Suits patterned with Christmas designs are perfect as a casual work Christmas party outfit.
Christmas Ties (Or Bowties!): Christmas-themed ties or bowties are the ideal solutions for what to wear to a work Christmas party if you're looking for something a bit more understated than a patterned suit.
A Cartoon T-shirt or Sweater: A shirt or sweater with a Christmas symbol or character, like snowflakes or reindeer, is always fun to wear. Plus, it's easy to match with the whole family for a coordinated and casual Christmas party outfit.
BONUS: A Santa Suit! Every Christmas party needs an appearance by the Man in Red himself. Don't forget the snowy white beard!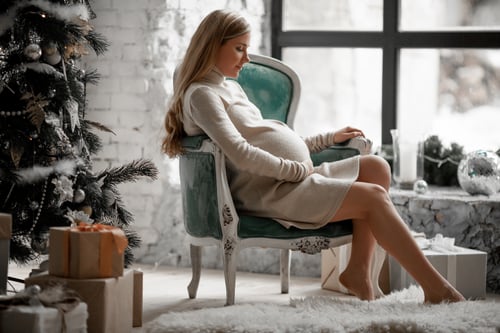 Photo credit: Stanislav - stock.adobe.com
Because moms-to-be like to party, too!
A Long-Sleeved Form-Fitting Dress: A festive way to call attention to your baby bump is with a fun t-shirt, like "Baby's First Christmas" or "Mama Elf"!
A Seasonal T-shirt: Stay comfortable with a festive T-shirt (perhaps with holly or bells). Pair with jeans and a red, white, or green scarf to stay warm.
A Long-Sleeved Blouse: You'll look like an adorable present when wearing a blouse that has a bow that rests above the baby bump. Wear with fuzzy, cozy boots and party on!
Unwrap Deals on Holiday Favorites with Wish
There's no better feeling when shopping than stumbling across that remarkable ensemble you know is meant just for you. Whether shopping for yourself, hunting for online deals, or gift shopping for others, Wish.com has the best selection of fabulous Christmas party outfits. We've got low-cost surprises all year, from clothing to kitchenware to toys to pet supplies.
Discover your next treasure on the Wish app today!