20 Unique Baby Reveal Ideas
Revealing the gender of your baby is an exciting and much-anticipated pregnancy milestone. Whether you already know the gender of your baby and want to share the news with your loved ones, or you'll be finding out at the same time as everyone else, having a reveal is a wonderful way to share a special moment with those closest to you.
While gender reveals have gained a bit of a controversial reputation as of late due to the use of dangerous methods like explosions and air cannon launches, there are safe ways to have a reveal that is still festive and fun for all involved.
If you're awaiting the arrival of your little bundle of joy, you've probably begun researching baby reveal ideas in hopes of finding the perfect plan for your celebration. Just like every bride is unique and has her own vision for her wedding, every parent has personal preferences when organizing a gender reveal party for their baby.
With that in mind, we've compiled a list of our favorite gender revealing party ideas to help you in your research. We hope these ideas inspire you to plan a safe, special, and unforgettable celebration!
20 Baby Reveal Ideas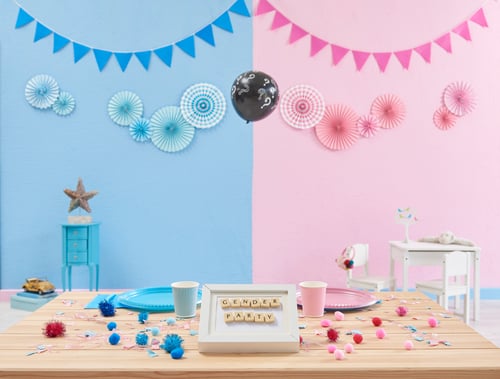 UnitedPhotoStudio - stock.adobe.com
Unique Gender Reveal Ideas
1. The Baseball Fan Reveal
If your family is all about baseball, create a gender reveal party that recreates the atmosphere of a baseball game—with a twist, of course! Offer your guests staple stadium food items like pretzels, hotdogs, and popcorn. Then, provide pink or blue baseball hats as party favors, encouraging each guest to pick a hat for "team girl," or "team boy."
For the gender reveal, use baseball pinatas that explode with blue or pink powder. Using your favorite baseball bat, hit the pinata with your best swing and see if you're having a boy or girl by the color of the powder that bursts from the baseball.
Find your baseball theme decorations here.
2. The Twinkle Reveal
Who says you have to wait until Christmas to string up fun lights? They are an excellent way to reveal whether or not your bundle will be a girl or boy! Plus, this is one of the best ideas for gender reveal party planners who prefer an evening soiree as opposed to a daytime event.
There are plenty of pink and blue string lights to choose from, and it only takes a few minutes to hang them around your backyard! All you'll need to do is wait until it's dark out, invite your guests to join you outside, and have a designated confidant turn on your dazzling display of lights. Such a magical and memorable way to share your special moment!
Find your twinkle lights here.
3. The Campfire Reveal
Did you know you can get campfire flame colorants that will turn your fire any color you like? Each packet of flame crystals is easy to use— simply sprinkle them over your campfire, sit back, and watch in awe as the flames begin to change colors. Choose pink or blue colorants for your reveal!
Camping is also one of our favorite gender reveal theme ideas because there's so much you can do with it! From providing guests with their very own marshmallow roasting stick to using camping chairs for seating, or keeping your loved ones entertained with lawn games, a campfire reveal is great fun for everyone.
Get your camping essentials here.
Cute Gender Reveal Ideas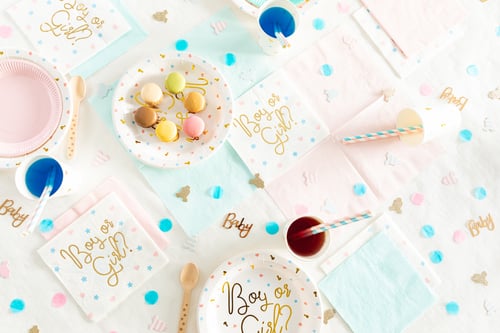 Photo credit: AB Photography - stock.adobe.com
1. The Jungle Reveal
It doesn't get wilder than a jungle-themed baby reveal party! You can decorate with animal print balloons, listen to jungle dance music, and transform your space into a lush, rainforest oasis.
You can also create a signature "Jungle Juice" cocktail and use food coloring to turn it pink or blue. Serve the cocktail at the end of the evening and surprise your guests with a reveal they can sip and savor.
Find all your jungle decor here.
2. The Super Sweet Reveal
If you have a sweet tooth, you'll likely appreciate the idea of hosting a candy-themed gender reveal party. Not only is it an adorable theme, but there are a ton of cute ways you can incorporate your theme throughout the event.
Goodie bags filled with sweet treats are the perfect party favor for guests. You can have a cupcake stand instead of a traditional cake. Or you can even rent or buy a cotton candy machine!
Whatever you decide, we're confident your guests will have a blast! Oh, and for the gender reveal, why not fill your cupcakes with blue or pink icing? It'll be a bite your loved ones will never forget!
Shop for candy decorations here.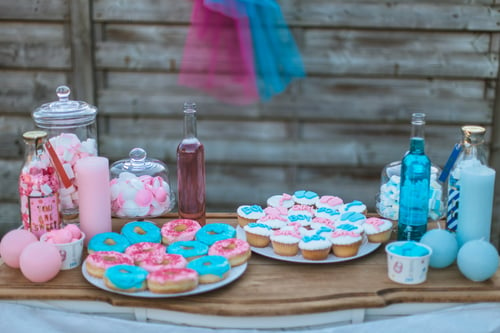 Photo credit: Whitley - stock.adobe.com
3. The Under the Sea Reveal
It's all about high tides and good vibes when you choose an "Under the Sea" theme for your gender reveal party. Create the perfect underwater atmosphere by hanging fishnet on your walls, blowing up fish-shaped balloons with helium, or encouraging your guests to dress in their best mermaid costume.
When the time comes to reveal your baby's gender, you can release a pink or blue balloon from a giant faux clam shell or drop colored bath bombs into a kiddy pool (the sea).
Find all your sea-themed decorations here.
4. The Fairytale Reveal
You don't need a fairy godmother to pull off an incredible and enchanted gender revealing party. All you need is the right decor and a little determination! Whether it's supplying attendees with crowns and tiaras, serving refreshments using a regal tea set, or having your loved ones guess whether your bundle will be a "prince" or "princess,"— there are endless possibilities!
For the big reveal, you could open up a storybook and read the first line, saying either "Once upon a time there was a little girl…" or "Once upon a time there was a little boy…".
Shop for fairytale decor here.
5. The Glitter and Sparkles Reveal
Do you prefer glitz and glam? Why not choose a "Glitter and Sparkles'' theme for your gender reveal party and decorate with all things shimmer? This is one of our favorite baby reveal ideas because it's so versatile. Sparkly table cloths, glittery balloons, and shiny party hats are just a few ways you can add the wow factor to your event!
Plus, you can reveal the gender of your baby by popping a balloon full of pink or blue glitter.
Simple Gender Reveal Ideas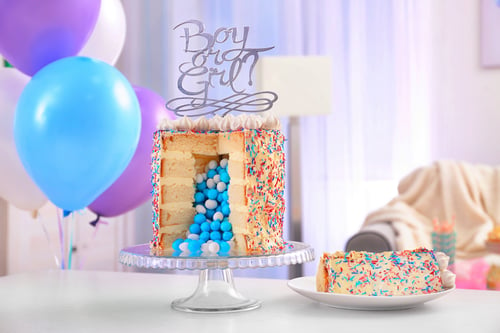 Photo credit:
Africa Studio
- stock.adobe.com
1. Cakes or Cake Pops
This is a convenient and hassle-free option when deciding between different gender reveal ideas. Your local bakery can prepare cake pops for you, adding food coloring to the cake itself so that it appears either pink or blue when you bite into the cake pop. Or, they can fill a cake with colored candy that will be revealed when you slice into it.
2. Pinata
You can fill a pinata with pink or blue candy, gender reveal confetti, or treats and watch as your guests are blindfolded and tasked with striking it to reveal what's inside.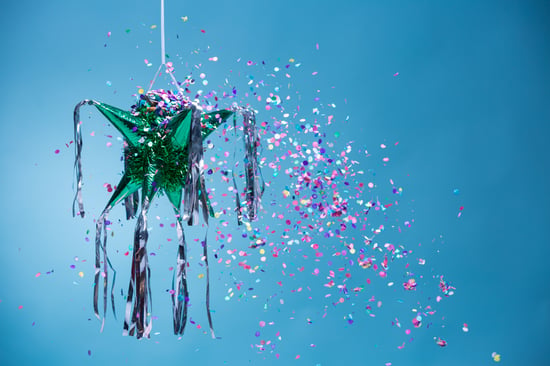 Photo credit: Teran - stock.adobe.com
3. Belly Bow Photo
If you're interested in making a simple social media announcement, you can tie a bow around your stomach using pink or blue ribbon and take your picture. These photos require very little preparation and are still a sweet way to reveal the gender of your baby.
4. Sibling Photo
If you already have a child, you can take a photo of them wearing a shirt that says "Baby sister/brother arriving soon!". Not only is this a fun way to make your announcement, but it's also a great way to include your existing child in your special moment.
Looking for a zero-prep gender reveal option? You can order party poppers online that are pre-filled with blue or pink confetti. Just open, pop, and celebrate!
Choose from a variety of themed gender reveal balloons on Wish.com. Each is filled with blue or pink confetti (depending on the gender of your baby). Once popped, confetti rains down to reveal whether the bundle of joy on the way is a boy or girl.
The confetti fun continues with confetti cannons for gender reveal parties. Choose a blue or pink-filled cannon that bursts with confetti and colored smoke to reveal the gender of the baby on the way.
Indoor Gender Reveal Ideas
1. Nursery Tour
Invite guests over for food, drinks, and entertainment, and at the end of the get-together, take them to see your newly-decorated baby nursery. The decor will speak for itself! Need some baby nursery decor inspo? Click here to see the amazing options on Wish.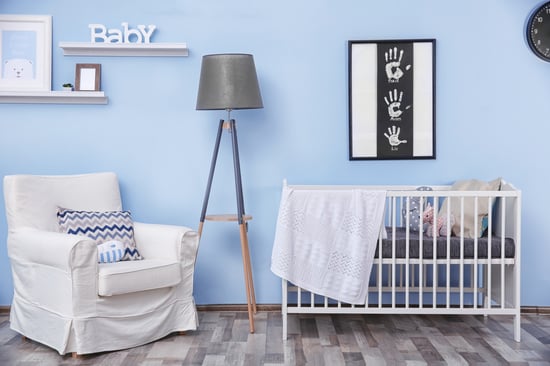 Photo credit: Africa Studio - stock.adobe.com
Open a pair of baby shoes to reveal the gender of your baby. Who doesn't love to see such tiny little booties?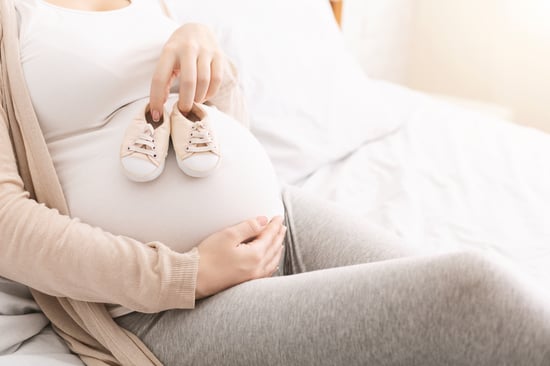 Photo credit: Prostock-studio - stock.adobe.com
Set out individual teapots filled with either pink or blue tea (food coloring can be used to achieve your desired color), then have everyone pour themselves a cup at the same time!
Feeling Inspired?
There you have it! Our complete list of cool gender reveal ideas. Now there's just one question: Are you ready to begin planning? If so, get yourself into party mode by shopping with Wish. We've got you covered! Looking for gender reveal party decor? Check out our huge selection here.