5 Things You'll Want to Buy After Watching Wish Clips
Have you ever wished you could see a product in action before you buy it? Meet Wish Clips— a cool new interactive feature in the Wish app that allows you to see the items sold on Wish come to life in fun videos. To help you discover your next best purchase, we've highlighted a few of the exciting shoppable videos that are fun to watch and will make you want to add-to-cart.
1. A snack tray how-to guide: A rotatable snack organizer in the shape of a flower bloom sounds like a complicated idea, but this video demonstrates how the floral petals can easily store up to 10 snacks along with a cell-phone mount so you can watch your favorite shows while chowing down. Prepare to be amazed.
2. A fashionable sweater from all angles: Before making a fashion purchase you may want to see how the clothing looks on an actual person. Not only does this video highlight how the sweater flows while moving, but it also features cinematic close-up shots so you get a really good look at the colors, intricate design, and material.
3. A pet food and water bowl set in use: If you're a pet owner, you want to make sure your furry friend has the best when you make a purchase. Shop with confidence with this video that shows the functionality of the product's dual feeding bowls and convenient water dispenser.
4. A shape sorter toy tutorial: Learning toys can be a fun challenge for kids but shopping for one may require problem-solving skills of your own. This video features everything you need to know about this classic toy, including the type of shapes and colors, as well as a quick demo on how to use the sorter cube.
5. A lint roller efficiently removing debris: If you're curious to see how to remove lint, dust, or hair in a snap, then this is the video for you. Watch how effortlessly the lint roller can be used on clothing, furniture and more, and then tucked away in a fancy storage unit when not in use.
How does Wish Clips work?
Wish merchants and other creatives upload videos so that shoppers have an easier time imaging the items in real life. In your Wish app, you'll be able to watch videos and quickly view details about a featured product. You can instantly add it to your shopping cart without ever leaving the video! You can also click to view additional items from a store, show us how much you're into a video by tapping a 'like' button, and swipe to continue watching even more videos.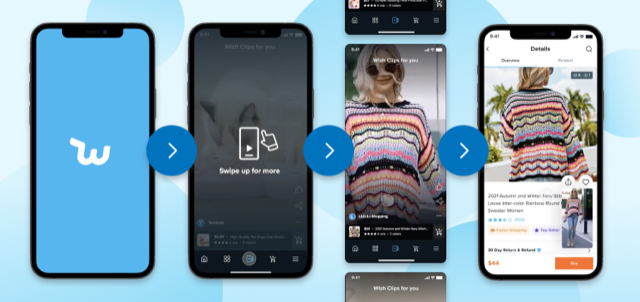 How do I see the Wish Clips video feature?
Wish Clips can be found on its own dedicated tab within the app for Android users in 9 markets (Australia, Brazil, Canada, France, Germany, Great Britain, Italy, Japan, and United States).
Click here to visit the app to begin discovering products through Wish Clips today. Don't worry iOS users, we've got you! Expect to see Wish Clips on your device starting in April.