26 Fun and Easy Hobbies to Try
Feel like you're stuck in the same eat-sleep-work routine? Or, perhaps you've conquered major interests and are looking to give something new a try. We all need a little "me-time" and dabbling in a new hobby is a fun and rewarding way to spice up your day. There's no better time than the present to discover your potential in a creative, athletic, or otherwise new pursuit.
If you're feeling stuck in a rut or you just want to learn a new skill, follow your curiosities and see which new hobbies to try listed below pique your interest. You may surprise yourself and uncover a new talent!
Skip to: 26 Hobbies to Try
Why You Should Pick Up a New Hobby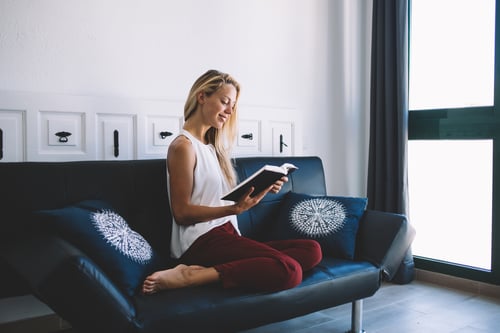 Photo credit: BullRun - stock.adobe.com
Picking up new hobbies isn't just fun, it's good for your well-being and mental health. In fact, when you're having fun, your muscles and brain let go of tension. You'll find yourself naturally unclenching your jaw and relaxing your shoulders, and maybe even smiling to yourself as you decorate a birdhouse or attempt a new yoga pose. In fact, that's one of the best things about hobbies — you don't have to be good at it, you just have to enjoy it!
The benefits to having hobbies are truly endless. Many hobbies include regular, repetitive motions, like pedaling, knitting, or painting brushstrokes. This allows the mind to relax as if in a state of meditation. It calms the heart rate and reduces stress to perform these movements.
However, there are many types of hobbies to choose from. Hobbies that involve others maintain our social well-being, athletic hobbies improve our physical health, and solo hobbies allow us to take time to recharge our social battery. Expressive hobbies like art, dance, and music are forms of creative therapy.
If you've ever had a hobby you enjoyed, you've probably noticed that you find yourself remembering important things, making mental connections, or coming up with new ideas out of the blue. This is because hobbies may stimulate the mind, provide a new perspective, and could make you more productive.
Even the toughest part of starting a hobby – making time for it – has an underlying benefit. Devoting time to a new hobby you love can help you to improve your time management skills. Falling in love with a hobby means you will lose track of time as you do it – which is exactly the point! Block time off in your calendar and if you only have a short timeframe to indulge in your hobby, set a timer so you can fully immerse yourself.
Pro-tip: Time blocking on your calendar also helps if you are trying to get into a groove of a more challenging hobby. Some hobbies are tough at first, and the satisfaction is delayed (but oh so rewarding!). When the hobby is on your schedule, you'll feel compelled and motivated to put in the time.
Remember, the purpose of having a hobby is to unwind with an activity that brings you peace and joy. Some folks get joy out of improving skills with some friendly competition. For others, it's all about cultivating that much-needed zen. It's up to you which path you follow!
Ready to find your new hobby? Check out our list of fun and easy hobbies to try today!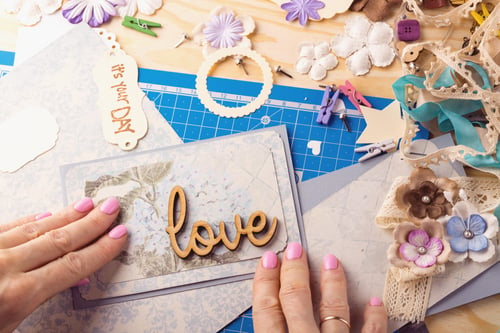 Photo credit: Sergii Mostovyi - stock.adobe.com
26
Hobbies to Try
Not sure which activity to try first? A good place to start is embracing your natural talents. If you've already got a knack for the arts, start there. Returning to a hobby that you loved as a kid can be rewarding as well. Or, you can start from scratch by learning from an online tutorial, a friend, a class, or a book.
The best thing about hobbies is that you don't need any natural talent because ultimately, you will learn by good old fashioned trial and error. Browse this list of 26 hobbies to pick up and pick one that feels right for you! Best of all, we've included shopping links so you can get started with your new hobby as soon as possible.
Fall in Love with Arts, Crafts, and Music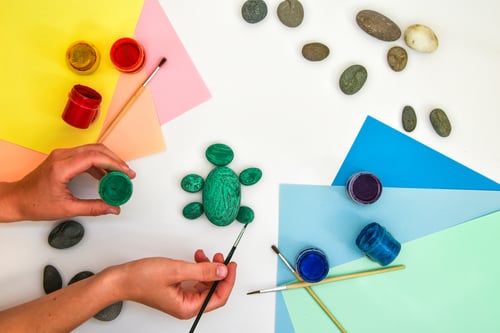 Photo credit: anna.stasiia - stock.adobe.com
Working on a creative project is a reward in itself, but the satisfaction of completing it is also a mood booster. Sharing the finished product with friends and family is part of the fun, too. Here are some hobby ideas that will get your creative juices flowing.
1. Painting on Canvas
Playing with color does wonders for the brain. There are entire professional fields of color therapy and color psychology devoted to it. Simply seeing the color blue, for example, can calm you down. Practice mixing watercolor, acrylics, or oil paints on a palette. Try abstract designs when you're just starting out, then paint from still life to master the craft. When you're finished, decorate your room and entire home with your creations!
Get yourself a paintbrush set, a set of paints, a palette, and some canvases. Water-soluble paints, like acrylics and watercolors, can be rinsed out in a cup of water before putting the next color on the brush. Practice first on paper to get comfortable with the feel of the brush. It's definitely different from writing with a pen! The smaller the brush, the more precisely you can paint. Large brushes keep it simple and can help add texture. With the right brushes and color combinations, the options are endless!
Shop paint supplies for canvas painting on Wish >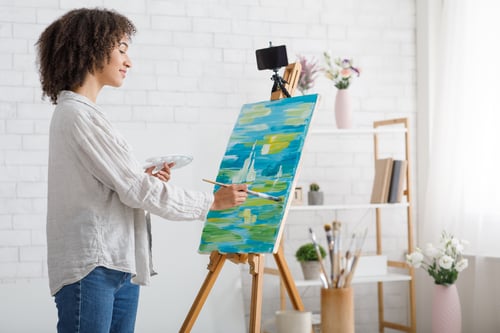 Photo credit: Prostock-studio - stock.adobe.com
2. Candle making
If you love candles, then you'll enjoy making your own at home. Not only will you be able to craft your own unique scents, but you can also have fun coming up with custom designs. Grab some candle molds, dye, candle wicks, and even gold foil to bring your ideas of life. Plus, you can share your homemade creations with friends and family, and who knows, maybe even start a small business.
Shop candle making supplies on Wish >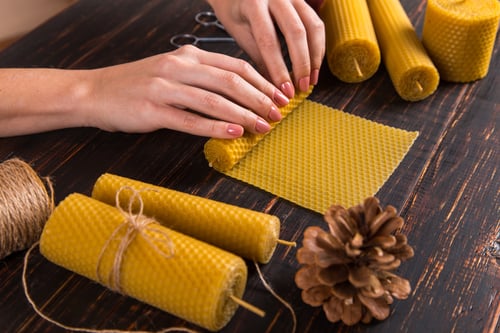 Photo credit: Plutmaverick - stock.adobe.com
3. Pottery Making
Play with clay! Molding clay into a decorative animal or a functional vase can be incredibly therapeutic and pounding slabs of clay releases built-up tension. You may even work up a sweat in the art studio! You'll need a smock, clay, varnish, paints, paintbrushes, a spinning wheel, and access to a kiln. Go to a local art studio for kiln access. If you just want pottery hobbies at home, simply paint an already dry piece of pottery.
Shop pottery tools and supplies on Wish >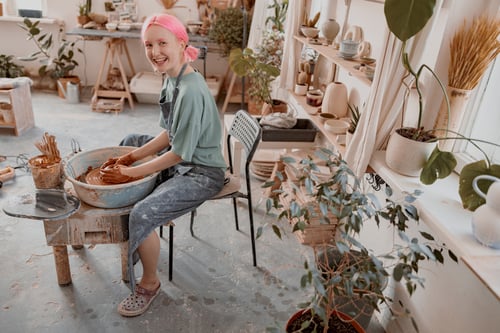 Photo credit: Kostiantyn - stock.adobe.com
4. Making New Clothes
Sewing new clothes is a practical and empowering hobby: there's no need to rely upon the styles or sizes dictated to you by stores when you do it yourself. Fulfill your fashion dreams by crafting your own unique creations that will be the envy of all your friends!
Whether you want to go high fashion or keep it simple, you'll need a needle and thread for small projects or you can invest in a sewing machine for bigger endeavors. As with any artistic endeavor, don't be afraid to get messy — that's usually when the magic happens!
Shop sewing tools and accessories on Wish >
5. Knitting
Knitting a sweater for dogs, hats for infants, or scarves for family members is a great way to say "I love you" with a one-of-a-kind gift. Recipients of your hand-knitted presents will carry around a piece of you everywhere they go (and chances are they'll get some compliments!).
It's a good hobby to do while watching TV or sitting in the doctor's office waiting room. If you have a constant need to occupy your hands, knitting is a productive hobby that can replace habits like nail biting or fidget spinners. And the best part is, all you need is a set of knitting needles and yarn to get started!
Shop knitting supplies on Wish >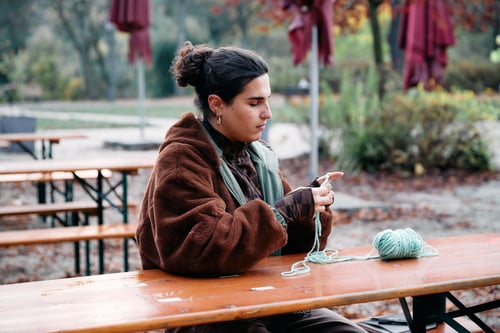 Photo credit: Sophia Emmerich - stock.adobe.com
6. Drawing or Sketching
This is one of the easiest hobbies to try and one of the most affordable. Take a sketchbook with you when you leave the house and see what happens. Sketch a peaceful scene from your local park or draw an abstract self-portrait. Don't worry about getting everything just right — you can always fill it in later at home with more detail, or use it as inspiration for an abstract painting.
You just need a pencil, paper, and an eraser when starting out. Alternatively, you may prefer pens, a set of sketch pencils of various darkness levels, pastels, colored pencils, or charcoal. Invest in quality drawing paper and a spiral sketchbook, not just printer paper. Tracing paper may come in handy if you want to trace something before drawing, which can be a great way to start your drawing journey.
Shop drawing supplies on Wish >
7. Jewelry Making
Make friendship bracelets to cement a bond between friends, or create your own unique earrings! Bead glass, stones, wood, shells, or other items into a beautiful design that you can wear forever. Get inspired by nature, your friends, or the latest fashion trends. You'll need to buy earring posts, bracelet or necklace clasps, and thread or string. Do it with others and host a jewelry making party!
Shop jewelry making supplies on Wish >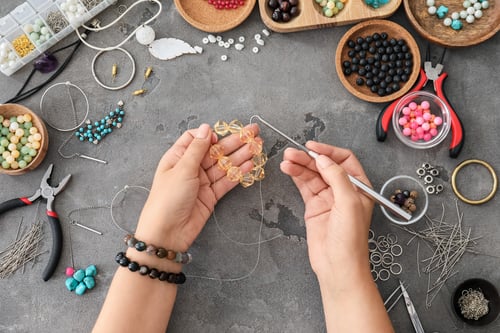 Photo credit: Pixel-Shot - stock.adobe.com
8. Strum a Stringed Instrument
Music is another rewarding hobby – though it does require patience and practice. However, some instruments are easier to pick up than others. For example, playing a three-string ukulele is simpler than learning a six string guitar.
Ukuleles need nothing but your hands to play. Some folks like to use picks for guitars, mandolins, and banjos. It's rewarding to strum along to a song you've always loved, whether it's "Happy Birthday," a beloved Christmas carol, or an original song!
Shop stringed musical instruments on Wish >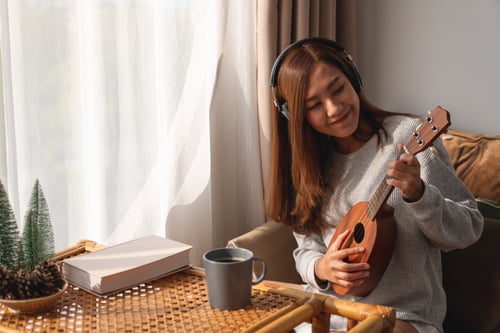 Farknot Architect - stock.adobe.com
9. Drumming
Burn off excess energy with drumming! You'll need plenty of space and for a full set of drums, but other types of drums (like bongos) require minimal storage space. Producing a rhythmic beat can become a spiritual practice. Partner with local dance organizations to play live with dancers. Some drums require drumsticks, but hand drums only require the single purchase of the instrument and an ear for rhythm.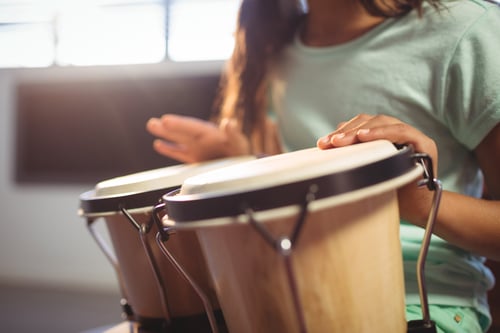 Photo credit: WavebreakMediaMicro - stock.adobe.com
Indoor
Hobbies to Get Into
Rainy days, snow days, and nighttime routines call for indoor hobbies. Whether you enjoy them solo or with a group, home-based hobbies create domestic bliss. They make a house a home and are just what the doctor ordered for a super cozy night in!
10. Puzzles
Some folks love hobbies that appeal to the logic side of the brain. Puzzles are perfect for those who love a challenge: there's nothing more satisfying than fitting pieces together to see a full picture. When you find where that oddly shaped piece fits, the time you spent searching for it will feel totally worth it!
Puzzles are a mentally stimulating activity that doesn't involve technology, and they're great for all ages. Pick a puzzle under 500 pieces if you're on the hunt for easy hobbies. Then work your way up to a 2000+ piece challenge.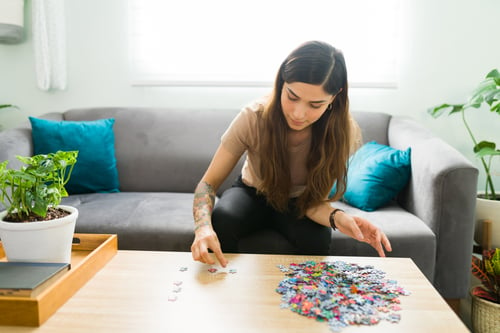 Photo credit: AntonioDiaz - stock.adobe.com
11. Chess
Chess is the ultimate puzzle and for the strategically-minded, making it the ideal hobby. This game of quiet calculation requires a sparring partner, steady concentration, and a chess set. With no physical movement needed beyond moving pieces on the board, it's perfect for those who want to limit their physical activity. Play at home with a friend or get a travel chess set to play at the park!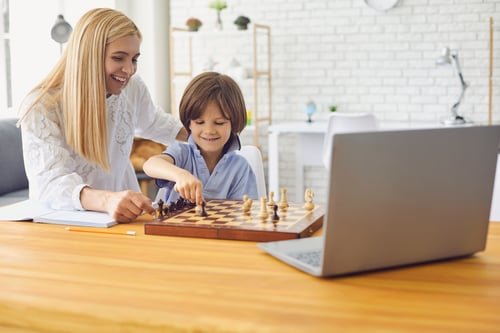 Photo credit: Studio Romantic - stock.adobe.com
12. Model Building
If you've got nimble fingers, model building might be the hobby for you. It's one of the best hobbies to do at home because once finished, these items can be displayed proudly on the mantle or given as a gift. Build a large or small-scale boat, plane, car, truck, home, and more. Follow the instructions and watch it come to life!
Shop model building kits on Wish >
13. Start a Collection
This one is a lifelong hobby. Start collecting coins, action figures, baseball cards, cool rocks from your travels, shells, or whatever calls to you! Once you get enough, display them in an elegant container on a shelf. Large collections of hard-to-find items can be worth a pretty penny one day.
Not to mention, when loved ones realize what you're collecting, they'll instantly know what to give you for birthdays the rest of your life. All you need is a passion for a particular item, and a willingness to hunt for vintage treasures and limited editions.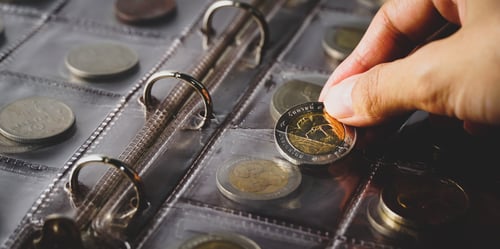 Photo credit: surasak - stock.adobe.com
14. Cooking
Your whole family will love you for taking up this hobby. Whether you seek to become a pancake aficionado or just want to be self-sufficient in the kitchen, cooking is about as practical of a hobby as you can find. Try new flavor combinations, explore your family's culinary traditions, or stick to one type of food and get really good at it. It's fun to get messy, be adventurous with spices, and challenge yourself with new cuisines.
You will need certain basics, like a cooking tray for the oven, cooking spray, a timer, bowls, oven mitts, measuring cups, and more. Download recipes from the Internet or follow along with a specialty cookbook.
Shop cooking supplies on Wish >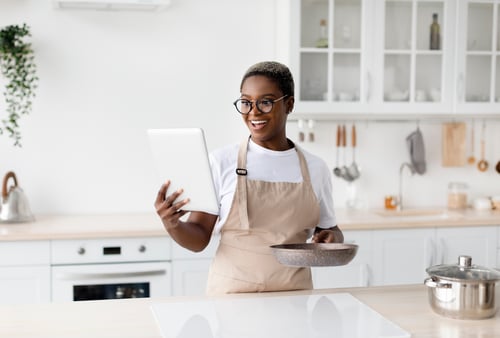 Photo credit: Prostock-studio - stock.adobe.com
15. Baking
Do you have a sweet tooth that cooking just can't satisfy? They may not be good for cavities, but no one can deny that homemade cookies are good for the soul. Baking is a useful skill, particularly when it's time for a special birthday cake or those delectable holiday pies.
You'll need the basics of sugar, flour, water, mixing bowls, measuring spoons, among other baking essentials. As for the decorations, make your own icing from scratch, or keep it simple with store bought sprinkles. Sweet tooth not your jam? Bake bread instead!
Shop baking supplies on Wish >
16. Become a Mixologist
Nothing is more impressive at parties than being able to whip up a creative cocktail (or mocktail) on command. You'll need a shaker, ice, seltzer, and garnishes like lime zest or rosemary sprigs, depending upon your drink of choice. Not to mention some elegant cocktail glasses for your unique creations!
Whether it's for your own enjoyment, to post on social media, or to show off at parties, it's fun to explore new beverage combinations and change them up as you get inspired by new flavors.
17. Reading
To pursue reading for pleasure anytime, anywhere, all you need is an e-reader. Think of it as your own private library of fiction, nonfiction, scripts, or poetry — all in the palm of your hand! Get whisked away on fantastical adventures, or learn about anything under the sun from well-researched nonfiction.
Make it social by reading to your kids or grandparents or joining a book club with friends. Reading doesn't have to be in quiet solitude but sometimes when you need a moment to unwind, a book is the best buddy you can ask for. All you need is a fully charged e-reader to get swept up in your next adventure.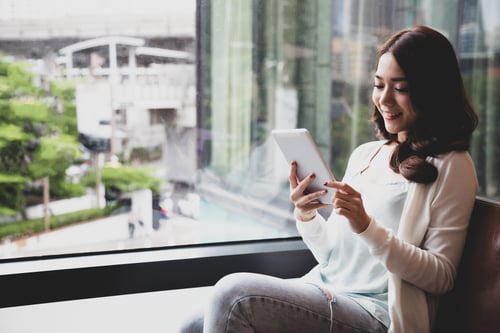 Photo credit: comzeal - stock.adobe.com
18. Scrapbooks and Photo Albums
There's nothing quite like a book of old photos to bring back fond memories. While we have social media and unlimited storage space on our phones, nothing beats flipping through a scrapbook or family photo album. When you organize photos of cherished memories into themed photo albums, you can enjoy them for life. They make great gifts and conversation pieces for house guests when displayed on a coffee table. To print photos at home for a photo album, you'll need a printer, colored ink, and glossy paper or you can order photos online.
Scrapbooking is a more creative way to organize photos than just creating a photo album. This hobby allows you to preserve memories while incorporating your personality. With colored cards, specialty scissors, stickers, and more, scrapbooks allow for a more artful arrangement of photos, memorabilia, concert tickets, and anything that can be pasted into a book.
Shop scrapbooking supplies on Wish >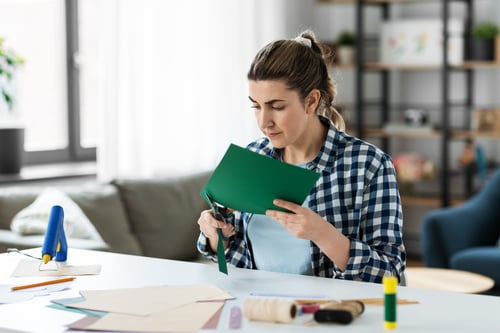 Photo credit: Syda Productions - stock.adobe.com
19. Writing and Journaling
There are so many reasons to write, whether it's to process emotions, preserve memories, outline a new story, brainstorm solutions, list what you're grateful for, or to simply vent! The daily act of writing keeps the mind sharp, and it's fun to look back on and read. Sure, you might cringe about the problems you were complaining about years ago, but it shows you how far you've come.
Writing can be a great exercise in creativity, a profound release of emotions, or a way to keep track of goals. Journal at the beginning of each month, have weekly check-ins, or write daily.
Shop journals and diaries on Wish >
Outdoor Hobbies to Try
In beautiful weather, take your indoor hobbies outside! Or, unwind with the following hobbies, which are meant to be enjoyed outside.
20. Gardening
In addition to houseplants (or indoor aquaponics or hydroponics) cultivating an outdoor garden is extremely fulfilling. Whether you've got a fenced-in, in-ground plot or a patio spotted with potted plants, you'll need water, soil, seeds or sprouted plants, and patience to cultivate a successful garden. This truly down-to-earth activity does wonders for the mind, body, spirit, and planet.
Before you get started, research when and where to plant your herbs, vegetables, or flowers. You'll also need to know how much water and sun is needed, and when to expect blooms or fruits. Trim dead leaves as needed. Unsure if you have a green thumb? Start with succulents, cacti, or air plants, which require little maintenance.
Shop gardening supplies on Wish >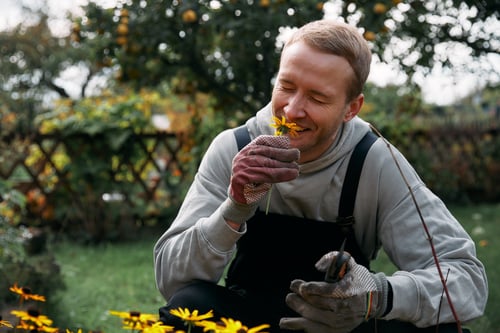 Photo credit: Sophia Emmerich - stock.adobe.com
21. Bird Watching
Listening to bird songs and identifying which bird it comes from is a timeless hobby that's been around for centuries. Go out hiking in state forests, or just put up a bird feeder in your backyard and see which birds stop by for a visit. Bird watching requires binoculars, a reference book of local birds, and good listening ears.
This hobby can be done alone or with fellow bird watching buddies. Before you know it, the birds will become your friends. It is grounding to feel connected to nature by getting in touch with your surroundings in this way.
Shop bird watching supplies on Wish >
22. Cycling
Burn off some steam with cycling! Cycling can be done on an elliptical inside or on a bicycle outside. Whether you prefer bike racing, mountain biking, or a leisurely loop down the neighborhood street, you will need a bike that is a good fit for your height and athleticism level.
Get a simple bike with a big seat and basket, or a multi-speed one with a water bottle holder. For a low impact exercise routine, try a seated bike. There are lots of bike accessories out there, but the most important is the helmet!
Shop cycling accessories on Wish >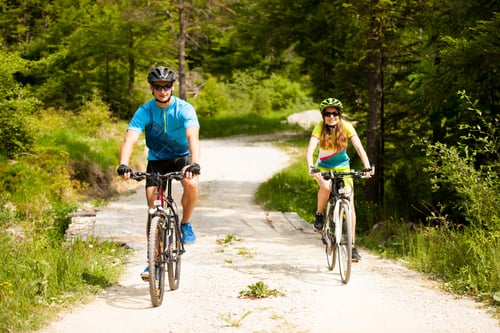 Photo credit: Samo Trebizan - stock.adobe.com
23. Jogging or Running
Looking for easy hobbies to pick up? Many love the solo aspect of jogging, in addition to providing a healthy way to kick off the day in a healthy way. Others join a running club or get a running buddy for accountability. Besides the obvious physical benefits, regular joggers swear by the mental clarity they get after their daily run.
Jogging is one of the easiest because all you need are running shoes, shorts, and a good stretch beforehand. Though other accessories, like earbuds to listen to music, make jogging more enjoyable. Get moving today!
Shop jogging accessories on Wish >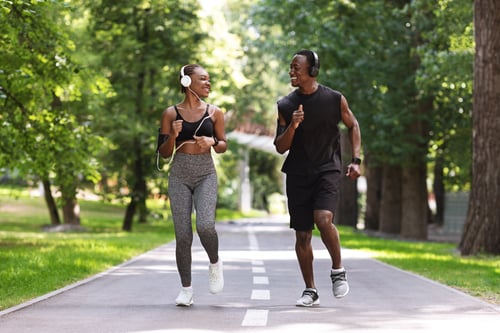 Photo credit: Prostock-studio - stock.adobe.com
24. Water Exercise
Searching for a physical hobby that's easy on the joints? Then water-based exercising like water aerobics and swimming is for you. This is a great hobby especially for those who are recovering after an injury. You will need a swimsuit, and that's about it! Pool shoes are optional if you want to protect your feet in oceans, lakes, or rivers.
Water exercise has benefits for both physical and mental health. Enjoy the soothing and gentle experience of warm water. Or swim a few laps in cold water to reset your mental state: the shock is great for the nervous system.
Shop swimming accessories on Wish >
25. Yoga
Yoga fosters the mind-body-spirit connection. It is a go-to hobby in times of stress, but a regular yoga practice may contribute to keeping you consistently limber, flexible, and zen. There are many types of yoga to explore.
Aerial yoga will have you defying gravity by using bands of fabric to contort in different positions in the air (we reccomending taking classes with an instructor for safety). Mat yoga strengthens and sculpts muscles. Other types of yoga offer a breath-based spiritual practice. Whether you take online or in-person yoga classes, you will need a mat and loose-fitting or stretchy clothing.
Shop yoga accessories on Wish >
26. Painting Wood Crafts
Prefer 3D objects over 2D canvases? Try painting wooden birdhouses, knickknacks, jewelry boxes, or figurines. Painting an object that will be of use satisfies the need to be productive. It's a fun activity for kids and adults alike. For kids, painting wooden coasters is an easy and fun project for everyone involved! They also make great gifts for grandparents and family friends. Just be sure to protect your crafting area with a protective tarp so as to not damage surrounding furniture.
Shop paint supplies for wood painting on Wish >
Get Hobby Essentials with Wish
After selecting a few new hobbies to try, it's time to get the necessary supplies! On Wish.com and through our app, discover amazing online deals on cookware, musical instruments, exercise equipment, and more. Find the accessories, tools, and supplies you need to make your arts and crafts projects come to life and your gardening dreams come true. Start shopping today!