The Ultimate Summer Vacation Packing List
Ah, summer vacation—it's the season we've all been waiting for! It's time to hit the beach, explore nature trails and make memories that will last a lifetime. Of course, one of the most important aspects of any successful summer getaway is packing properly.
With so many items to consider fitting in your suitcase or backpack, it can be difficult to remember exactly what you'll need. To help with this process, we've created an ultimate summer vacation packing list with everything you'll need to ensure your trip runs as smoothly as possible. Keep reading for all our suggestions and recommendations on essential things to pack when going on vacation this summer.
Complete
Summer Vacation Packing List
Travel Documents
What to pack for summer vacation starts with your travel documents. These may include your passport (if you're traveling abroad), driver's license, and any other identification you may need. You'll also want to bring a copy of your travel itinerary, hotel reservations, and any other important documents related to your trip.
To keep everything organized and in one place, consider investing in a travel wallet or passport holder. Wish has various options, like travel wallets, that can fit your passport, boarding pass, and credit cards.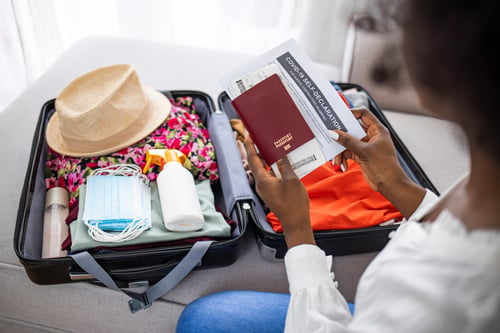 Photo credit: Dragana Gordic - stock.adobe.com
Clothing and Shoes
When it comes to packing for a summer vacation, it's all about lightweight, comfortable clothing that can withstand the heat. When it comes to packing for a summer vacation, it's important to consider the climate and the activities you'll be doing. Here are some essential clothing items to include in your packing list:
T-shirts and tank tops: Pack a few lightweight t-shirts and tank tops that you can mix and match throughout your trip. They are perfect for layering and can be dressed up or down depending on the occasion.
Shorts: Pack a variety of shorts, including denim shorts, athletic shorts, and casual shorts. They are comfortable and perfect for hot weather.
Lightweight pants or skirts: Perfect for cool summer nights, you can pair either of these with a casual tank and feel relaxed yet put together.
Sundresses and rompers: These are a summer staple and perfect for any occasion. Pack a few in different styles and colors to switch up your look.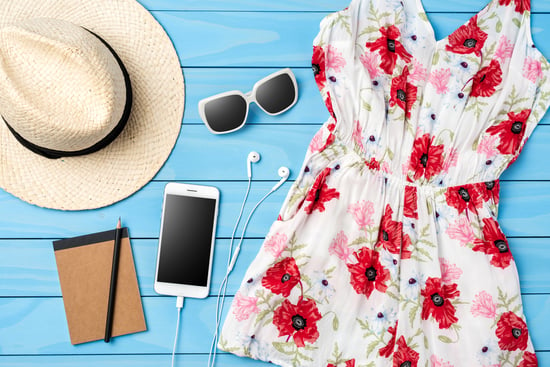 Photo credit: Leszek Czerwonka - stock.adobe.com
Swimwear: Whether you plan on lounging by the pool or hitting the beach, make sure to pack a few swimsuits. Consider packing a one-piece and a bikini to mix and match throughout your trip.
Cover-ups: Don't forget to pack a cover-up for when you are not in the water. It can be a dress, a sarong, or a tunic.
Comfortable walking shoes: Pack a pair of comfortable walking shoes for sightseeing or hiking. Sneakers, sandals, or closed-toe shoes are all great options.
Sandals or flip-flops: Pack a pair of sandals or flip-flops for the beach, pool, or a casual stroll.
Accessories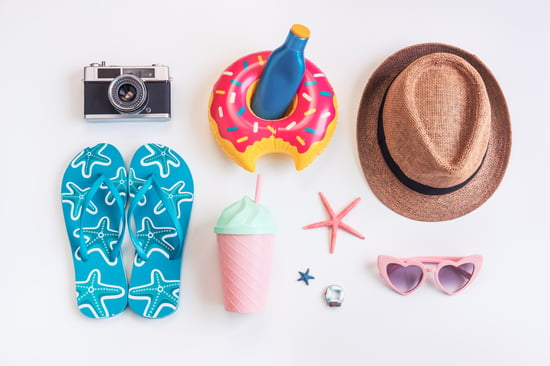 Photo credit: Kittiphan - stock.adobe.com
Summer accessories add style to an outfit and keep you safe. Protect your eyes from the sun's rays with a pair of stylish shades. Choose a design that fits your face shape and offers adequate UV protection.
Protect your head and face from the sun on hot days with a wide-brimmed hat or visor. Not only will you stay cooler in the sun, but it can also add style to any summer look!
It's also a good idea to pack a few pieces of jewelry that can dress up any outfit. A statement necklace, earrings, or bracelets can add a pop of color to your look.
Of course, when you're on-the-go, you'll need a convenient place to carry your wallet, lip balm, hotel card…you name it! Invest in a stylish and functional bag that can hold all your essentials. A cross-body bag or a backpack are great options.
Toiletries
When it comes to toiletries, less is often more. You want to avoid weighing down your luggage with full-size bottles of shampoo and conditioner, so opt for travel-size versions instead.
Be sure to pack sunscreen, insect repellent, and any other personal care items you may need. Remember to bring a reusable water bottle to stay hydrated throughout your trip. Wish has a variety of toiletry bags to help you stay organized and keep all your items in one place, like a waterproof toiletry bag.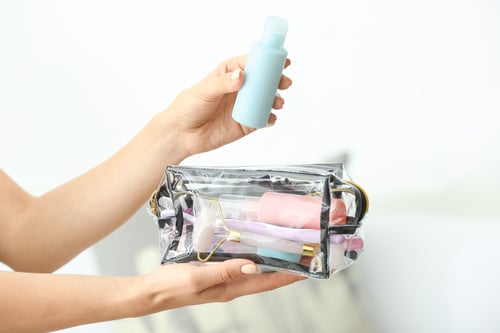 Photo credit: Pixel-Shot - stock.adobe.com
Technology
In today's digital age, technology is a must-have for any vacation. Remember to pack your smartphone chargers and any other electronic devices you may need when considering things to buy for vacation.
Consider investing in a portable charger to keep your devices charged on the go. And if you're planning on taking lots of photos, bring a camera or at least make sure your phone has enough storage space. Wish has a variety of tech accessories to choose from, like this portable charger or this universal travel adapter.
Miscellaneous Items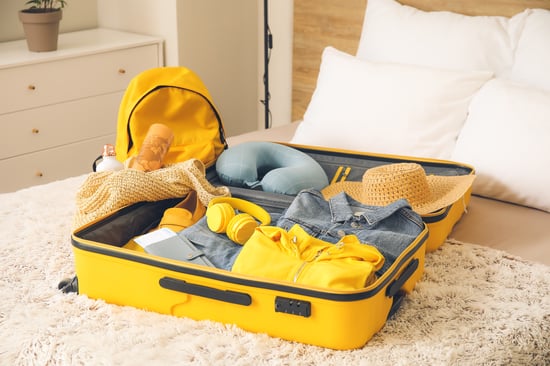 Photo credit: Pixel-Shot - stock.adobe.com
Finally, there are a few miscellaneous items for your vacation prep checklist you may want to consider packing for your summer vacation. These may include a lightweight rain jacket or poncho, a hat or visor to protect your face from the sun, and a travel pillow or blanket for long flights or car rides. If you're planning any type of water activity, bring large enough beach towels for everyone in the family. That way, you can dry off and relax when needed.
If you're traveling with kids, remember to pack entertainment like books or games to keep them occupied. And if you're heading to the beach, consider bringing a beach umbrella or tent for shade. Wish has a variety of beach accessories to choose from, like this portable beach tent or this inflatable lounger.
Shop travel accessories on Wish >
Vacation Planning Checklist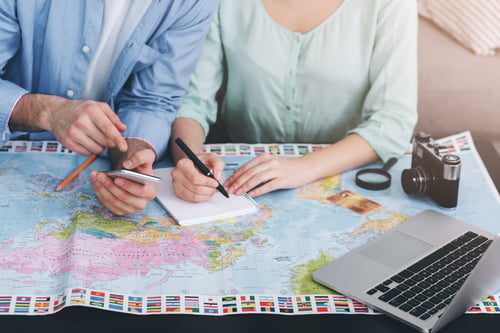 Photo credit: Prostock-studio - stock.adobe.com
No matter where you plan to go on vacation, a vacation planning checklist can help you make the most of your trip. Before heading out the door, check off these items to ensure a stress-free and memorable vacation:
Create a budget for your trip – Know what you can afford before booking a flight or hotel stay.
Make travel arrangements – Book plane tickets, car rentals, and train passes if necessary. Plan out any public transportation routes needed while traveling to your destination.
Research activities at your destination – Look into local attractions such as museums, parks, restaurants, or other places of interest so that you can make the most of your time once you arrive.
Reserve accommodations – Book a hotel, hostel, or other type of lodging to ensure you have a place to stay upon arrival.
Pack essential items – Create a packing list with all the items you will need on your trip, such as clothes, toiletries, gadgets, chargers, and medications.
Make photocopies of essential documents – Bring copies of your passport and driver's license as an extra precaution in case of an emergency.
Notify banks and credit card companies – Inform them about your travel plans so that they are aware of any changes made from abroad and can prevent any fraudulent activity on your cards while away from home.
Get travel insurance – Purchase insurance to cover any medical expenses or flight cancellations that may occur while you're away.
Print out confirmations/itineraries – Have all your reservations, tickets, and other essential documents readily available during your travels if you need to refer back to them.
Take precautions for safety – Research basic safety tips for the destination you're visiting, such as areas to avoid or necessary vaccinations, so that you can be prepared and stay safe throughout your travels.
If you go through this summer vacation packing list before your trip, you can be assured that everything is covered and you can enjoy a worry-free getaway.
Fun Things to Bring on Vacation
1. An Instant Camera
An instant camera lets you take pictures and have them printed immediately to enjoy and share them with friends and family. Plus, you don't have to worry about running out of space on your phone or digital camera cards!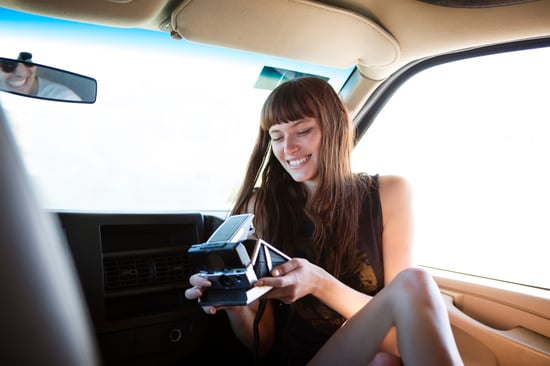 Photo credit: Cavan for Adobe - stock.adobe.com
2.
An External Battery Pack
For those times when you're away from a power outlet and need to recharge your phone or other electronic devices, an external battery pack can be a lifesaver.
3.
Tablets
Tablets are a great way to keep entertained while on vacation, as they're lightweight and easy to transport. Plus, they are handy for checking emails or doing any other online activities you might need.
4.
A Waterproof Speaker
A waterproof speaker is an excellent choice for listening to music while taking a dip in the pool or the ocean. Many models are lightweight and have long battery life, so you can keep the tunes flowing all day.
These are just some fun things you can bring on vacation to make your trip even more enjoyable. With these items in tow, you'll have a fantastic time and come home with plenty of memories to share.
Shop gadgets on Wish >
5. Travel Games
Not only are travel games entertaining, but they also help pass the time while on long journeys or waiting in airports. And many of them don't take up much space, so you won't need to dedicate a lot of room in your bag to them.
6.
An Inflatable Pool Float
An inflatable pool float is a must-have item for beach trips or pool days. They're portable and easy to store, so you won't need to worry about lugging around a bulky life jacket or foam noodle.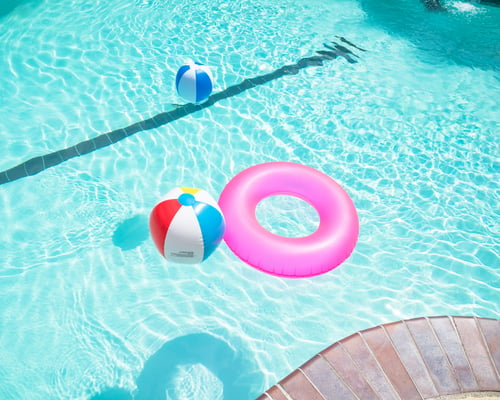 Photo credit: Pixel-Shot - stock.adobe.com
Shop and Save on Summer
Vacation Essentials
with Wish
At Wish, we understand the importance of having everything you need for a stress-free and enjoyable summer vacation. That's why we offer a wide range of travel essentials, from luggage and toiletry bags to tech accessories and beach gear.
With Wish, you can find everything you need for your summer vacation at affordable prices. We specialize in providing great value and savings to our customers. With Wish, you can shop with confidence, knowing we offer a money-back guarantee on every purchase. So start packing your bags and get ready for the trip of a lifetime. Shop with us today to stock up on travel essentials today!
With these items on your list, you'll be ready to enjoy all the fun activities your summer vacation has to offer! Have a great time and happy travels!