Celebrate Love in Style: 15 Inspiring Summer Bridal Shower Themes
What better time to celebrate the union between a loving couple than summer? It's a time filled with warmth and joy, making it a great backdrop for an unforgettable celebration.
Choosing between various bridal shower themes for summer isn't easy — especially if you want your shower to stand out and wow guests. That's why we've put together a list of unique summer bridal showers that will make your event something to be talked about for years to come
Check out our summer bridal shower ideas and choose the one that matches your style or taste!
15
Summer Bridal Shower Themes
Are you throwing the event yourself for coordinating on behalf of someone special? Either way, take a look at these fun and unique themes for bridal showers.
1. Wine Night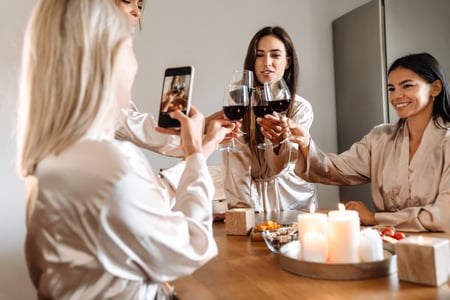 Photo credit: Drobot Dean - stock.adobe.com
Whether you host an intimate wine night at home or bring a big group to a local vineyard, let wine set the tone for a deliciously enjoyable summer bridal shower theme. A wine tasting at a vineyard will supply everything you need with no cleanup afterward. Benefit from expert knowledge as you sip specialty reds, whites, and rosés.
Hosting it yourself allows you to make it more personal– like preparing the exact type of charcuterie spread the bride will love. It also allows for more spontaneity, whereas booking a wine tasting at a vineyard requires plenty of advanced notice. No matter which type of venue you choose, set the scene with bridal shower balloons, wine-themed gifts, and festive table decorations.
Shop wine party favors on Wish >
2. Baking Party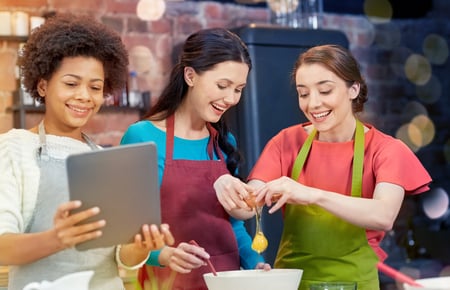 Photo credit: Syda Productions - stock.adobe.com
For the bride who loves to bake, why not host a baking party? Prepare desserts that her future honeymoon destination is known for. For example, to prepare for a Parisian honeymoon, bake French pastries together. Even if you make a mess, getting creative in the kitchen is fun to do with friends and family. Eating homemade sweets brings everyone close together. Plus, who doesn't love bite-sized macarons and cream puffs?
A baking party requires the right supplies. The bride may need/want patisserie accessory gifts to fit this theme.
Shop cake decorating supplies on Wish >
3. Laid-Back Brewery Gathering
If you're looking for a non-traditional wedding shower theme, look no further than a laid-back brewery venue. Choose a big outdoor brewery for a bridal shower with a large guest list. Sprawling outside on picnic tables and sipping on local beer is a tried and true crowd-pleaser. Join an already existing trivia night at the brewery, or bring your own "how well do you know the bride" bridal shower trivia game!
Or, host a "brews before I do's" themed shower at home! Have guests sample a specialty homemade beer, or serve a selection of craft ales, lagers and stouts for a personalized tasting. Don't forget non-alcoholic options! Keep it casual with easy appetizers and a great playlist the bride will love.
To keep the party going post-brewery, shop home brewing essentials on Wish >
4. Backyard Cookout
For parties that include the bride's extended family, choose bridal shower themes for summer that all ages will enjoy like a classic backyard cookout! Grill up your summertime favorites with plenty of sides like chips, dips and salads. Spend an afternoon in the sun with loved ones, enjoying a variety of home-grilled goodies. And if the party extends into the night, break out the party lights for a truly festive evening!
Grandparents and toddlers alike enjoy a good game of backyard cornhole. A piñata will entertain the kids while adults enjoy the silliness that only bridal shower games can offer.
Shop outdoor essentials on Wish >
5. Festive and Floral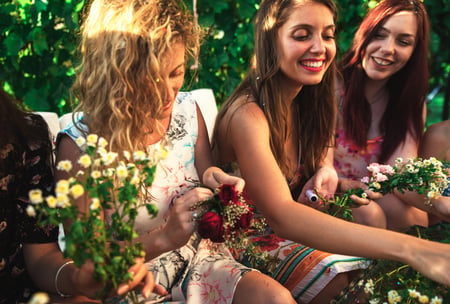 Photo credit: Zoran Zeremski - stock.adobe.com
A floral bridal shower theme just makes sense. After all, summertime is when sunflowers and petunias are in full bloom. But if you know the type of flowers the bride will hold in her bouquet on the big day, make those the theme. Extend this into the invitations and thank you notes. Encourage your guests to wear floral dresses and shirts. Give out floral-scented party favors like perfume samples, aromatherapy oils, or room spray.
Prepare floral tea and treats, like rose tea and lavender lemon cupcakes. Floral party decorations may include place settings, a table runner, and mini table arrangements. And to accommodate those with allergies, artificial flowers can look just as lovely as fresh-cut stems.
Shop floral party decorations on Wish >
6. Afternoon Tea
Cue the finger sandwiches, pastries, and tables topped with doilies! An "Afternoon Tea" theme is perfect for the bride who loves all things classic and timeless. Encourage guests to dress to the nines, and be sure to decorate the space with party bunting.
Whether you serve fine teas or go to a specialty cafe, this theme works beautifully for bridal showers both large and small. Bonus tip: if hot tea in the afternoon is not going to work in the summer heat, opt for iced tea instead.
Shop tea party ideas on Wish >
7. Get Crafty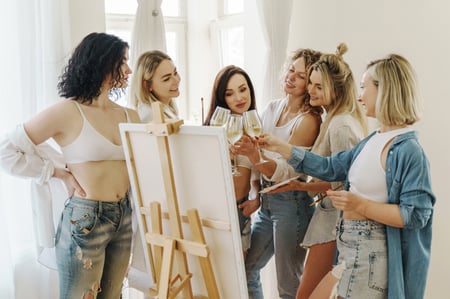 Photo credit: blackday - stock.adobe.com
If the bridal shower attendees are a creative bunch, make it a crafting party! Take a group photo, then invite guests to create their own party favors by decorating picture frames. Or, invest in some jewelry craft supplies so guests can make matching bracelets and earrings to wear on the big day.
Summer is when plants tend to outgrow their old pots, which makes painting new clay pots a fun group craft as well. Have all guests sign each other's pots to commemorate the special day. Whichever craft you choose, decorate it with summertime themes, like beach scenes and bright colors.
Shop art and craft supplies on Wish >
8. Cocktail Party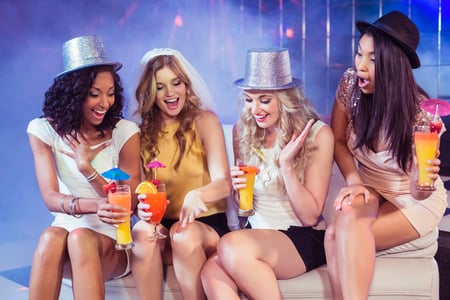 Photo credit: WavebreakmediaMicro - stock.adobe.com
Whether you rent out a rooftop bar or host it at home, you can't go wrong with a bridal shower cocktail party. Offer summery cocktails like beachy mai tais and strawberry margaritas. Better yet, name a new drink after the bride! This also serves as a good opportunity for her to think about which type of drinks she'd like served at her wedding.
For a large bridal shower, consider going to a bar or hiring a private mixologist. If the host is pulling double duty as bartender for an at-home gathering, don't forget the drink umbrellas! Finally, a "photo booth" area complete with silly photo booth accessories and a balloon arch is a must for a fun cocktail party.
Shop bar accessories on Wish >
9. Cater the Bride's Favorite Food
Summer bridal shower menus can range from light appetizers to multi-course offerings. Whichever you choose, be sure to feature the bride's favorite foods. Make it all about the bride, because the wedding will most likely feature foods that the couple agrees will satisfy the crowd. As you put the bridal shower menu together, remember that summer is also the perfect time to enjoy fresh fruit smoothies, fruit platters, and fruity desserts. Even the main dish can be garnished with fruit, like pineapple salsa atop fish tacos.
Don't forget to ask guests to note any dietary restrictions when you send out invitations. And for a large party, consider putting place cards and place card holders in the dining area to note seating and to label foods.
Shop catering supplies on Wish >
10. Make a Splash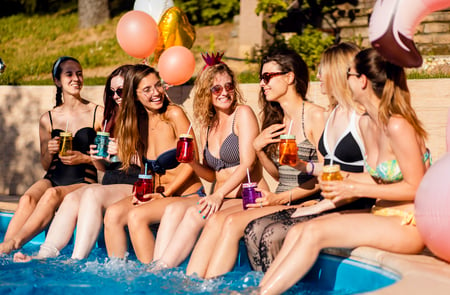 Photo credit: Zoran Zeremski - stock.adobe.com
Beach, river, or lake? Ask the bride which is her favorite, and use it as her bridal shower venue. Nothing beats the summer heat like cooling off in the nearest body of water. Take a group photo of party guests jumping in the water, holding hands with the bride.
And for the bride who doesn't want to part from her pooch, this outdoor idea is dog-friendly. Don't forget the sunscreen, towels, beach bag, and beach chairs — whether you get in the water or not, you'll need the essentials!
Shop beach essentials on Wish >
11. Bottomless Brunch
Brunch is always a good idea. And summer weather allows for outdoor seating and coordinated bridal party shirts! Whether you go out or host at home, it's a popular weekend activity for a reason: not too late and not too early, brunch still allows guests to have the evening to themselves. Alternatively, start with brunch and add on another activity to extend the bridal shower into the late afternoon.
As for the bottomless component, ask the bride if mimosas, Bloody Marys, or non-alcholic spritzers are calling her name. If you go the potluck route, have guests note their dish ahead of time so that no one brings duplicates. And as guests gather around the dining area, invite them to write a message to the bride in a commemorative bridal shower book.
Shop guest signature books on Wish >
12. Magical Sunset
Summer bridal shower themes that are inspired by the beauty of nature are always a hit. For example, an outdoor bridal shower at sunset will put guests in a blissfully reflective mood. As the day turns to night, the sun sets the tone for what this party is truly about: transitioning into another phase as the celebrated fiancée will soon be a wife!
Lean into the magic of this time by throwing a whimsical garden party complete with candle-lit lanterns and twinkle lights in mason jars!
Shop garden party decor on Wish >
13. Hitch Your Party to a Local Event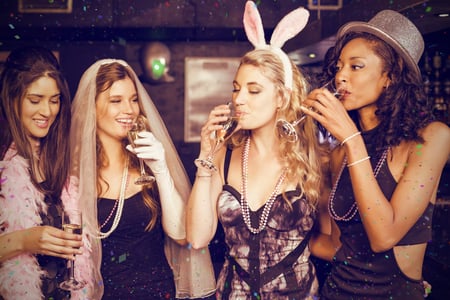 Photo credit: vectorfusionart - stock.adobe.com
Let a concert, festival, or local event set the theme for you! For example, music-themed gifts and invitations are in order when the main event of a bridal shower is attending an outdoor summer concert.
If the bride's ideal shower is small and budget conscious, you don't need to overcomplicate it. Something as simple as walking around a Saturday farmers' market with the bride's nearest and dearest might be perfect. This homegrown, local theme is ideal for the sustainability-savvy bride. The important thing is that she is doing something she loves with the people she loves!
To keep track of one another in the crowd, shop matching bridal party sashes on Wish >
14. Mini Break
Some brides don't feel the need to have both a bachelorette party and bridal shower. A mini break is the perfect way to combine two events into one. Whether it's a single night or a whole weekend away, it's a chance to have a super fun sleepover with her favorite people! Break out the spa face masks, nail polish, and matching pj's.
Summertime is when we all need a break from our daily routines. Bridal shower attendees will jump at the chance to rent out a vacation house or have a staycation. Get ready for a nostalgic movie marathon and fun bridal shower games!
Shop bridal party pajamas on Wish >
15. Housewarming
Traditionally, gifts given at a bridal shower are intended to outfit the home that the engaged couple will share or already share together. A bridal shower is the perfect opportunity for the bride to receive the gifts on her wedding registry ahead of the big day. It allows time for the bride or couple to open the gifts and thank guests in person. Offering bridal party gift bags for guests to take home with them is a nice touch as well.
To turn the practical housewarming theme into a summer splash, have the festivities take place on the back porch, yard, or patio. Decorate the space with floral decor and twinkle lights and cater the event with all the bride's favorite goodies!
Shop home goods on Wish >
Get
Summer Bridal Shower
Inspiration from Wish
Love is certainly in the air this summer! Whether you're shopping for that perfect bridal shower gift or an outfit to wear to one, Wish is your go-to place for everything you need. More summer bridal shower ideas and party supplies await on Wish. Discover new additions for the home, garden, wardrobe, and more.
Join the millions of people worldwide who find everyday essentials and undiscovered gems on Wish's online marketplace. Plus, enjoy faster delivery times, $2.99 flat rate shipping on eligible orders, and a money back guarantee.
What else will you discover when you download the Wish app? It's time to find out. Click here to get started. Happy shopping!