Save Money on Wedding Centerpieces with These Creative DIY Ideas
Congratulations on getting ready to tie the knot! If you're on a tight budget, that doesn't mean you can't have stunning table arrangements that will awe guests. A beautifully set tablescape goes a long way at making a great first impression as people enter the room. Plan a fabulous reception while keeping costs low with these DIY wedding table decor ideas you'll want to say "I do" to.
1. Create a dramatic look with a eucalyptus table runner
Flowers are beautiful, but botanicals like eucalyptus can provide a budget-friendly way to bring a unique and simple elegance to reception tables. They look great overlayed on their own, but you can also add dimension with the addition of candles or floras. If using the real thing is too much for your wallet, explore faux eucalyptus garlands on Wish.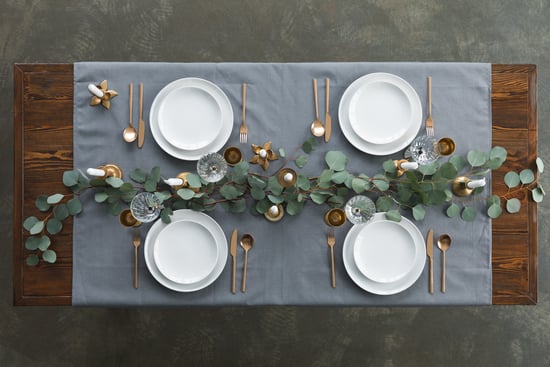 Photo credit: LIGHTFIELD STUDIOS - stock.adobe.com
2. Save on expensive flowers with more greenery or lush plants
If you do want to use flowers but need to cut down on the cost, incorporate fillers such as fluffy, beige-toned pampas grass. You only need a few of these cloud-like stalks to create a gorgeous and airy arrangement that will compliment any space. Shop a selection of dried pampas grass on Wish.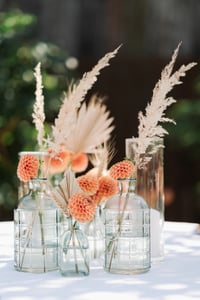 Photo credit: Bumbas - stock.adobe.com
3. Incorporate fruits and vegetables
Why not have a delicious centerpiece that guests can munch on while they enjoy the festivities? Buying a ton of fruits and veggies can get expensive, so look into wholesale options. In addition, to save even more, don't overload baskets with fruit. Instead, place filler paper at the bottom to elevate the produce, and add in florals or greenery to make the display look fuller than it actually is.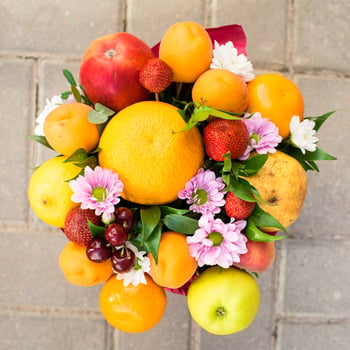 Photo credit: smspsy - stock.adobe.com
4. Go beyond traditional flower vases
Flower vases can be a splurge, so think outside the box with everyday items you can buy in bulk such as tin pails, wooden crates, mason jars, ice buckets, or flower pots. What makes this a great cost-saving choice is that these fun centerpiece containers are things guests can take home with them and use long after the event.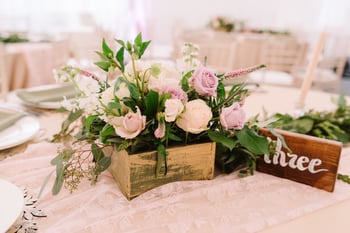 Photo credit: Olga - stock.adobe.com
5. Beautify tables with statement-making floating candles
No flowers? No problem! Decorate tables with low-cost tea lights, which will enhance the romantic ambience in the room. While you can simply place them on the tables, bedazzle guests with floating candles. Any clear glass container, such as a fishbowl or wine glass, will work. Fill them with water, turn the tea lights on, and drop them in. That's it!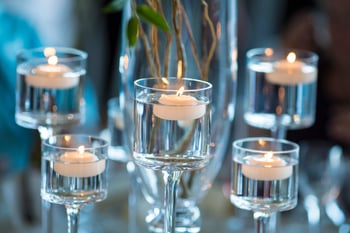 Photo credit: Wollwerth Imagery - stock.adobe.com
6. Sparkle with crystal garlands
Crystal garlands are an easy way to add a glamorous touch that will shimmer throughout the reception. Attach them to the base of a centerpiece or simply drape over the table as an accent to floating candles or other table decor.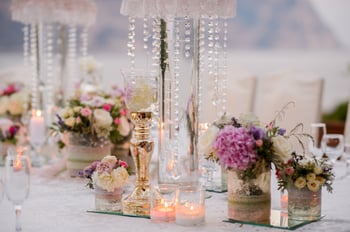 Photo credit: Inna Darda - stock.adobe.com
For even more wedding table decor supplies, visit the Wish app, where you can search for everything from place cards to table numbers to wedding themed balloons!