The Best Picnic Essentials to Pack for the Perfect Outing
What's more relaxing than a perfectly planned picnic in gorgeous weather? Think fun in the sun with mouthwatering charcuterie boards, plush blankets, and the classic woven picnic basket for a picture-perfect afternoon. Picnics are a fantastic outdoor activity whether with a significant other, friends and family, or even as a solo date. If you haven't put together a good old-fashioned picnic in a while, some must-have items may slip your mind (and you may not be able to just run home and grab things you forgot). But, don't stress! We've put together a checklist of all the essential things to bring on a picnic.
What to bring to a picnic depends on who's coming, where you're going, and if you're celebrating anything in particular. These ten picnic essentials will come in handy no matter where your picnic takes place, whether you're soaking up the sun at the beach, relaxing with a book by the river, or keeping it simple in your backyard.
1. Cooler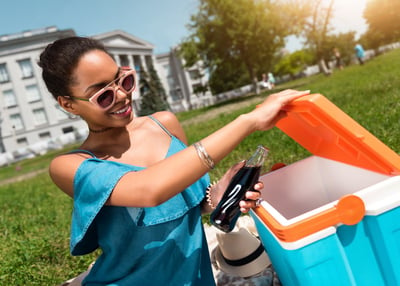 Photo credit: Viacheslav Yakobchuk - stock.adobe.com
A cooler is a must, especially for larger picnics! Whether you're going all out with a fancy cheese board or you simply need to keep a few drinks on ice, you don't want to skip the cooler. Pro tip: coolers also make great trash cans, since a lot of picnic sites may not have one.
A quality cooler will keep your perishable food and drinks refrigerated all day so that you can snack and sip at your leisure — no more running to the store mid-picnic to grab cold water or ice. Plus, if you're thinking of bringing your picnic on a hike, a cooler definitely comes in handy.
2. Outdoor Seating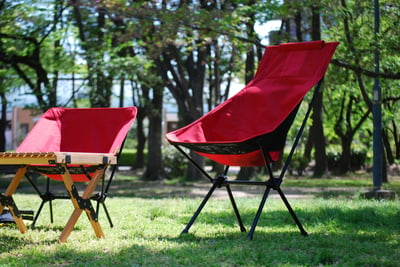 Photo credit: Satoshi - stock.adobe.com
We love our public parks, but not all of them have picnic tables. Sitting on the ground isn't comfortable for everyone, and getting up and down from the ground can be challenging. What to bring on a picnic with folks who have mobility issues should be determined ahead of time. Outdoor seating options will make the picnic enjoyable and inclusive for all. Collapsible chairs and stools are easy to set up and work great around a campfire. You can't go wrong with four-legged chairs with cup holders for more support.
Shop outdoor seating on Wish >
3. Corkscrews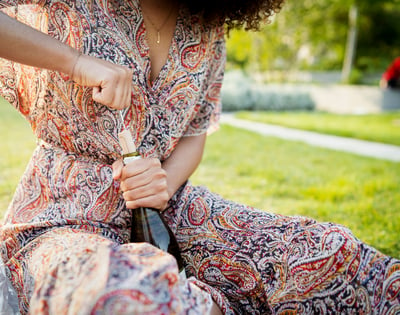 Photo credit: Cavan for Adobe - stock.adobe.com
When it comes to the essentials and what to take for a picnic date night, add a corkscrew to the top of that list! There's nothing worse than getting to your beautiful picnic spot with a nice bottle of wine and realizing you've got nothing to open it with. Talk about killing the vibe!
Corkscrews are one of the most essential picnic items, but it's also an easy item to forget. Keep a designated corkscrew for picnics in your basket or your car so that you never forget this must-have item—problem solved!
4. Utensils
When making a list of what to pack for a picnic, don't forget utensils! After all, hands get dirty when out in nature, especially when enjoying finger food on a picnic. Just make sure to pack enough for the whole party and that you bring a variety of utensils (you don't want to get caught without a knife to cut that expensive block of Brie).
Alternatively, you can choose utensils designed to function as multiple utensils in one, like sporks. Either way, we encourage you to invest in reusable utensils instead of one-use plastic. Not only is it better for the environment, but there are lots of cute options! Choose from a set of multicolored utensils for a fun, summery picnic vibe, or go for the timeless and classic stainless steel option. Take your pick!
Shop picnic utensils on Wish >
5. Travel Pet Bowls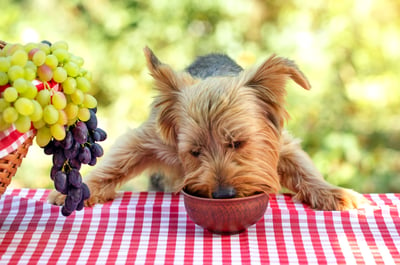 Photo credit: alexlukin - stock.adobe.com
If you have a furry friend who likes to tag along with your picnics, be sure to have food and water bowls on hand! Travel-friendly pet bowls are the perfect picnic essentials for pet owners who want to bring their beloved animals on an adventure (or let's be honest, a lazy day in the park).
Of course regular bowls will work just fine but, silicone bowls are a good option that can easily collapse for easy storage when not in use. Pro-tip: keep the bowls in your car so you never forget them. Investing in travel bowls makes it easy to care for your furry friend on the go, so you can keep up that game of fetch as long as you please!
Shop travel pet bowls on Wish >
6. Piñata and Piñata Fillers
Are you celebrating a special occasion, or just looking to spice up your picnic game? Consider adding a bright and vibrant piñata for a little bit of extra festivity (especially if there'll be kiddos around!). Fill a piñata with candy for kids or other goodies for a more adult vibe.
For example, if you're hosting an adult birthday party, fill your piñata with bottle openers, gift cards, fancy chocolates, or mini-bottles of hot sauce — the options are endless! Just note, if you do decide to celebrate the party with a piñata, make sure you bring a bat for swingin'.
7. Picnic Basket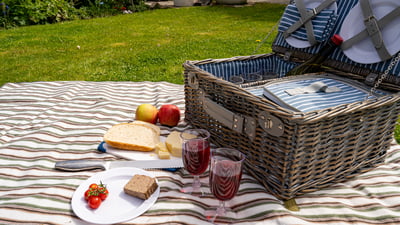 Photo credit: WD Stockphotos
- stock.adobe.com
Naturally, you're going to need something to put all of your picnic goodies in, and what's a more timeless picnic essential than a basket? While wicker straw baskets are always a classic choice, don't feel limited! Carrying a wicker basket around all day isn't always convenient.
You can also opt for a modern, waterproof folding basket that can easily be folded up and placed in a backpack after use. Depending on how elaborate your picnic setup is, you may need a basket for all the food and another for everything else!
8. Picnic Blanket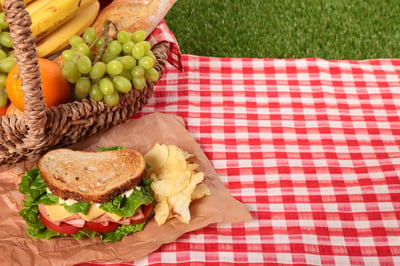 Photo credit: jc_studio - stock.adobe.com
When it comes to must-have things to bring to a picnic, you simply can't forget the blanket! Before laying the blanket on the ground, make sure it's flat with no mud or small puddles. The blanket you choose will set the tone for your picnic, so decide what vibe you're going for while considering environmental factors.
For example, you may want to opt for a waterproof mat if you're going to be picnicking near a body of water, like the beach. For picnics in the grass, go for traditional gingham or use a soft, plush option for lying down with a book post-meal. Pro-tip: some picnic blankets are designed with a strap for easy transport, perfect for those who may need to walk a bit to get to their destination.
Shop picnic blankets on Wish >
9. Portable Wine-Friendly (or Mocktail) Picnic Table
Wine glasses can easily fall over if they are set on a surface that is not perfectly flat, and we fear those dreaded wine stains. A portable wine-friendly picnic table is the way to go for preventing spills and elevating your picnic.
These handy tables have cut-out portions designed to hold wine glass stems, perfect for picnics on hills or in mountainous regions. That way, your beverage is spill-proof while you and your boo enjoy the view. These tables also have designated areas for a wine bottle and enough room for snacks, sitting low to the ground so you can lounge comfortably on the blanket. Collapsible for easy transport and storage, these tables are a no-brainer for upping your picnic game!
Shop portable wine-friendly picnic tables on Wish >
10. Cheese Board
Speaking of upping your picnic game, do you want to kick it up a notch? Nothing says luxury more than a fancy cheese board! Create a social media-worthy spread with grapes, strawberries, crackers, and a selection of delectable cheese. Remember those utensils we mentioned earlier? Make sure you bring your own or opt for a cheese board that comes with matching cutlery.
Make sure you fill up your board with gourmet finger foods that will last all day. Don't forget toothpicks!
Browse Wish for More Picnic Essentials
Are you ready to pamper a loved one or treat yourself to a fancy picnic? Now that you've got your list of essentials down, find all the must-have picnic stuff you need in one place. Wish helps you find the best prices online, whether you're looking for picnic goodies or just in a shopping mood!
With a huge variety of premium products, you can browse across categories such as home, fashion, gadgets, and more. Join millions of active users and create an account today to make your shopping more smart, fun, and rewarding!
Main image photo credit: StockPhotoPro - stock.adobe.com