10 Outfits for the Weekend: Style Inspiration for Women
You've shut down your work computer and are now free to celebrate the long-awaited weekend. Wave goodbye to your work 'fit, and say hello to outfits for the weekend!
As fashion trends have evolved, weekend clothes have become more important than ever in making a statement about your personal style. The weekend is the perfect time to show off what makes you unique, so feel free to be on trend, retro, or fashion forward. The choice is yours!
Outfits for the Weekend: Tips on What to Wear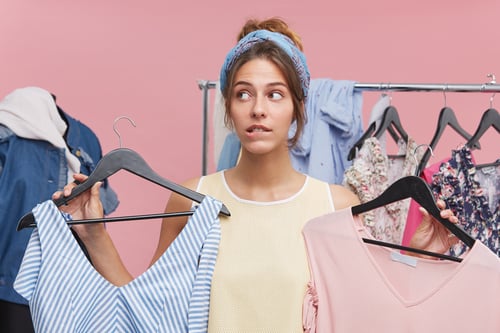 Wayhome Studio - stock.adobe.com
If you need inspiration on what to wear during the weekend, we're here to help! Follow our tips when preparing an outfit for a weekend outing.
Dress for the Occasion
First, think about what kind of event you're attending. Are you heading to a fun outdoor barbecue, or are you planning a casual beach trip with friends? Next, determine what your role will be at the get-together. Will you be the star of the show with all eyes on you or socializing with a crowd? This can help you decide what type of weekend wear is best to put together to express your style.
Try On Outfits In Advance
When deciding on weekend outfit ideas, we recommend you try on a handful of selections before making a final decision. As you do this, think about how each piece makes you feel. If you try on a few different weekender outfits and nothing seems to be working, put on something you are comfortable wearing. After all, you'll look your best when you feel your best!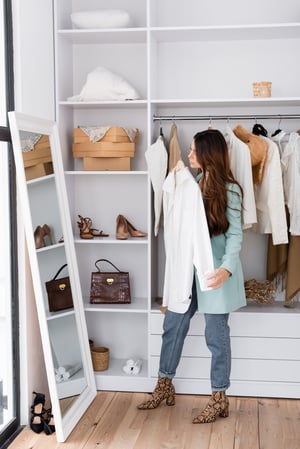 Photo credit: LIGHTFIELD STUDIOS - stock.adobe.com
Determine Your Style Vibe
If you're looking for weekend outfits, the first thing you should do is figure out what your style is. Don't try to change yourself too drastically. You want to find outfits that suit your unique style and compliment your body shape. Doing so will guarantee you feel confident and look great while wearing them.
You should always follow your own personal sense of style when choosing outfits for the weekend. This is the best way for you to get what you want out of fashion. Keep this in mind, and you'll be on the right track.
Add Details & Accessories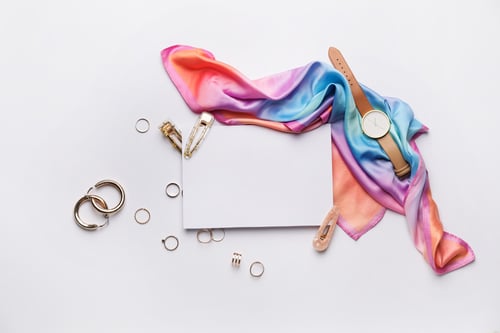 Photo credit: Pixel-Shot - stock.adobe.com
A helpful fashion tip is to pay attention to the details of their clothing. Little things such as rips, buttons, and pockets can make a huge difference in giving your wardrobe some extra charm. These details give your outfit flair and personality, so don't leave them out!
One way to improve the look of any outfit, including Saturday outfits, is to accessorize! It's easy to get overwhelmed at the thought of putting together a complete look, but accessories are what really ties your look together. An accessory item can take your whole outfit to a new level when appropriately combined with the rest of your ensemble.
The weekend is a time to relax and have some fun. It's also an excellent opportunity to wear something new and stylish. In this blog post, we will show you 10 different cute weekend outfits so you can get some fashion inspiration. Whether you're going out on a date or just hanging out with friends, we have a weekend outfit for you!
Weekend Outfit Ideas
Outfit #1: A casual top, your favorite colored slacks, and nude shoes. This combo is a perfect option for a date or a night out on the town. For example, pair a simple blouse with flattering bold slacks and fun accessories.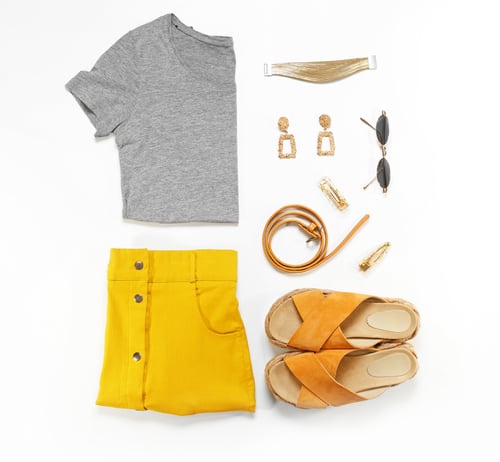 Photo credit: Pixel-Shot - stock.adobe.com
Outfit #2: A denim skirt, a white top, and sandals. When searching for outfits for the weekend, here's an option that would work well for a summer day: a casual denim skirt with a classic white tank top. Choose some sandals or even flip-flops (weather permitting) that are comfortable and stylish to complete the outfit.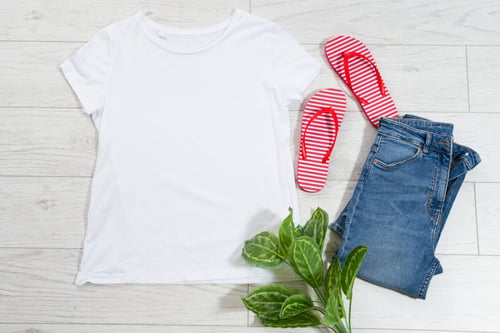 Photo credit: paulcannoby - stock.adobe.com
Outfit #3: A maxi dress, a jean jacket, and flip-flops or boots. This outfit option is perfect for running errands or a casual lunch. Pick a maxi dress that is comfortable and stylish, then add a jean jacket for a bit of edge. Wear it with flip-flops that are easy to walk in or slide on some boots if the weather is a little chilly.
Outfit #4: A black dress, a cardigan, and flats. Ideal for a day of shopping or running errands, a black dress is versatile and can be dressed up or down. Cardigans add a bit of warmth for those cooler days. And, flats are comfortable and easy to walk in.
Outfit #5: Shorts, a t-shirt, and sneakers. Weekend casual outfits don't get any better than this! This combination is perfect for a day of exploring or hanging out with friends. Choose shorts that are comfortable, a breathable t-shirt, and sneakers suitable for walking or running.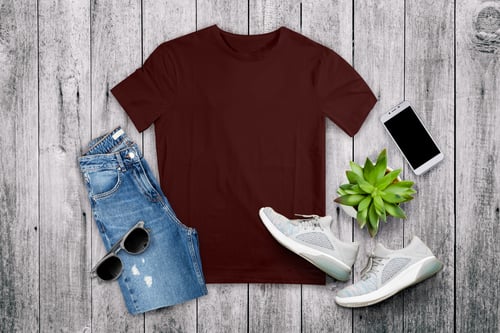 Photo credit: mustapha - stock.adobe.com
Outfit #6: Jeans, a blouse, and boots. Need an outfit suitable for running errands or a casual dinner? This is it! Opt for a pair of comfortable jeans, then pick a stylish blouse and a trendy pair of ankle boots.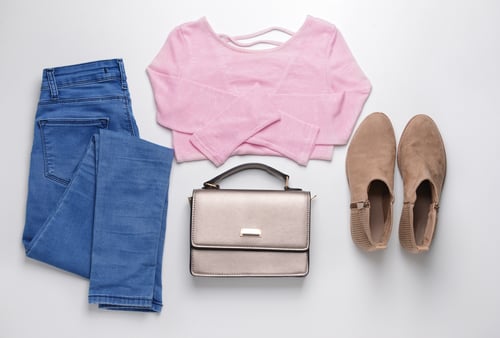 Photo credit: Pixel-Shot - stock.adobe.com
Outfit #7: A long skirt, oversized shirt, and comfy flats. This outfit is cute and fun! It is perfect for a day at the park or a picnic. Be sure to choose a skirt that is flowy and comfortable.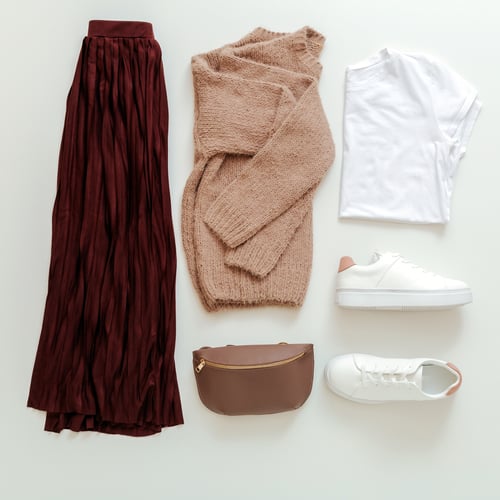 Photo credit: Beton Studio - stock.adobe.com
Outfit #8: A romper, a jean jacket, and flats. Nothing says fun quite like a stylish romper. Choose one that is a classic solid color, or opt for a fun floral print. Add a jean jacket and flats, and you're good to go!
Outfit #9: A skirt, a tank top, and heels. This is one of our favorite Saturday outfit ideas if you're planning a night out on the town. Combine a trendy skirt with a tank top. Then, wear a pair of heels (or comfy flats) to complete the look.
Outfit #10: A warm sweater and jeans. This is a chic casual outfit for any day of the week. This outfit looks great when the jeans are styled with a sweater that pops with color. Wear your favorite shoes, and you're ready for a fun outing!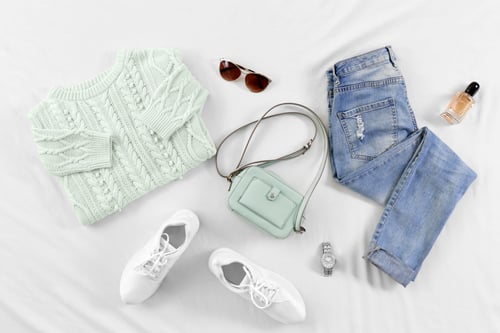 Photo credit: Africa Studio - stock.adobe.com
Find Your New Favorite Weekend Outfit
Shop Wish.com for women's clothes, and you'll find that you have an entire world of options open to you. Shop at Wish for fresh finds at great prices.
Ready to explore our wide selection of women's clothing or get some more outfit inspo? Download the Wish app today.