10 Dazzling New Year's Eve Outfits to Ring in 2023
New Year's Eve is around the corner, meaning it's time to put together a fantastic ensemble. Whether planning the ultimate night out or celebrating at home with friends, you'll want a chic New Year's look that will make you feel your best.
If you're determining what to wear on New Year's Eve, we've put together a fabulous guide for the most gorgeous and on-trend holiday outfits. We made sure to include New Year's Eve outfits for cold weather and various dresses that won't break the bank. If you're not big on sequined or glittered outfits for your New Year's look, we've included some more understated outfit options you can accessorize with complimentary shoes, bags, and jewelry for a signature look.
So, dress to impress with these stylish New Year's Eve outfit ideas. No matter where you decide to watch the ball drop, you'll find plenty of fashionable options with Wish.
10 New Year's Eve Outfit Must-Haves
The perfect New Year's Eve clothes accentuate your style and personality. Whether you're going for a bold or lowkey look, here are 10 New Year's Eve outfits that you'll fall in love with: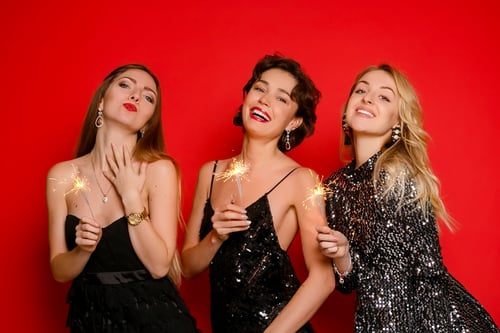 Photo credit: Misha - stock.adobe.com
Sequins are nearly synonymous with New Year's Eve. In fact, it'd be a challenge to go to a party and not see at least one person decked out in all their glitter and shine. After all, it's the one time of year when going all out with the glitter and glam is expected.
This season, add some sparkle to your New Year's party outfit with some sequins. This is your moment to shine, quite literally! The great thing about sequins is they never quite go out of style and are attention-grabbing. So, throw on your sequin party dress, whether partying in a swanky establishment or virtually from the comfort of your own home.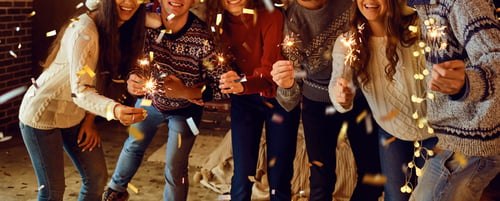 Photo credit: Studio Romantic - stock.adobe.com
Since New Year's Eve tends to be chilly, a set of clothes that can keep you toasty is highly recommended.
For a more laid-back and relaxed look, an oversized sweater paired with jeans is an excellent option for New Year's Eve clothes. This look is great for those who don't have plans for the evening or simply want to be comfy. Whether you choose a New Year's Eve sweater dress or a cardigan, you don't have to sacrifice comfort for style.
However, remember to bring a stylish, durable winter coat if you and your friends have plans for an outdoor get-together or excursion. Even if it's only for the small hike from the front door to the car, you'll be glad to have one on hand by the night's end.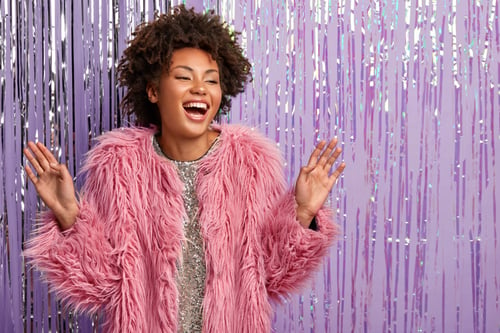 Photo credit: Wayhome Studio - stock.adobe.com
New Year's Eve is one of the few times of the year when many people get the opportunity to dress to the nines. While sequins are a common outfit choice, they are by no means our sole option for New Year's Eve costumes and ensembles.
Consider a fur option if you want to take your holiday look to the next level. Fur outfits are not only stylish, but they also keep you warm. During the colder months, a fur coat is the perfect finishing touch to any outfit. Many vegan and faux fur options look and feel like the real thing while also being cruelty-free.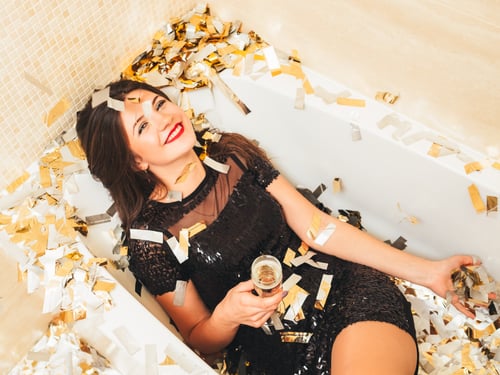 Photo credit: golubovy - stock.adobe.com
One New Year's Eve look you can always depend on is the classic little black dress.
The perfect LBD is like having a reliable friend. Ready when you need them and always in the mood for a night out on the town.
An LBD is also a fantastic base for numerous New Year's Eve outfits. Embellish your little black dress with a touch of your personal style with the right jewelry, shoes, and handbag. Whether you're going for a glamorous, classic, playful, or punk look, an LBD serves as a great foundation.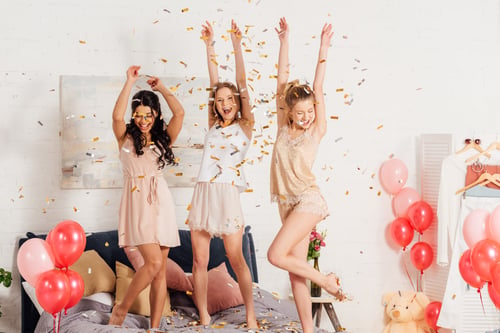 Photo credit: LIGHTFIELD STUDIOS - stock.adobe.com
If you plan on ringing in the New Year at home, it's totally ok to ditch the sequins in favor of pajamas this holiday season. Cozy PJs are a total vibe, especially when you're all about relaxation and in the comfort of your home.
Don't think you have to get out of the New Year's Eve spirit with PJs, either. You can still dress to impress. One of this year's best New Year's Eve outfits is a gorgeous pajama set that combines ease and elegance. Consider adding sparkly accessories to give your PJs a more celebratory look. Whether you pair them with your favorite house slippers, sky-high heels, or comfy fleece flats, a satin, rhinestone, or boa-trimmed set will steal the show.
Choose leather over sequins and glitter to give your outfit a little edge.
Strut into the party with a tulle skirt paired with a leather jacket, and you're guaranteed to make a statement. A sleek leather top or jumpsuit is another show-stopping look.
Combine it with a crop top for an effortless New Year's ensemble, or pair it with a slip dress and chunky boots to ride the '90s nostalgia.
Like fur, plenty of faux and vegan leather options are available that are stylish and highly durable for extended wear.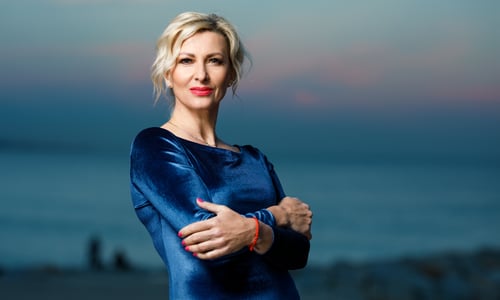 Photo credit: JENOCHE - stock.adobe.com
You can ring in 2023 in style by rocking a velvet gown or mini dress. If you want to feel cozy in the evening and still look absolutely gorgeous, velvet is the fabric for you. Go for maximum glitz by selecting a velvet tube dress or a velvet slit dress.
You can even go for a more dramatic look by sporting a stylish velvet blazer for the party. Pair that with a bold necklace and heels, and you're good to go. Consider wearing a pair of sparkly silver stilettos and accessorizing with a clutch purse to complete the ensemble.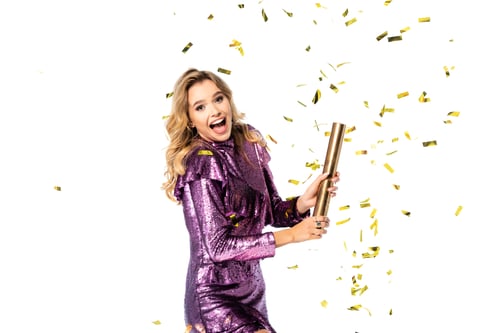 Photo credit: LIGHTFIELD STUDIOS - stock.adobe.com
Are you searching for a trendy New Year's Eve look? Opt for an incredibly versatile metallic skirt to hold the crowd's attention. Match your adorable silk cami or off-the-shoulder top with an eye-catching metallic dress for the ultimate New Year's Eve ensemble. Consider holiday-inspired jewelry and strappy heels to pull your New Year's look together.
New Year's Eve is a time for celebration. What else can put you into a celebratory mood than a fringe dress? While New Year's Eve may be calling for sparkles and glitter, fringe can be equally glamorous. This outfit is perfect for anyone looking to add a touch of sophistication to their New Year's Eve outfits. You can easily style a fringe dress with bold hues and footwear. Complete the attire with sequins for a little added glam.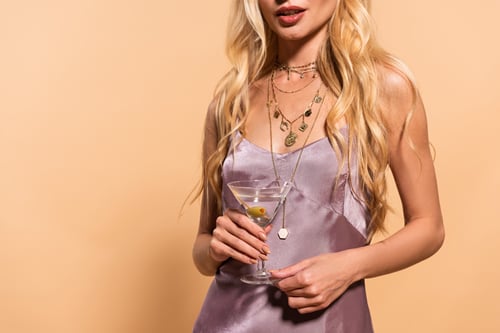 Photo credit: LIGHTFIELD STUDIOS - stock.adobe.com
The mood for New Year's fashion is comfortable yet sleek, and few materials outside of satin embody this concept.
Add an elegant touch to your evening attire by sliding into a satin dress. A sleek satin ensemble is both chic and figure-flattering. Add a clutch and high heels to your look for an elegant finish.
Whether you opt for a slip, dress, or jumpsuit, you'll spend the evening in comfort and style.
Ring in the New Year with Wish
Finding the right New Year's Eve outfits that feel like they were made just for you can feel better than any resolution. Whether shopping for yourself, friends, or family, Wish is the place to find the best deals. Find the most stunning New Year's celebration attire at affordable prices now!