Celebrate the Mid-Autumn Moon Festival by making this 3,000-year-old treat
This year, the Mid-Autumn Festival falls on September 21st. It goes by a few different names, including the Chinese Moon Festival and the Lantern Festival. In Asia, observing the Mid-Autumn moon ranges anywhere from a single day to a weeklong celebration. One of the most iconic foods eaten during the Mid-Autumn Moon Festival is mooncakes, which date back more than 3,000 years!
Mooncakes are eaten specifically during the Autumn harvest moon, which is believed to be the largest, brightest moon of the entire year. Like Christmas cookies and Thanksgiving turkey, mooncakes are the highlight of the holiday.
These days, mooncakes are widely available during the fall months. However, part of the beauty of making your own is that you get to customize it to your liking!
If you're up for a quick treat that you won't need special ingredients for, this easy, mooncake-inspired cookie recipe is for you! Plus, learn how to celebrate the Mid-Autumn Moon Festival at home and discover our favorite must-have Moon Festival decor on the Wish app.
1.) Quick mooncake recipe, no special ingredients needed
2.) Throw your own Mid-Autumn Festival at home
i.) Set the mood with decorations
iii.) Stargaze and eat mooncakes
Quick mooncake recipe, no special ingredients needed
The most iconic mooncakes are dense and rich, with decadent fillings like lotus seed paste, mixed nuts, or salted duck egg yolks. Although this mooncake cookie recipe won't include those traditional fillings, feel free to incorporate them into this recipe if you have time.
Traditional mooncake recipes can vary vastly depending on the region. Some varieties of mooncakes have savory fillings and flaky crusts, while others have sweet fillings and soft crusts.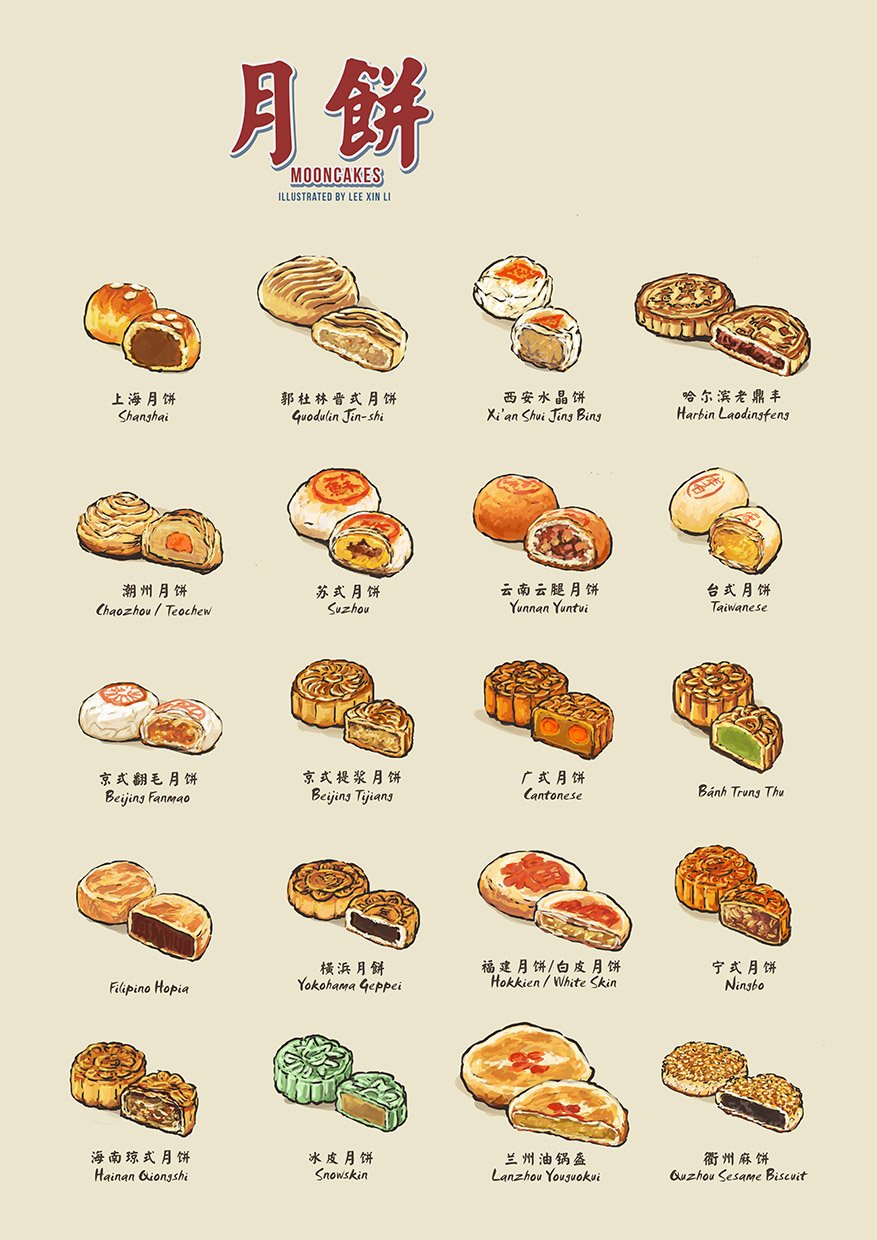 Illustration by Lee Xin Li, 2015
All of these versions of mooncakes require bakers to apply expert techniques to relatively uncommon ingredients. Though time-consuming, making lye water and golden syrup from scratch is what gives mooncakes their signature taste and gorgeous celestial color.
We added a little extra sparkle to this recipe to make it more convenient and accessible to everyone. It includes ready-made cookie dough with a chocolate chip filling that mimics the look of mooncakes. So, if you just don't have the time or specialty ingredients required for conventional mooncakes, follow this simplified mooncake-inspired biscuit recipe instead.
Ingredients
For the mooncake cookies:
Ready-made cookie dough (shortbread or sugar cookie dough works best)
Mooncake press or mold
In a pinch, you can use cookie cutters to place designs on the cookie. But if you'd like a more traditional look to your cookies, there are thousands of options for mooncake molds on Wish.
To make sure your mooncake design stays visible after baking, we recommend using store-bought cookie dough that won't wrinkle up or spread as it bakes. Sugar cookie dough and shortbread cookie dough are great options.
For the filling:
Contemporary mooncakes have evolved to incorporate purple sweet potato, custard, chocolate, or matcha paste fillings to appeal to younger palettes. For simplicity's sake, we're using chocolate chips as the filling in this recipe. However, if you'd prefer a more traditional filling and you have an Asian grocery store near you, you can purchase pre-made lotus seed paste to use as a filling.
For the egg wash (optional):
For the glaze (optional):
½ cup of powdered sugar
Vanilla or citrus zest
4-6 tablespoons of water or milk
Consider brushing an egg wash over the cookies before baking to help your design stand out. After baking, you can also brush a light glaze infused with vanilla or citrus zest over the mooncake cookies. These are optional steps, of course, but highly recommended for ultimate deliciousness.
Directions
Remove the ready-made dough from the packaging and separate it into even portions. You may need to combine 3-4 portions to make a single large portion in order to fit it into the mooncake mold later.
Once the dough is combined, roll it out into a flat circle, keeping the dough relatively thick.
Then, place a few chocolate chips in the center of the flat dough circle.
Gently fold the dough over the milk chocolate pieces to cover them, then roll the dough between your hands to close and even out the dough.
Roll each portion of dough into round balls, then lay the balls on a cookie sheet.
Place one cookie dough ball into the mooncake press and close it, making sure the ridges of the design plate are facing the inside.
Place the bottom of the mooncake press onto a flat surface and gently press down on the hand press until the dough has taken the shape of the mold. Be careful not to press too hard, or your chocolate chips may get crushed inside.
Open the mooncake press and gently separate the cookie from the design plate, then place it back onto the cookie sheet. Repeat these steps until all the dough balls have been pressed.
Crack an egg into a bowl and mix it up. Then, brush the egg mixture onto the top and sides of the mooncake cookies so it bakes into a golden glow.
Bake the mooncake cookies according to the original package instructions, regularly checking to ensure they don't overbake. You may need to adjust the cooking time depending on how thick the cookies are.
While the mooncake cookies are baking, make your glaze. Sift the powdered sugar into a bowl. Then, add your liquid tablespoon by tablespoon until you reach the desired consistency for pouring or brushing. At this point, you can mix in a few drops of vanilla extract or some fresh citrus zest and stir to combine it all.
Once baked through, remove the mooncake cookies from the oven. Then, brush the icing over the top of the mooncake cookies and allow them to cool slightly.
Enjoy warm mooncake cookies with tea of your choice.
Throw your own Mid-Autumn Moon Festival at home
The origin of mooncakes can be traced back more than 3000 years. In the past, mooncakes were offerings for plentiful harvests, commemorations to religious figures, and even catalysts for rebellion.
Fast forward to the present day, and you'll find that mooncakes aren't only eaten for spiritual reasons anymore. They represent traditions that encourage prosperity and reinforce the importance of unions like family, friendship, and business.
The Mid-Autumn Festival, like Lunar New Year, often moves dates depending on the lunar calendar. It's celebrated all over Asia, with traditions that vary from country to country. Korean Chuseok, Japanese O-tsukimi, Vietnamese Tết Trung Thu, and Cambodian Bon Om Touk are just a few celebrations that land on the same date.
Here are a few simple things you can do to get into the spirit and celebrate the Mid-Autumn Moon Festival at home.
Set the mood with decorations
If you're making mooncake cookies, you can package them in special boxes to make it look like you've just picked them up from a professional bakery.
Click images to find the containers on Wish
Besides eating mooncakes, creating, hanging, and lighting lanterns is another activity that's commonly practiced during the Mid-Autumn Festival. If you're celebrating with young children, you can cut down on crafting time by buying premade ones on the Wish app and lighting them with your family.
Click images to find the lanterns on Wish
Organize a family dinner
Getting together with your friends and family to enjoy a meal is an important part of the celebration. During the Mid-Autumn festival, families often prepare a menu filled with foods like mooncakes, pumpkins, pomelos, grapes, and crab. These round-shaped foods symbolize happy reunions.
If you're not able to host a get-together this year, gift your mooncakes to your coworkers, friends, and other family members.
Stargaze and eat mooncakes
If the weather is nice, set up a picnic blanket or table outdoors so you can admire the night sky. You can further enjoy basking in the moonlight by playing games, making wishes, or enjoying fruits and other treats. Families often cut apart mooncakes like a cake, dividing it into slices to share it.
You don't have to spend thousands of dollars on a plane ticket overseas to celebrate the Mid-Autumn Festival. When it comes down to it, the Mid-Autumn Festival is just about appreciating the things that brighten up your life. So, set aside time to spend with your family to enjoy a delicious meal together, and hey, maybe split a mooncake cookie.
Looking for more ways to set the scene? Shop Mid-Autumn Festival supplies on the Wish app.