Kitchen Updates on a Budget: Inspiring Design Tips to Transform your Space
For a lot of people, the kitchen is the heart of the home. It's where you and your family prepare meals and catch up after a long day. It's where your morning coffee brews and your favorite snacks are stored. So, shouldn't it be a place that makes you happy?
When your kitchen is in need of a refresh, it can take the joy out of the space and leave you feeling like it's an area of your home you must use rather than one you want to use. And to complicate matters, kitchen updates can be expensive. In fact, the average kitchen remodel costs between $15,000-$50,000!
So what's the solution for those who don't have thousands of extra dollars to spend on renovations? Is their only choice to grin and bear it until they save enough money? Or are there clever ways to complete kitchen updates on a budget?
We're here to deliver some good news. With Wish, creating a kitchen you love without breaking the bank is quite possible, and we have some tips to help you get started refreshing your space today.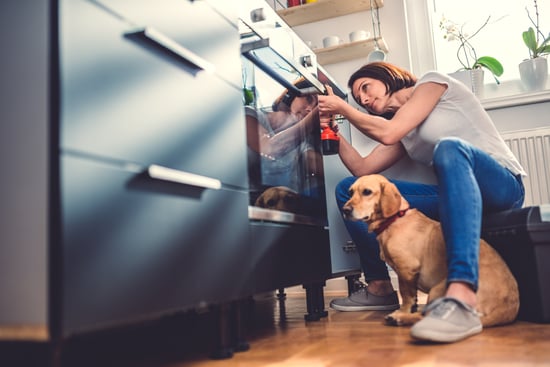 Photo credit: kerkezz - stock.adobe.com
Ideas for
Kitchen Updates on a Budget
It might not be possible to upgrade your appliances or completely change the layout of your kitchen on a smaller budget. Luckily, there are multiple ways to give your space a new, fresh appearance with low-cost, simple kitchen designs. Here are a few minor changes that yield big-time results.
Upgrade Your Lighting
Dull and dated lighting fixtures make your kitchen feel gloomy. Upgrading to modern LED lighting could transform it into a bright and inviting space that's both functional and satisfying.
Here are some tips to help when it's time to update your kitchen ceiling lights.
Measure Your Space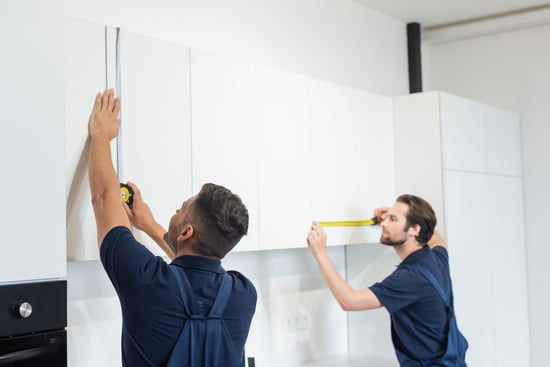 Photo credit: LIGHTFIELD STUDIOS - stock.adobe.com
Knowing the square footage of your kitchen makes it easier to select kitchen lights that will provide an adequate amount of brightness. Proper lighting is essential, especially in small, updated kitchens. Before you begin shopping, measure your kitchen or refer to your home's blueprints (if you have them) to determine precisely how much space you'll need to illuminate.
Calculate the Number of Lumens Needed
All light bulbs have a lumen rating. For example, a standard 40W bulb is equal to 400+ lumens. You can calculate how many lumens you'll need to light your space by remembering that each square foot requires 10-20 lumens (depending on how bright you prefer your room to be). That means if you have a 500-square-foot kitchen, you need approximately 5000-10,000 lumens of light.
Place Brightest Lights Above Work Stations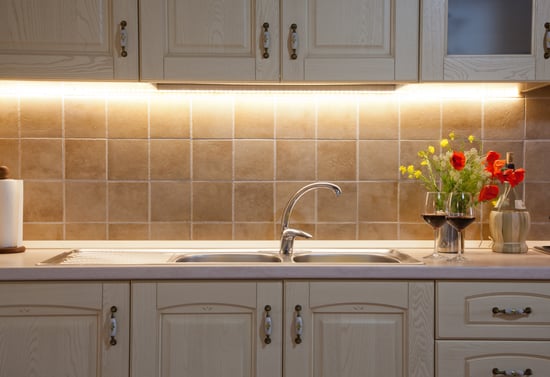 Photo credit: Melinda Nagy - stock.adobe.com
Identify the areas of your kitchen that need the most illumination, like where you prepare food, wash dishes, or cook. Place larger lighting fixtures over these locations. You can also choose fixtures with exposed bulbs for these areas, as they'll provide a more direct light source.
Add a Backsplash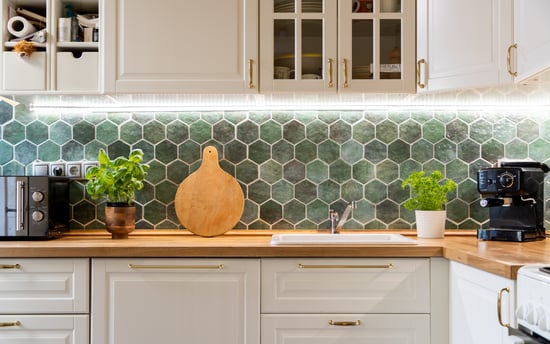 Photo credit: Melinda Nagy - stock.adobe.com
This is another fantastic option for kitchen upgrades on a budget. Backsplash tiles can be pretty affordable if you keep your eye out for a great deal. And if you need an even less expensive solution? There are plenty of peel-and-stick backsplash options at approachable price points. Adding a backsplash is the perfect way to bring personality to your space. Let your creativity flow!
Replace Hardware
If you're interested in updating a small kitchen or simply want to make a subtle adjustment for that extra pop, switching outdated hardware for something more sleek or ornamental is always a good idea. There's a wide range of kitchen hardware styles to choose from, and most of these fixtures are sold in packages of 10 or more pieces — giving you everything you need to revamp your space.
Resurface Countertops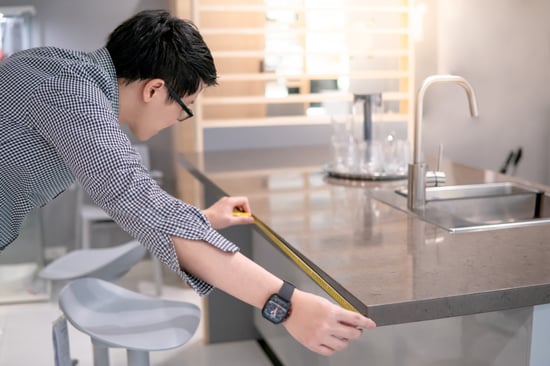 Photo credit: zephyr_p - stock.adobe.com
Here's another excellent way to update a kitchen on a budget —resurface the countertops. Spending thousands of dollars switching to granite or marble isn't necessary. There are other ways to give your counters a fresh look!
There's peel-and-stick contact paper to start, which is highly convenient and easy to apply. Or you can sand your countertops and reapply a new laminate coating for a fraction of the price you'd pay to replace them entirely.
DIY
Kitchen Upgrades on a Budget
Do you enjoy projects that require hands-on work? Do you enjoy crafting or other creative hobbies? If so, DIY kitchen updates may be the perfect way to save additional funds. Doing your own labor will dramatically reduce the money you'll spend upgrading your kitchen.
Here are some DIY ideas that might interest you:
DIY Faucet Install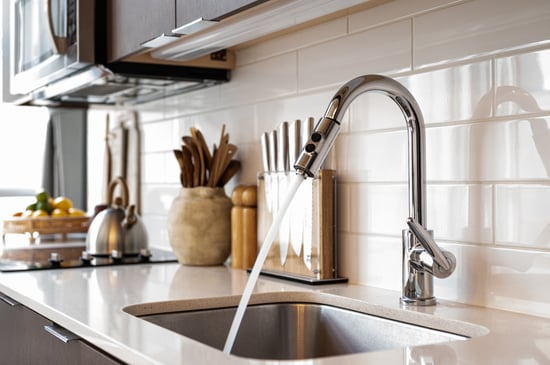 Photo credit: contentzilla - stock.adobe.com
Installing a faucet isn't overly complicated but can revitalize your kitchen space. In most cases, installing a faucet takes between 30 minutes to an hour and doesn't require much preparation or expensive supplies. Why not give it a try? You can find kitchen faucets of all shapes, sizes, and finishes online. Just choose one you like and check out this quick article that shows how to install a faucet yourself!
Paint Cabinets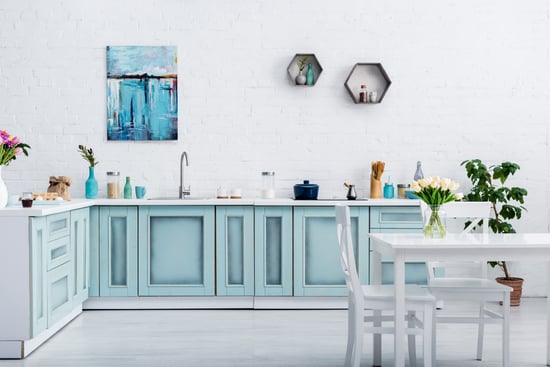 Photo credit: LIGHTFIELD STUDIOS - stock.adobe.com
If you have an orbital sander, some painter's tape, and a bit of determination, you can sand down your own cabinets and repaint them any color you'd like to give them an exciting new look. This takes time, of course, as you'll need to remove all the cabinet doors and drawers before preparing them for new paint. Then, you'll need to reassemble everything to get the full effect. If you don't mind the work, the effect is dramatic. Why not make this your summer project?
DIY Cabinet Organizers
When you're decorating kitchen ideas on a budget, not everything has to be about presentation. Sometimes upgrades that improve the organization and functionality of your space can also increase how much you enjoy it. Making DIY cabinet organizers is one of these upgrades. Whether using a desktop file sorter to organize your baking sheets and cutting boards or using pants hangers with clips to store half-empty chip bags, there are plenty of ways to tidy your cabinets and achieve a more zen kitchen space.
Kitchen Decor Ideas on a Budget
We've covered kitchen update ideas on a budget, but what about simple decorative embellishments? Sometimes all it takes is a little TLC to elevate a space and make your kitchen the ultimate gathering place for friends and family.
There are countless ways to add style to your space without making significant (or expensive) changes. So how can you update your kitchen aesthetic on a budget? Here are our top decorating ideas.
Add a Centerpiece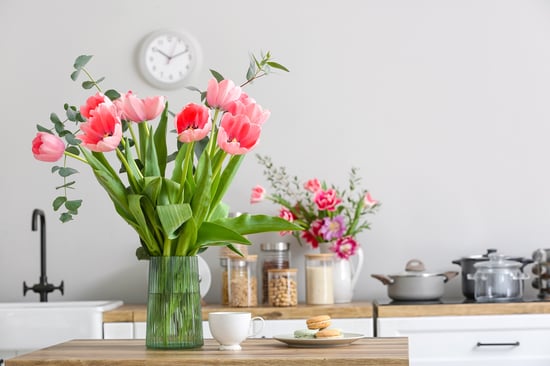 Photo credit: Pixel-Shot - stock.adobe.com
You can make a stunning centerpiece using affordable and easy-to-find supplies like glass vases, artificial flowers, twinkle lights, or electric candles. Your creativity is the only limit here! Add different elements to a vase or decorative dish to come up with a design that's uniquely yours. If your kitchen has a color theme, try incorporating those colors into your design. Experiment until you're pleased with the outcome!
Add Wallpaper
These days, wallpaper isn't an interior design faux pas. You just need to choose patterned wallpaper that's modern and interesting without being overly distracting. Simple geometric designs or subtle, more neutral colors are always wise choices. And the best part? Many wallpapers can now easily be applied by peeling and sticking them to the surface of your walls. No sticky mess to clean up afterward!
Add Pops of Color
You can bring your space to life by choosing a bold accent color and adding items that catch the eye. Let's say you love the color red, for example. You could add red kitchen utensils, red dishes, or even red floor mats to your kitchen to keep your theme consistent. These items are usually reasonably priced, so you won't feel guilty when switching them out for a new look!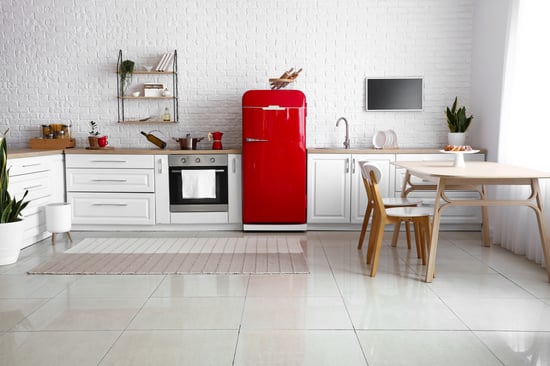 Photo credit: Pixel-Shot - stock.adobe.com
Kitchen Updates on a Budget
With Wish
Wish is your one-stop shop for home goods and DIY home improvement! We're on a mission to make your shopping experiences more inspiring than the last one. How do we do it? By using our leading mobile shopping app to deliver a convenient discovery-based experience to every user.
The more you shop using the Wish app or website, the more our advanced technology recognizes your interests and can make personalized product recommendations you'll love.
Wish is the place for you if you're ready to be pleasantly surprised each time you shop online. There's no telling what you'll discover when you log into our platform! But we can tell you for sure that there are countless items in our collections that will delight you and anyone that stops by for a visit.
Are you ready to find fabulous kitchen items at great prices? Shop our home goods page today to find unique products to transform your space.
Do you have questions about how our platform works or about an order you already placed? Visit our help center. It's where you'll find answers to popular customer inquiries, access to customer service, and more. What more could you Wish for? Start shopping today!