21 Easy Home Decorating Ideas on a Budget
Is your home in need of an update? It may be time to redecorate! The good news is you don't need to be an interior design expert to successfully create the space of your dreams. But before you get started chosing pretty wallpapers and timeless pieces, it's a good idea to research decorating ideas so updates to your sanctuary are fuss-free and at a price point you love.
Whether you are embarking on a complete home renovation or just want to spruce up one room, we've compiled 21 easy and affordable budget decor ideas to create a truly unique home ambiance. Keep reading for inspiration!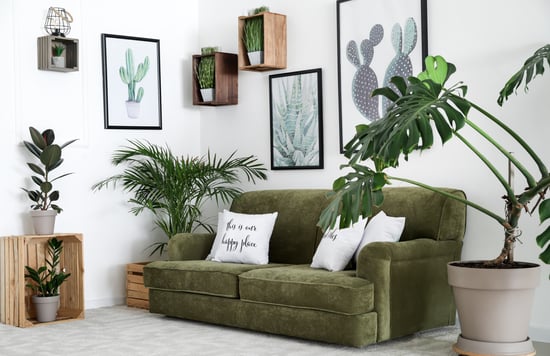 Photo credit: Pixel-Shot - stock.adobe.com
21
Home Decorating Ideas on a Budget
If the idea of carving out time, energy, and money to take on a home improvement project overwhelms you, don't worry – we've got your back! Check out some of our favorite budget decorating ideas below to browse affordable home furnishing and design products.
We also know that you can sometimes save even more when you choose to do DIY home design jobs, and we've got you covered there too — none of the suggestions below require professional installation.
1. Stay Organized
Before you can decorate, first you need to make sure the space is organized and decluttered. Shelves, hanging organizers, and closet organizers can help make your home improvement project more manageable. Plus, utilizing storage and organization products saves you space and makes more room for creativity. When items are categorized, folded, and put away, you'll have more room to add in fun stuff like art, loungers, and entertainment.
Shop storage and organization products on Wish >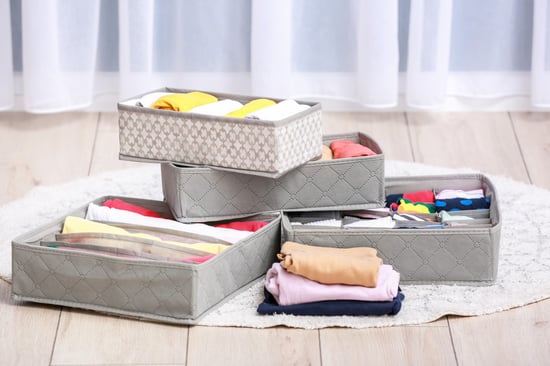 Photo credit: Pixel-Shot - stock.adobe.com
2. Switch out Pillows and Furniture Covers
Remember, just take it one room at a time. The idea of decorating a whole house at once can quickly become overwhelming. Regarding family room, bedroom, or living room ideas on a budget, switch out pillows and/or pillowcases seasonally to refresh the space. Not sure where to start? Neutrals go with everything. But if you're looking to spice things up a little, it's always fun to have at least one accent pillow on your bed, chair, or couch. How about a silk pillow cover, a fuzzy pillow, or one with a funny saying printed on it? Similarly, a cover on a loveseat allows you to protect the furniture you love while switching up the room's color scheme.
Shop cushions and covers on Wish >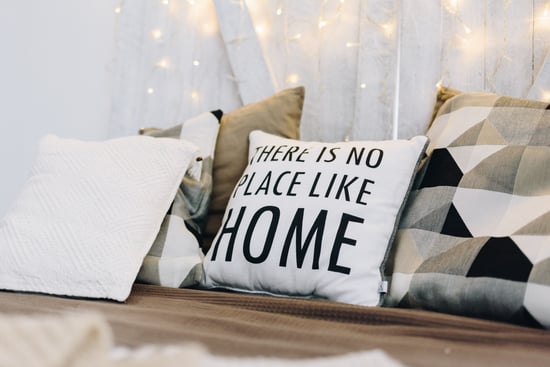 Photo credit: Anastasiia - stock.adobe.com
3. Use Decorative Accents to Showcase Your Personality
Decorative accents are a way to show off your personality in your living space. From unique door knockers to cute figurines, decorative accents don't have to be functional. They are like the spices and seasonings of the home decor world: they pepper in some flavor! Once you've got the basics – like tables and chairs – have fun with decorative accents to display on tables, chests, buffets, and even windowsills. Little figurines won't break the bank and quickly add a little flair to any room. That funny little sculpture you just had to get? It can be quite the conversation starter!
Shop decorative accents on Wish >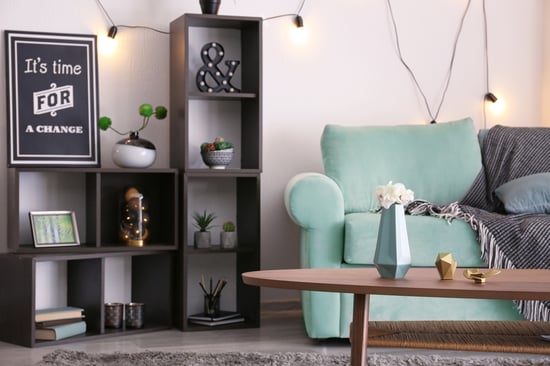 Photo credit: Africa Studio - stock.adobe.com
4. Add Slipcovers to Dining Room Chairs
Want to dress up your dining area? Slipcovers make dining room chairs look uniform and elegant. Choose a color and fabric that complements the dining table, curtains, wall color, and any other decor you've already established. Slipcovers double as a way to protect your dining room chairs from the nightmare of wine stains or spilled spaghetti sauce. Even if spills happen on the slipcovers, a slipcover is easier (and cheaper) to replace than the entire chair.
Shop slipcovers on Wish >
5. Make Small Rooms Feel Bigger
Live in a tiny apartment? Make small rooms seem bigger with strategically placed mirrors! A wall with a medium to large mirror on it reflects more light into a room, making it feel bigger. That's why we suggest hanging a mirror or two for small dining room ideas on a budget. A mirror with a nice frame doubles as wall decor. In fact, this is a simple hack that fancy hotel rooms use all the time. Use it in your home and see just how much it opens up the space.
Shop mirrors on Wish >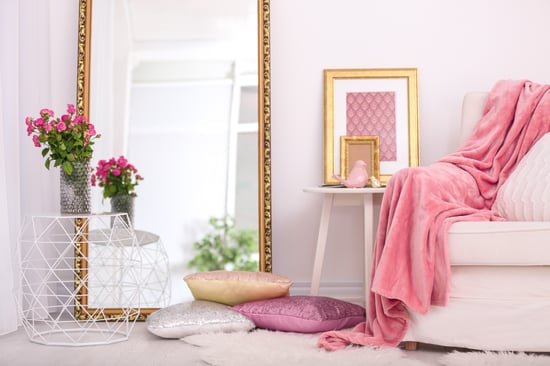 Photo credit: Africa Studio - stock.adobe.com
6. Pick a Theme for Each Room
Consider picking a theme for a room, like a beachy vibe, cozy cabin, or even a dog-themed getaway! Walking into a room decorated according to a theme you love is an instant mood booster. Because this room is full of depictions of your favorite things, it will quickly become your favorite room in the house. Another perk: sticking to a theme makes it easy for loved ones to buy you gifts – which saves you money! Friends and family will always know to buy you beach-themed decor, for example. Finally, sticking to a theme helps narrow down options when it comes to budget decorating.
Shop beach themed decor on Wish >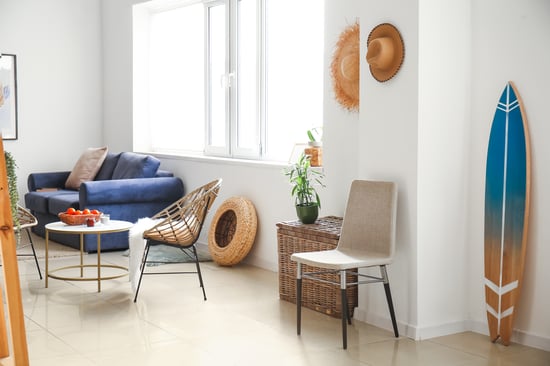 Photo credit: Pixel-Shot - stock.adobe.com
7. Add Visual Interest with Wall Art
Each wall in your home is a blank canvas. Break up the flat emptiness with wall art! Cover an entire wall with a tapestry, arrange small framed photos, or hang an inspirational quote. Wall art can function as the big, colorful centerpiece of the room or subtly complement tabletop decor. To save more money, skip the professional framing service and hang your chosen wall art yourself.
Shop wall art on Wish >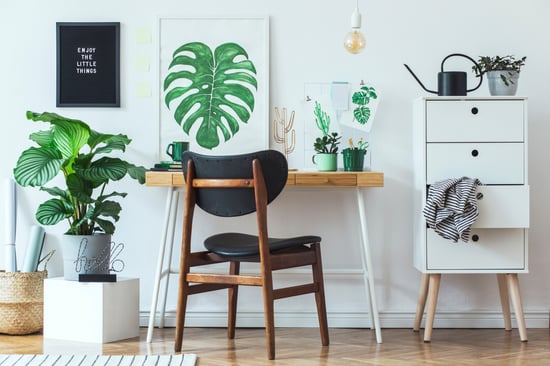 Photo credit: FollowTheFlow - stock.adobe.com
8. Elevate a Room with a Window Valance
The right window valance will provide an elegant touch to any dining room, bedroom, living room, or hall window. The tasteful detail of window valance curtain fabric can be that little extra touch on an already sophisticated space. You can still use blinds on your windows when using a window valance. Just make sure to color coordinate with the rest of the room and pick a fabric that fits well with any other textures in the room (curtains, wallpaper, table clothes, etc.).
Shop window valances on Wish >
9. Create Accent Walls with Wallpaper
When it comes to home decor on a budget, wallpaper is your best friend. No need to spend money on professional painters when you can just take the afternoon to stick wallpaper on an accent wall! Choose a pattern you love, perhaps with a cool textured appearance, like brick or wood grain. Or, go for a bold and bright pattern for a smaller wall. Keep in mind that wallpaper with a busy pattern on all walls of a room can feel a bit excessive, so make sure to consider other design aspects of the room.
Shop wallpaper on Wish >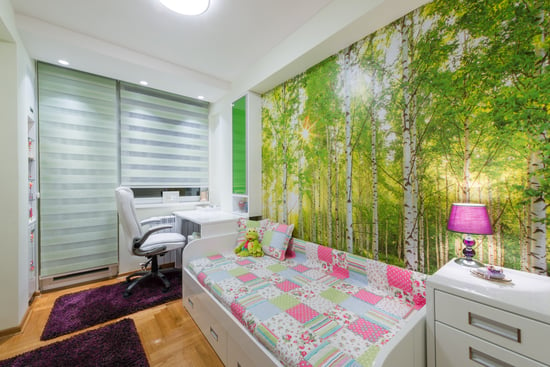 Photo credit: poplasen - stock.adobe.com
10. Paint the Walls
Not into wallpaper? If you're committed to a bigger home improvement project, you may want to consider painting. To accomplish decorating on a budget, there's nothing quite like rolling up your sleeves and painting walls yourself! Darker colors make a room feel smaller and more intimate, whereas lighter colors open up the space. Whether you want to paint multiple rooms or just one accent wall, you'll need the right tools. A large paint roller will make the work go by faster than using brushes. You'll also need painter's tape, a smock, a floor covering, and of course, plenty of your chosen paint color.
Shop paint rollers on Wish >
Photo credit: Pixel-Shot - stock.adobe.com
11. Install Self-Adhesive Tiles
Ready for an inexpensive decorating idea that will instantly level up your kitchen? A tile kitchen backsplash instantly makes a kitchen look professional. The secret weapon to doing it fast: self-adhesive tiles! No more need to painstakingly caulk in between each tile. Get it done fast, whether it's a rectangular, hexagonal, or square tile design. This is one of the easiest and fastest ways to elevate everyone's favorite room in the house — the kitchen! You can also use this versatile home decor option for bathrooms for an elegant and sophisticated vibe.
Shop tile stickers on Wish >
12. Set the Mood with Lighting
To change the ambiance of a room, it may be as simple as just switching out the light bulbs. And it costs a lot less money than buying a whole new lamp. LED light bulbs may cost a bit more than incandescent bulbs upfront, but over time they save you money on electricity. There are other options to create mood lighting, too. Lava lamps evoke a youthful glow and party atmosphere. Hanging twinkle lights brings sparkle and shine to an indoor/outdoor patio, garden trellis area, or bedroom. The right lighting can brighten any room!
Shop lights and lighting on Wish >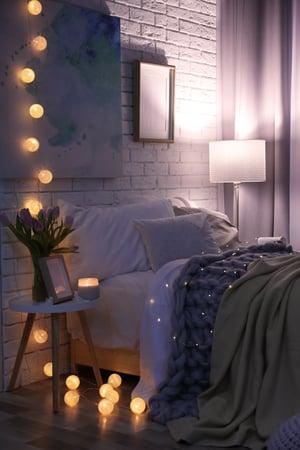 Photo credit: Africa Studio - stock.adobe.com
13. Go Old School with Candles and Candleholders
Another low-cost way to set the mood in your home: candles! Candles make any room cozy, and the scents alone will make you feel transported to a rural apple orchard or an enchanted evergreen forest. Most candles come in a jar with no need for a candle holder, making it one of the fastest home decor tips on the list. Want to kick it up a notch? Taper candles call for a candelabra or individual candleholders. You can also mix and match by opting for votive candles and tea lights, which need their own size candleholders. A dish or wall sconce to catch dripping wax are also beautiful ways to display candles.
Shop candleholders on Wish >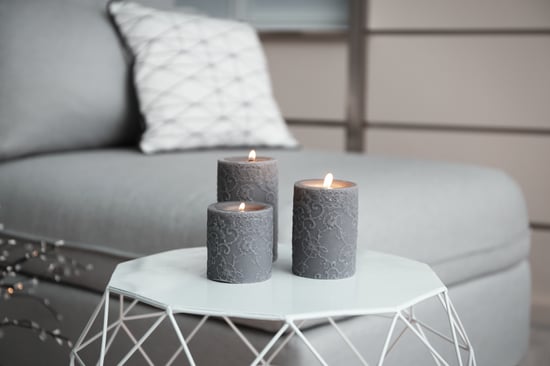 Photo credit: Africa Studio - stock.adobe.com
14. Switch Out Seasonal Decor
Some decor can be on display all the time, like art and plants. Decor centered around holidays can be used seasonally. Autumn holidays are super fun to decorate for – both indoors and outside. Go super spooky for Halloween: get skeletons to greet trick or treaters and black cat figurines to watch over all who dare enter. Or go classically autumnal with faux pumpkins and gourds to be enjoyed year after year – with no rot! If spring is on the way, opt for pastels and bright colors to reflect excitement around the blooming season!
Shop seasonal decor on Wish >
15. Intersperse Faux Plants
Adding plants to your indoor space can make a world of difference, but sometimes, keeping them alive can cost more than expected. Wondering how to decorate on a budget when you have a slight plant obsession? Try faux plants! They'll maintain your natural aesthetic but will never go brown. With faux stems, flowers, and bouquets, there's no need to spend money on soil, fertilizer, plant pots, and new plants when they perish. Instead, stick faux pampas grass, stems, and florals in a glass vase, pot, or basket. Hang potted faux plants from above, line the windowsill, or place along a desk or table. Best of all, you'll never have to worry about overwatering them!
Shop faux plants on Wish >
16. Get Cozy with Accent Rugs
A rug is a great way to add color to a room, but anybody who's shopped for one knows how expensive they can be. As a lower cost alternative to a full-sized rug, smaller accent rugs make a bare room feel homey instantly. Decide which style is for you: shag, fuzzy, patterned – or maybe a runner for the hallway! Place the rug under a table or chair, or in the center of the room. Pro tip: rugs do not have to match perfectly with other decor or furniture, you can keep it as subtle or go as funky as you want!
Shop rugs on Wish >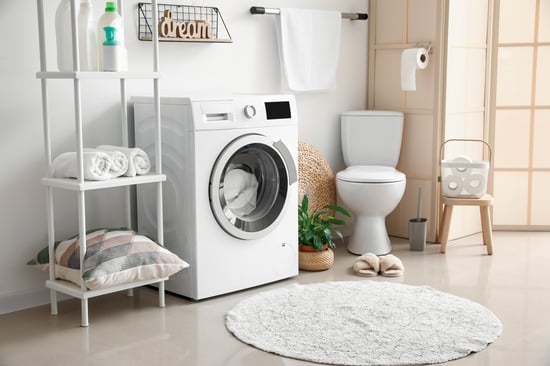 Photo credit: Pixel-Shot - stock.adobe.com
17. Use Clocks as Art Pieces
Clocks are functional and practical, but with everyone telling time on phones these days, analog clocks increasingly serve aesthetic purposes. Get inspired by wooden cuckoo clocks and minimalist large wall clocks to embrace the artsy and creative side of clocks. An analog clock's circular shape and angled hands break up the monotonous 90 degree angles of rectangular tables, chairs, and household appliances. Plus, you'll be the envy of your friends who love vintage shopping!
Shop clocks on Wish >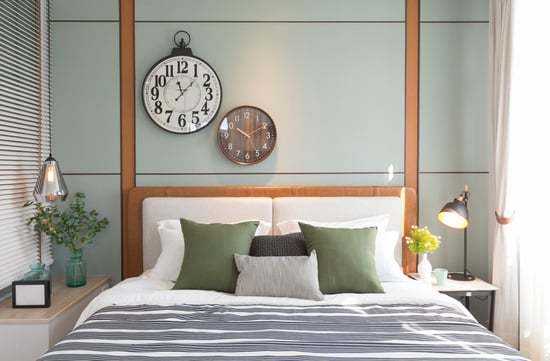 Photo credit: bennnn - stock.adobe.com
18. Show Off Your Style with Decorative Ceramics
Decorative ceramics show off your personality and make a house a home. A little porcelain planter for your succulent collection is a great place to start, or you can go big with a large ceramic art piece to display on the shelf. Place ceramics on a patio, bathroom shelf — anywhere your heart desires! Additionally, decorative vases are effortlessly elegant, with or without floral arrangements inside. Decorate ceramics are a great way to add a little art and color to any room.
Shop decorative ceramics on Wish >
19. Upgrade Kids' Rooms with a Play Tent
Have a kids' playroom, bedroom, or family room that you want to make more kid-friendly? A collapsible play tent is sure to bring joy and lots of giggles. Get an indoor/outdoor one to put on the back deck if you want to clear space in the playroom. Otherwise, it can function as the main focal point of the room. For example, you can choose one that looks like a castle if you have a princess-themed playroom. Home decor + fun for the kids = a win!
Shop play tents on Wish >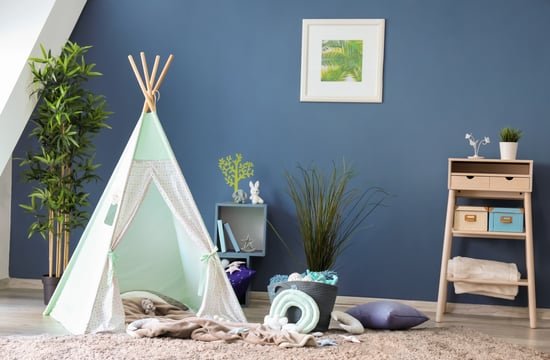 Photo credit: Pixel-Shot - stock.adobe.com
20. Create Zen with Air Fresheners and Incense
Ready for an underrated tip for how to decorate a home in low budget scenarios? Engage all your senses when decorating – including your nose! While candles make a space cozy, air fresheners and incense create instant zen. Even when it's not burning and releasing a soothing aroma, there's just something peaceful about the look of incense displayed in a room. Incense burners in unique shapes encourage the flow of incense smoke in beautiful, meditative patterns.
Shop incense and air fresheners on Wish >
21. Release Your Inner Child with Bean Bags
No one can resist the charms of a soft, inviting bean bag – even adults! Why deny yourself the pleasure of kicking back and relaxing in a bean bag in your own living room? You may find giant bean bags that support your whole neck, head, and body to be more comfortable – and less expensive – than a traditional couch. Snag yourself a blanket and throw pillow, and you've got yourself a bonafide cocoon!
Shop bean bags on Wish >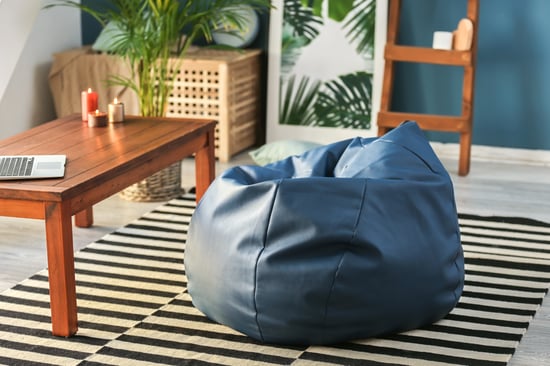 Photo credit: Pixel-Shot - stock.adobe.com
Find
Home Decorating Ideas on a Budget
on Wish
When you want to decorate your home, rearranging your current furniture, appliances, and decor can only take you so far. And when it is time to make those new purchases, Wish is the best place to snag amazing online deals year-round.
No need to wait for a seasonal sale to get unbeatable prices! To find home improvement tools, home goods, and more, browse the Wish app today.