29 Essential Kitchen Tools for Every Home Chef
Whipping up meals at home is a great way to save money, and the best way to do it with ease is to make sure you have the best essential kitchen tools. Whether you're moving into your first apartment or you're simply updating your collection, there's nothing like a cool, new gadget to get you excited about being a home chef. Shopping for a whole new set of essential kitchen supplies can quickly become expensive — it all adds up. But, we're here to help! We've put together the most basic items we think you need, as well as where to find them on a budget. We'll also show you how to use each item so even the newest chefs will feel like pros.
Here's what you'll find on our kitchen essentials list: equipment, appliances, utensils, and everything in between! Ready to start whipping up delicious dishes in no time? Keep reading for more!
Appliances
Having essential kitchen appliances in your home adds convenience, as well as the ability to make things you wouldn't otherwise be able to. Since most appliances are electrical, make sure you have some outlets in your kitchen to plug these into. Here are some must-have appliances to start off our list.
1. Coffee Maker
Coffee makers don't just make coffee — they can brew up a mean hot chocolate and any other hot beverages your heart desires! If you're like most people and you need a little caffeine boost in the morning, it would be hard to live without one of these machines. They're sold at a wide range of price points, making it easy to find one in your budget.
Some coffee machines take pods, while others use ground coffee. Pick your preference and enjoy a delicious cup of joe at home.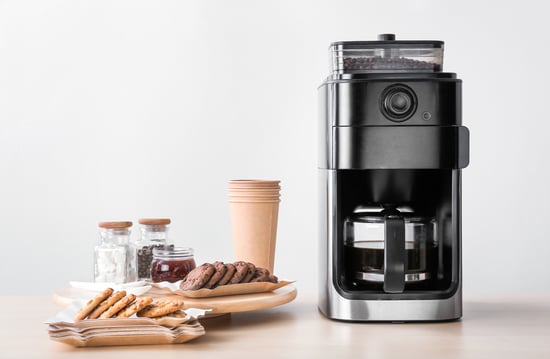 Photo credit: Pixel-Shot - stock.adobe.com
2. Slow Cooker
Slow cookers can be used for all kinds of things, like soups, veggies, and chicken. Simply dump your ingredients into the slow cooker, set the appropriate heat setting, and wait a few hours for your dish to be ready. Slow cookers are great for people who are always on-the-go and need a quick and easy way to cook dinner when they come home.
Slow cookers come in a variety of sizes. You'll likely only need one, but consider how many people you cook for when selecting yours. A 2-quart slow cooker may be fine for one person, but you'll need a larger one if you cook for your family or friends.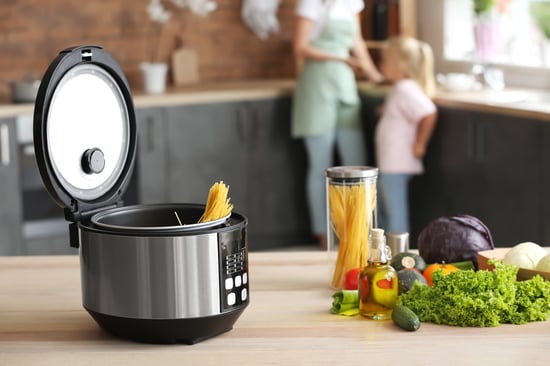 Photo credit: Pixel-Shot - stock.adobe.com
3. Toaster
Toasters heat up waffles, bread, and bagels for that warm and crispy breakfast treat! Most toasters have different settings to adjust how crispy your food comes out. A toaster is a piece of home kitchen equipment that every household should own. They're quick, cheap, and convenient.
Some toasters let you heat up more than one item, and others only let you heat up one. Take this into consideration when shopping for a toaster — especially if you tend to be a late riser and need a quick breakfast!
4. Blender
Ready to level up your smoothie game? Or perhaps you want to start making homemade pasta sauce. If this sounds like you, a blender will be your new best friend. Blenders have blades on the bottom of them that mix fruit, vegetables, and other items you'd like to go from solid to liquid. They're most commonly used for smoothies and other drinks, but you can also use them to make soups and sauces.
Most blenders have different settings for different types of blends. You may need to experiment with those settings until you find the one that evenly blends your food for you. Other blenders only have one setting — these are usually single-serving blenders.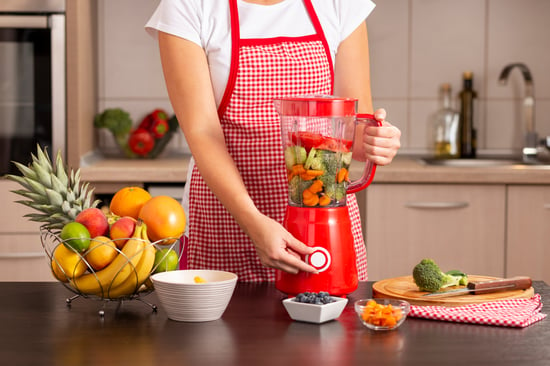 Photo credit: Impact Photography - stock.adobe.com
5. Air Fryer
There's a good reason this little appliance has taken the kitchen world by storm. Air fryers can help you prepare tasty appetizers like fries and mozzarella sticks with ease. They're quick and easy to use, and can have your food ready in a matter of minutes. While you can use an oven or frying pan to prepare the same food, an air fryer is a great alternative that can help you reduce added fats while still giving you that delectiable crunch.
You can get creative with the things you make in your air fryer. Use it to heat up frozen meals, make traditional fried food in minutes, and even bake desserts.
Pots and Pans
Pots and pans are kitchen staples. Everyone knows the stove is the king of the kitchen and the more pots and pans you have, the more things you can cook at once. But with so many types out there, how do you know where to start? Add these basics to your list.
6. Frying Pan
This is the ultimate starter pan. Frying pans can help you cook vegetables, stir fry, pancakes, and so much more. They're easy to work with, and it would be hard to cook anything without at least one or two.
Some frying pans have a non-stick coating already, and others will need you to add a non-stick spray to the bottom before you use them. Before you buy a frying pan, see whether yours is non-stick or not and plan accordingly.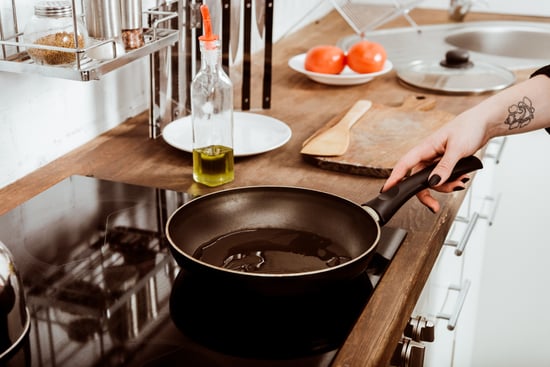 Photo credit: LIGHTFIELD STUDIOS - stock.adobe.com
7. Stock Pot
Stock pots are perfect for making large servings of soups, chilis, broths, and pasta. They're tall and wide, large enough to serve your entire family for days. Use a stock pot when you either want leftovers or are cooking for more than just yourself. These popular pots are perfect for easy, low-maintenance meals that will feed lots of hungry mouths!
Stockpots come in different sizes, and you'll most likely only need one. Choose one that will be large enough for all of your needs, but not so large that it will be hard to use.
8. Saucepan
Saucepans are small pots that can be used to heat up sauces, pasta, and smaller servings on the stove. Even though they're small, it's always a good idea to have pots and pans of different sizes in your kitchen in case you cook multiple things at once. These pots are also often used to cook eggs, heat up cans of soup, and other small portions. It's always good to have one of these smaller pans on hand to cut down on that pile of dishes in the sink!
The easiest way to store a saucepan is by simply keeping it on your stovetop. However, you can also keep them in a cabinet if that's more convenient for you. Luckily, they stack easily within larger pots and pans.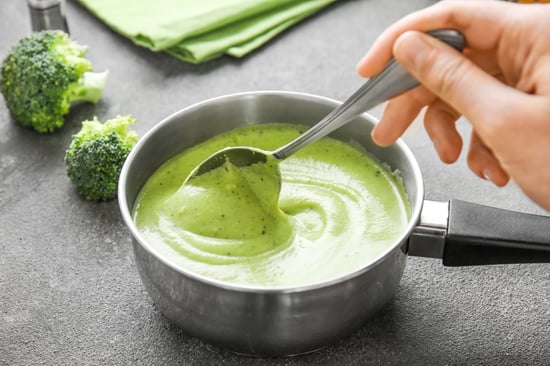 Photo credit: Pixel-Shot - stock.adobe.com
9. Strainer
Strainers are essential cooking tools for beginners, and even seasoned chefs use them. Their main purpose is to help you drain the water from food that's boiled, like pasta and vegetables. Just pour your food in, give it a shake until all of the water drains out, and pour your food bask in your pot. It's that easy!
Some strainers expand to rest on your sink, so you don't need to hold them while you pour your food into them. Others have handles or legs that stand up.. Limited on space? Find a collapsible strainer! You have lots of options when it comes to which strainer you choose.
Utensils
Utensils help us cook (and eat) in the kitchen. There are many different kinds of utensils, not all of which you need. However, here are some of the most common kitchen utensils you'll want to stock up on.
10. Ladle
Ladles are deep, large spoons that help serve soups, chilis, and other liquid dishes. They're much easier to use than pouring a heavy pot into a small bowl or using a small silverware spoon. Even if you don't make soup, stew, or chili that often, you should still invest in a ladle to have it when you need it.
To get the best use out of your ladle, look for the deepest one you can find. This will allow you to scoop up more food than one that's more shallow. No one wants to be scraping at the bottom of the pot!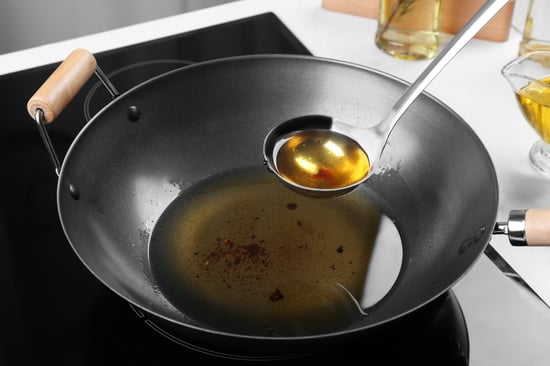 Photo credit: Africa Studio - stock.adobe.com
11. Spatula
This is the #1 must-have utensil for cooking. Simply put, spatulas are used to flip things over in your frying pan. Examples of things you can use a spatula for include stir fry, fried eggs, and pancakes. A spatula is one of the essential chef tools that you can't run a kitchen without, so make sure you have one in your shopping cart if you don't already have one in your kitchen drawers.
Spatulas come in different materials, including plastic, metal, and bamboo. Avoid plastic spatulas if you're working with hot items, as the heat can melt your utensil.
12. Knife Set
Naturally, you'll need a knife set to cut up vegetables, meat and more. But if you're getting serious about your cooking, you'll need a few different types of knives for different food items. A typical knife set may include steak knives, paring knives, serrated knives, and more. Small sets may have as few as three pieces, and larger sets may have up to 18 knives in them. Select yours based on your needs and what you like to cook.
Many knife sets also come with a knife block, making it safe and easy to store your knives. If you're getting a knife set that includes many knives, consider buying one that comes with the block. You'll thank yourself later!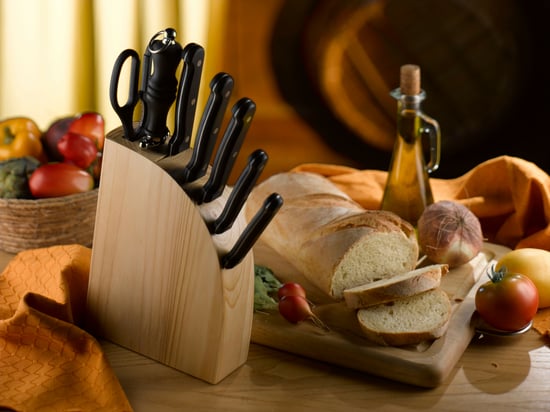 Photo credit: gupi - stock.adobe.com
13. Silverware
Spoons, forks, and knives are some of the most important items to keep in your kitchen. Whether you prefer plastic, bamboo, metal, or another type of silverware, these products help you eat your food with ease.
Even if you live alone, you should get a good amount of utensils. This ensures that you'll have enough to serve guests with. There are plenty of silverware sets at great prices, so you're ready for those surprise guests!
14. Salad Tongs
Salad tongs are great for serving salads, as they're able to pick up leafy greens easier than a fork can. This serving tool is great for parties, family dinners, and other gatherings where you'll be serving salad. A well-made salad complements any great meal, so make sure your guests can easily serve themselves with tongs.
Some salad tongs are metal all the way through, and others have a rubbery material on the serving end. There is no difference in quality between these two styles, so pick the one that suits your kitchen best.
Baking Supplies
Baking requires its own set of essential kitchen supplies, including separate pans and dishes than what you'd use on your stove. Many ovens have a drawer where you can store all of your baking essentials, so consider using it to stash away your stuff after buying it. If you're planning on getting into baking, add these essentials to your list.
15. Baking Dish
Baking dishes serve so many purposes. You can use them to make cakes, brownies, casseroles, and so much more. You should have at least two baking dishes in different sizes — one rectangular dish and one square dish.
Glass or ceramic baking dishes help food cook more evenly, and aluminum foil baking dishes are great for leftovers. However, if you're baking something at a high temperature, use a metal baking dish — they're designed to tolerate high heat.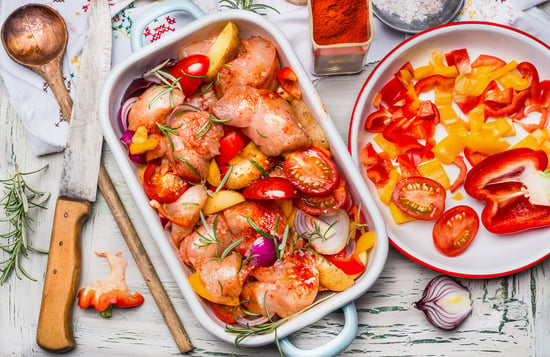 Photo credit: VICUSCHKA - stock.adobe.com
16. Baking Sheet
Baking sheets are also essential. Use them to prepare cookies, appetizers (like jalapeño poppers and mozzarella sticks), and other items that don't need to go in a dish. Baking sheets are essential for cooking evenly and keeping your delicious goodies from sticking to the pan.
You may benefit from having two baking sheets. A larger baking sheet can come in handy for one-pan sheet meals, chicken, and other large items. On the other hand, small baking sheets work well for desserts.
17. Muffin Tin
Despite its name, this kitchen essential is for more than just muffins. You can also use it to make cupcakes, mini quiches, and egg bites. They come in a variety of sizes, but you'll likely only need one. Depending on the recipe, you may need to use a cooking spray to keep things from sticking to the tin.
Muffin tins work well for more than just cooking. You can use them to freeze portioned servings of soup, ice cubes, and oatmeal. Pro-tip: Muffin tins also double as a serving tray for condiments, which is helpful if you're serving your family or a small crowd.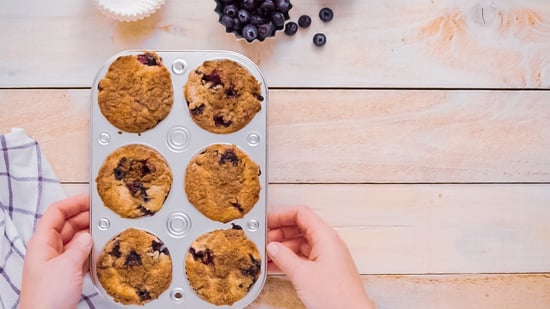 Photo credit: olegkruglyak3 - stock.adobe.com
18. Oven Mitts
So this one isn't just for baking, and it's one of the most important kitchen tools out there. Oven mitts keep your hands from burning when handling hot food that's coming fresh out of the oven. They come in a variety of patterns and colors, so it's easy to find a pair that will go with the rest of your essential kitchen tools.
The best oven mitts can handle heat for at least 30 seconds and allow you to get a good grip on your baking sheet or dish. Silicone mitts are great for this, but cloth mitts can work as well.
19. Mixing Bowls
Mixing bowls are designed for mixing batter, eggs and anything else you need to whip up quickly. While you can use them for cooking, they're more commonly used for baking. It's better to use a mixing bowl than a regular bowl because mixing bowls tend to be larger, making them more spill-proof and easier to handle.
It's a good idea to get more than one mixing bowl. You may find yourself needing to mix multiple things at once, like dry ingredients separate from wet ingredients. Multiple mixing bowls are also helpful when you're baking more than one dish at a time.
20. Cookie Cutters
These handy tools cut cookies and brownies into different shapes. These are useful if you're making desserts for a specific holiday or if you're just looking to do something fun with your next baking project. There are all different kinds of cookie cutters with different themes, so you have many to choose from.
If you bake a lot, you should get more than one set of cookie cutters. This will give you the widest variety of shapes to work with in the kitchen. Pro-tip: If you have kids, give them any cookie cutters you don't use for their Play-Doh or clay!
Storage
After cooking or eating, you'll need some storage systems that will help you save space, portion your meals, and keep food fresh. These common storage solutions can help keep your kitchen clean and organized.
21. Snack Clips
Who doesn't love a little snacking before bed? But you don't want to eat the whole bag, so how do you keep your favorite chips from getting stale? Snack clips keep opened bags sealed so your snacks stay fresh. They usually come in packs of 3-6, so you'll have enough for all of your open, unsealable bags.
Some snack clips have a magnetic backing for hanging on the fridge. If you prefer to keep your chips tucked away in the pantry, you can use magnetic clips to hang photos, appointment reminders, and other pieces of paper.
22. Storage Containers
Storage containers are self explanatory — they hold your leftovers for you. You can store them in your fridge or freezer to keep your food from going bad, and you can divide your food into portions. When you cook large amounts of food, storage containers are essential kitchen supplies. They're also essential for meal preppers who prepare food in advance to eat later.
Storage containers may be plastic, glass, or ceramic. Keep in mind that plastic storage containers might not be microwave safe, and red sauces can stain them. If you're not sure, always transfer your food into a microwave-safe dish before heating it up.
Shop storage containers on Wish >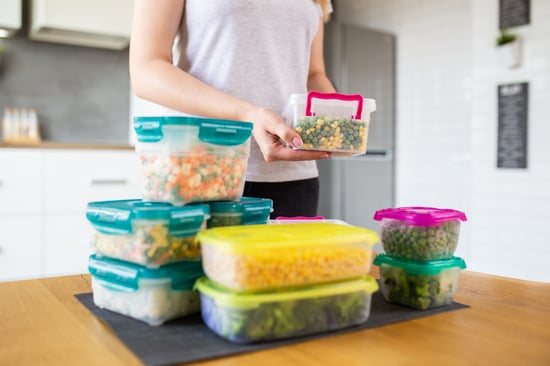 Photo credit: hedgehog94 - stock.adobe.com
23. Bag Sealer
Have you ever tried to close a bag without a zipper, only to find that you can't seal it completely? This piece of home kitchen equipment creates an airtight seal for your snacks and freezer items that don't have reusable seals. Bag sealers can keep your food fresh for longer by keeping them unexposed to the elements.
Bag sealers can be used outside of the kitchen, too. For example, you can use them to store loose craft supplies that don't have their own container. Talk about a home organization dream!
24. Spice Rack
Spice racks hold all of your herbs and spices, so you don't need to have them clogging up space in your kitchen cabinet. They can rest on your counter, in your cabinet, or even on your fridge (some are magnetic). Some of them even come with spices already in them!
Spice racks often come with containers that have spices written on the caps. If you have a container for a spice you don't use, simply put a label over it with the name of a spice you're more likely to keep around. Alternatively, take a Sharpie to it. You don't need to waste a container just because of its label!
Miscellaneous
These essential kitchen tools don't fit into one of the above categories, but they're still important to have. They range from common items to things you may not have thought to buy. Consider stocking up on these miscellaneous kitchen items for the ultimate cooking experience.
25. Cutting Board
This is one of the most important items you can buy for your kitchen. Cutting boards allow you to cut food items without destroying your kitchen countertops. You can find wooden, plastic, and bamboo cutting boards, all of which will work fine for the job. You'll likely need to stock up on a few different sizes so that you're always covered.
Cutting boards can also be used for charcuterie (meat and cheese) boards and butter boards (if you haven't seen them on Pinterest yet, this is your sign to check them out). When you don't have a serving platter available, simply bring out a clean cutting board and you're good to go!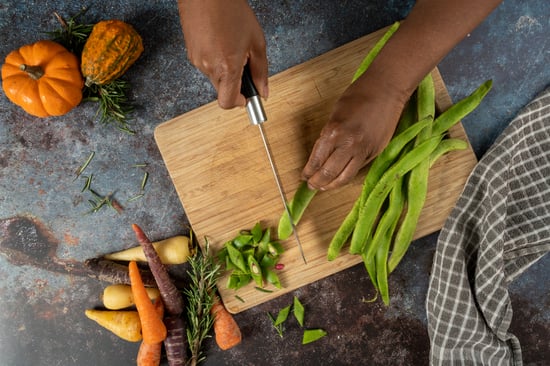 Photo credit: Cultura Creative - stock.adobe.com
26. Ice Cube Tray
If your freezer didn't come with one of these, it's time to get one! Trust us — in the summer, you'll thank yourself. Simply fill an ice cube tray up with water and after a few hours, you'll have perfectly shaped ice cubes! Ice cube trays come in different shapes and sizes, letting you make as much ice as you need in shapes like cubes, spheres, and hearts.
You can use ice cube trays for other things, too. Fill them up with broth or stock to freeze and store it in portions. You can also fill an ice cube tray up with juice, put Saran Wrap over it and stick toothpicks into each space to create mini ice pops!
27. Measuring Cups and Spoons
These basic kitchen tools help you measure ingredients to make sure you're not using too much or too little. You can use them for any kind of ingredients, including flour, chopped vegetables, and water. These are used for both cooking and baking so no matter which one you prefer, measuring cups and spoons are an absolute must.
You may be wondering: what's the difference between measuring cups and measuring spoons? Do I really need to get both? Yes, you do! You'll use the spoons for smaller measurements, like teaspoons and tablespoons. The cups, on the other hand, are for measurements going up to one cup. Luckily, you can find sets that come with everything you'll need.
Shop measuring cups and spoons on Wish >
28. Vegetable Chopper
Have you ever used a knife for manual meal prep and spent way longer than you expected chopping up all those veggies? Enter the veggie chopper! Veggie choppers are faster and easier to use than knives to slice and dice vegetables. You can use them on a wide range of produce, and some have different settings for different kinds of cuts.
Vegetable cutters are one of the more essential cooking tools for beginners because it's not always easy to chop veggies evenly, which can make a crucial difference for some recipes. Another great selling point for beginners? They can also prevent injuries from mishandling a knife.
Shop vegetable choppers on Wish >
29. Cheese Grater
Nothing is better than a little grated cheese on top of pasta, soup and well, really anything else! Add a little oomph to every meal with a cheese grater. Cheese graters come in a variety of shapes and sizes, and many have handles. Some have multiple sides for different types of grates. Don't let the name fool you. If you're not a fan of cheese, you can use it to grate spices, veggies, and even chocolate.
You likely only need one cheese grater in your kitchen, but make sure it's one that suits your needs. Some have just one type of grate, but you may want to get a four-sided grater that provides a few different options.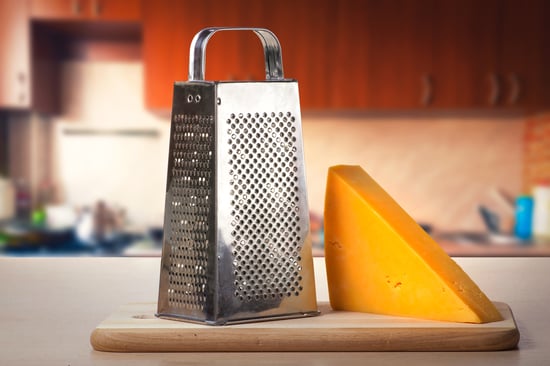 Photo credit: olegkruglyak3 - stock.adobe.com
Shop
Essential Kitchen Tools
on Wish
Having the right tools in your kitchen is the key to easy and fun cooking. Find all of your essential kitchen tools at affordable prices on the Wish website and app. Start shopping today!