Elegant Wedding Ideas on a Budget That You'll Absolutely Love
You've met the love of your life and you want to celebrate your endless love with an unforgettable wedding. Yet, seeing the prices of venues, florists, and caterers may bring your wedding dreams to a screeching halt. Want to throw a fancy wedding but don't want to break the bank? Then, you're in luck! Planning a gorgeous wedding on a budget is absolutely possible and actually easier than you may think.
Because we know wedding expenses can add up quickly, we've put together a list of ways to save while still getting your fairytale wedding. Here is our guide on how to throw a luxury wedding on a budget and how to make planning for the big day a piece of (wedding) cake!
22 Genius Items to Save Money on Your Big Day
As you get closer to ringing those wedding bells, here are 22 elegant wedding ideas on a budget. From DIY backdrops to affordable lighting options, this list of affordable items is chock-full of clever and creative ways to bring your ultra-romantic ideas to life.
1. Table Runner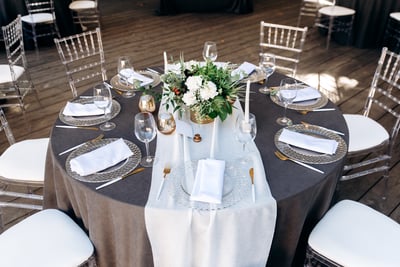 Photo credit: Kateryna - stock.adobe.com
Instead of paying for an expensive decorator to set up your space for you, take matters into your own hands! You only need a few items to spruce up your venue. Eye-catching table runners create a chic sense of formality and style, especially for a classy wedding. No matter your venue, whether it's your backyard or favorite restaurant, the dining area can be instantly dressed up with this one item. Use table runners for buffets, the traditional head table, or to draw attention to the gift area. In short, a table runner signals that this table is meant for official wedding business!
The great thing about table runners is that they don't need to be high-quality or expensive. So choose an affordable table runner that fits your wedding budget and theme: natural, glittery, lacey, etc. But, if you're having a hard time choosing, you can't go wrong with white for fancy weddings – worry about the stains later!
2. Wedding Balloons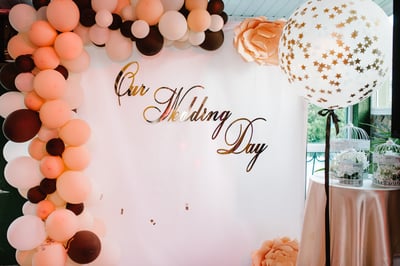 Photo credit: Serhii - stock.adobe.com
Party decorations don't get more festive (or cheaper) than balloons. You don't need to hire a professional to set up an elaborate balloon arch for you — you can keep it simple with a few white, gold, and silver balloons. They let guests know that they are in the right place and can even be used to help signal where to park. If you're really sold on the balloon arch idea, they're easy to create yourself and they can serve double duty as a photo backdrop and an elegant entrance to the reception. Try this DIY floral balloon arch idea!
Just make sure to keep them consistent with your color theme and be considerate of the environment. While a balloon release is a fun send-off, it is not environmentally friendly, so just use them for decoration and offer them to kids in attendance to take home as party favors.
Silver, gold, and white balloons are some of the best color options for an elegant, luxury wedding reception. Or, you can select a color to match bridesmaid dresses and floral arrangements. When selecting color, just remember that understated tones are going to be your best bet.
Shop wedding balloons on Wish >
3. Wedding Veil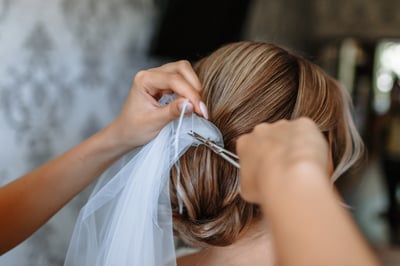 Photo credit: Alexey Tsibin - stock.adobe.com
Veils are a beautifully delicate way to complete the bridal look, and you can find stunning options that won't break the bank. Remember, the dress is what will really steal the show so don't worry too much about splurging on an expensive veil. If you're crafty, consider purchasing white fabric and sewing a DIY veil!
Not sure what style to go with? A veil with a long train looks classy in photos and really makes the bride stand out from the crowd. Be sure to designate a bridal party member to carry a veil with a long train and help the bride avoid tripping. Don't want to take the risk? Veils are also an option for photographs only if they are too cumbersome for the ceremony.
Bridal veils don't necessarily have to fall over the face. They can drape around the shoulders and hair or fall gracefully behind the bride as she walks down the aisle like a fairy princess. Either way, it's your wedding so feel free to put your own spin on it!
Shop affordable wedding veils on Wish >
4. Wedding Backdrop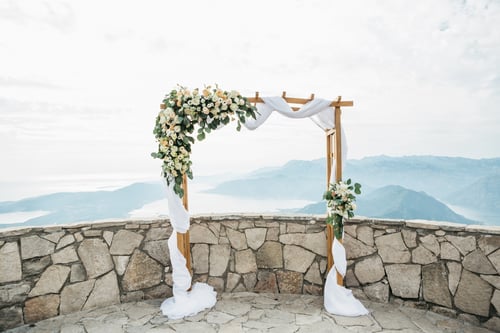 Photo credit: franz12 - stock.adobe.com
At a wedding, luxury on a budget is attainable with the right backdrop. To save money, keep the backdrop simple such as arranging white and gold balloons in an arch, as suggested above. As an alternative to balloons, a simple white curtain or delicate fabric decorated with leafy garland or floral touches will look great in both indoor and outdoor venues.
Do some research online and get inspiration for DIY wedding backdrops, there are endless resources out there. Some of them don't even require any sewing or craftsmanship! For example, twinkle lights or floral stems can be strategically placed at the venue, like hanging from a tree branch or wrapped around a building column.
Whether you decide to go all out with an elaborate backdrop or you prefer a simpler DIY solution, this is an important part of your wedding. After all, this is where you're going to promise forever to the one you love. Make sure it feels romantic but more importantly, that it feels like you. It should also look nice in photos — remember, you'll be looking at these pictures for the rest of your life!
Shop wedding backdrops on Wish >
5. Artificial Wedding Bouquets
It's no secret that florists are outrageously expensive, and why spend thousands on flowers that won't last? However, flowers are a must at any wedding — no luxury wedding ceremony is complete without the bride throwing the bouquet into the air for one of her bridesmaids to catch. You can opt for an artificial wedding bouquet that won't only save money, but can also be kept as a memento after the wedding.
Another reason to consider an artificial wedding bouquet? If the bride is allergic to flowers or pollen, opting for artificial flowers on the wedding day is a wise and affordable choice that will be just as beautiful as a $300 bouquet of real flowers. Get artificial wedding bouquets for the bride, bridesmaids, and table centerpieces.
White roses are effortlessly elegant, but you can also select a color that goes with your theme. Choose what's best for the season of your wedding, and or choose a flower that fits the color palette of your ceremony.
Shop artificial wedding bouquets on Wish >
6. Wedding Dessert Accessories
What's a wedding without dessert? If you're lucky enough to have a friend or family member bake a wedding cake for you, then go for it! But not all of us are lucky enough to have a master baker in our inner circle. If you're enlisting the help of a professional, some other cake cost-saving ideas include keeping the cake simple, small, or using fake foam tiers.
While you don't need to go all out with a massive cake, you'll want it to have those signature wedding cake tiers. Opt for a white, cream colored, or light hue for an elegant vibe. Also, wedding cake toppers – figurines of a bride and groom, for example – are essential.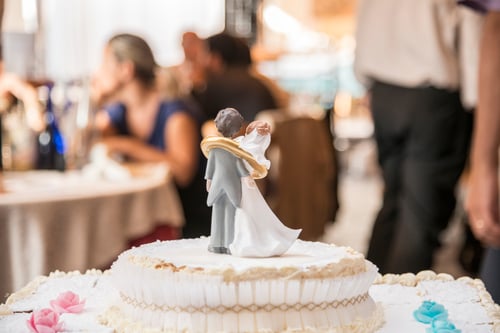 Photo credit: lulu - stock.adobe.com
Cakes, while traditional, are not the only dessert option. If you want to save the money by skipping an expensive wedding cake, opt for elegant individual desserts that you and your loved ones can bake yourself. Tiered cake stands can also hold individual desserts like cupcakes and tiny pastries, which are generally cheaper to serve and are always a crowd-pleaser.
Shop wedding cake stands and other dessert accessories on Wish >
7. Wedding Chair Covers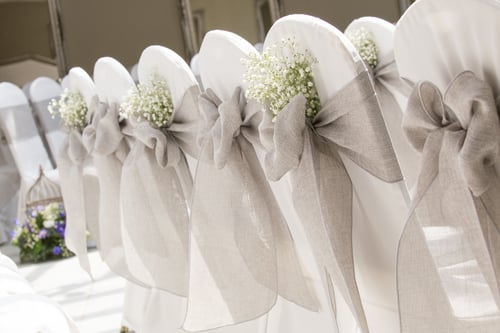 Photo credit: scott - stock.adobe.com
Have you been looking at chair rental companies and balked at the price of renting chairs for just a few hours? Don't worry! There's a way to DIY your way out of this one too!
For an effortlessly luxe look, put white covers over the chairs used for both the ceremony and reception. Classy weddings have a certain flow in terms of aesthetics, and covers will make the chairs look formal and uniform. Under the chair cover, the chairs can be mismatched or even be cheap folding chairs, and no one will know the difference. Plus, covers keep the chairs safe from damage during the ceremony.
You can also select chair covers with a colored sash around the middle, perhaps in the same color as bridesmaid dresses or floral arrangements. Whether you go simple with all white or choose delicate decorations, this is the most affordable way to provide seating to all of your guests. So call in a favor to friends and family members and ask them to bring over their chairs for the day!
Shop wedding chair covers on Wish >
8. Fairy Lights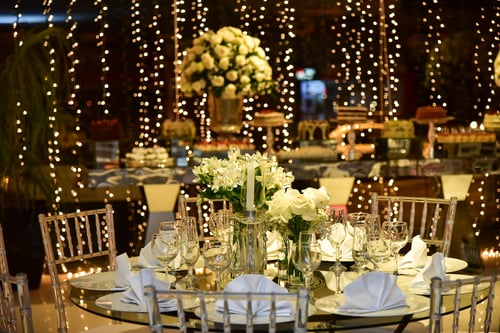 Photo credit: liligluck - stock.adobe.com
What's more romantic than lights twinkling in the night, creating an air of intimacy even in a crowd of people? Fairy lights create an elegant atmosphere and keep the party going when the sun goes down!
Fairy lights are the ultimate DIY wedding hack because you can purchase 30 meters of warm-lit string lights for under $10. The length gives you the flexibility to use them for a variety of purposes, whether you choose to string them in a festive zig-zag across the dancefloor, use them in your DIY wedding backdrop, or create a fun photo background for selfies. Pro-tip: if you choose solar-powered lights, you'll save on electricity and batteries while also protecting the environment!
For a classic and romantic option, put them in mason jars as centerpieces on tables or incorporate them into a backdrop setup. Intertwine them in garland or hang them from the ceiling. Fairy lights are a classic decoration, like candlelight, that sets the mood for romance and fun. Not to mention, they work both indoors and outdoors and can be reused for future parties.
9. Doilies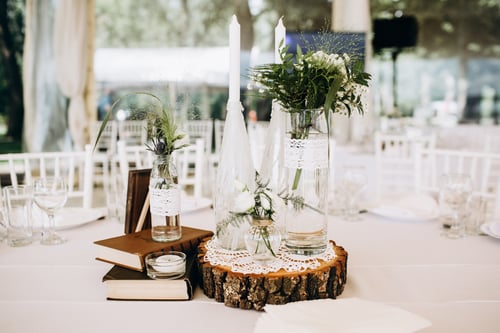 Photo credit: triocean - stock.adobe.com
If doilies make you think of your grandmother, think again! Nothing says posh wedding like a lacy doily. Use delicate lace doilies at place settings, or serve certain courses exclusively with them, such as dessert, after dinner tea or coffee, or cocktails.
Cloth doilies can also adorn the table runner along with other table decorations, such as candles, flowers, or table number signs. Doilies are classy on a budget and practical too — reuse cloth doilies for your next fancy occasion, and recycle paper ones.
If you're serving up food at your wedding, doilies are an excellent way to elevate the dining experience for all of your guests. For a truly elegant look, opt for light gold tablecloths and place white doilies on top (or adjust to match your wedding's color scheme). Either way, this layering will create a sense of luxury without breaking the bank.
10. Guest Book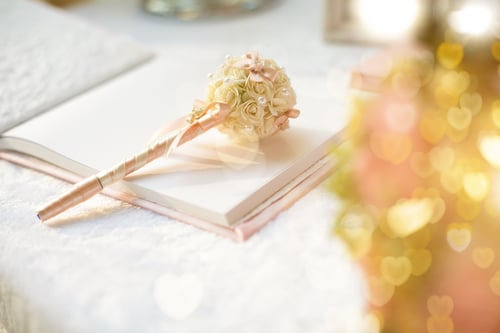 Photo credit: Serhii - stock.adobe.com
Your wedding is going to be the best day of your life. While pictures say a thousand words, why not let your guests record actual words that you can look back on many years later?
A book for guests to sign at your wedding is a wonderfully nostalgic memento that you can bring out at family events, anniversary parties, or just for fun! Plus, it provides an activity for wedding guests to do as they mingle or await the next phase of the celebration. This guest book doesn't need to be expensive or fancy, you can either purchase a pre-made wedding guest book or create your own.
Want to go the ultimate money-saving route? Decorate a box with your names, wedding date, and florals. Then cut pieces of paper into little heart shapes, put them in a jar next to the book, and provide a few pens. This way, guests can write a sweet message and place it in the box.
Keeping a tangible record of the loved ones who celebrated with you in person is priceless, but that doesn't mean the price to create that record has to be high.
Shop wedding guest books on Wish >
11. Wedding Dress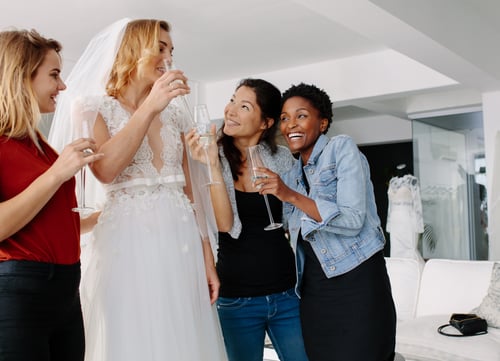 Photo credit: Jacob Lund - stock.adobe.com
You may have heard that you shouldn't skimp on the cost of a wedding dress. However, we're here to tell you that's not true! You don't need to spend thousands on a dress you'll only wear once in your life. An elegant wedding on a budget calls for a stunning yet affordable wedding dress. Lace or satin, long-sleeved or sleeveless—it is possible to find a crazy awesome deal on a beautiful wedding dress online!
While movies often depict the bride spending an afternoon trying on wedding dresses in a fancy store and drinking champagne with her bridesmaids, this is typically an activity reserved for those whose budget isn't quite so limited. These days, it's totally acceptable to shop for wedding dresses online. They are shipped quickly, can be tried on in the comfort of your home, and returned just as easily.
Are you dying to have that bonding moment with your bridesmaids? Recreate it at home! Spend some time searching for affordable wedding dresses online and place an order for the ones you like. Then invite your gals over for an afternoon of champagne, chocolates, and hours of trying on wedding dresses. You don't need to be rich to have an unforgettable "finding the perfect dress" moment.
Shop wedding dresses on Wish >
12. Flameless Candles
Is there anything more romantic than flickering candles? Candlelight is a guaranteed way to provide a romantic, flattering glow and an intimate atmosphere, no matter how large the wedding is. Flameless candles are a great way to save money at a wedding — you won't need to buy a bunch of replacement candles for when they burn out (you know you'll be dancing the night away) and you can reuse them for years to come.
Whether votive, flickering, taper, or full size, flameless candles are a safe way to enjoy candlelight. Real flames are a fire hazard, both indoors and outdoors; that's the last thing you want to worry about at a wedding! Get flameless votive candles, or control the lighting with timed or remote-controlled flameless candles.
Choose from tall, thin flameless candles in elegant stands or opt for the lower, broader candles in glass jars for a more low-key vibe. Either way, when you go flameless, you'll have one less thing to worry about on your big day.
Shop flameless candles on Wish >
13. Table Number Signs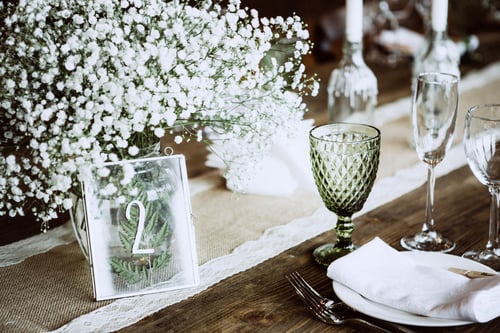 Photo credit: Pavlo Melnyk - stock.adobe.com
If you've ever been to a larger wedding, you know how confusing it can be as a guest to navigate. Table numbers are helpful, especially for mid to large-size weddings. It assists the guests with seating at the reception or rehearsal dinner. They are also helpful for buffet-style dining, as tables are often called up by number.
You spent hours on the seating chart, so don't let it fall apart the day of because people can't find their seats. It's not only easy to make seating easy for your guests, it can also be very affordable for you! Remember, you're not going to use these numbers again so don't feel the need to splurge on fancy table number signs and holders.
You can make table number signs yourself, either purchasing stands with inserts for customized numbered cards or simply adding them to your centerpieces. As far as table number signs designs go, you can't go wrong with gold. If you make your signs, consider asking a friend or family member with nice handwriting for help.
14. Elegant Wedding Stationery
Beautiful wedding stationery is a must-have for all wedding-related communications, and there are many: wedding invitations, thank you notes, bridal shower invitations, couple's shower invitations, save the dates, and engagement party invitations!
Sure, you can send online invitations and messages, but receiving something in the mail makes it official. People appreciate something tangible to get excited about, and everyone likes receiving mail that's not bills! However, don't feel like you need to spend hundreds on sending out fancy invitations. You can make them yourself with a set of regular stationary!
Get stationary colors that match your wedding's color scheme, the bridesmaid dresses, or go for classic white. You don't need to buy wedding-specific stationary, you can opt for simple stationary sets or anything with a floral theme. There are so many pre-wedding events and post-wedding follow-ups that require communication, so you do not want to be left hanging without enough stationery. Allow plenty of notice for invitations, and send thank you notes as soon as possible!
Shop elegant wedding stationery on Wish >
15. Backyard Wedding Pop-Up Gazebo

Photo credit: Viktoryia Kam - stock.adobe.com
Every outdoor wedding needs a rain plan. That's where a pop-up gazebo tent comes in. Before you start worrying about the cost, event tents are surprisingly affordable and can be reused after the event for any outdoor celebration.
Depending on your budget, setting up multiple tents will give the feeling that the outdoor venue has rooms: one for cocktails, one for the ceremony, one for dinner, one for gifts, and even one for photos. However, don't feel like you need to go overboard — one tent is more than enough.
These tents are easy to set up and assemble, so you can use them time and time again. Spruce them up with some fake flowers and twinkle lights for a romantic ambiance through the day and night.
Shop wedding gazebo tents on Wish >
16. Bridal Floral Headpiece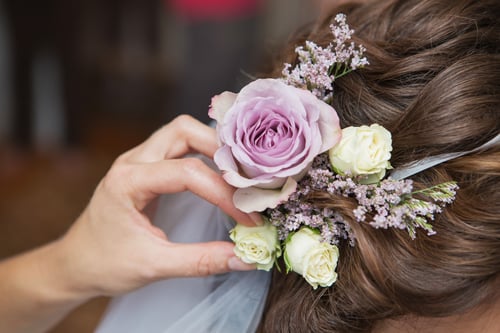 Photo credit: stanislav_uvarov - stock.adobe.com
A bridal headpiece adds a touch of sparkle, draws attention to an elegant updo, and can hold a bridal veil in place. A barrette, tiara, or jeweled headpiece that drapes across the forehead and down the back of the head adds glitz and glamor. But not everyone can afford to add jewelry to their wedding plan, so how can you recreate this glamor on a budget?
A flower crown provides bohemian flair for an elegantly natural aesthetic, and can either be bought pre-made or you can easily make one yourself. Bridal headpieces can be worn with or without a veil, so don't knock this if you already have a veil as part of your wedding plan.
It's fun to work florals into wedding day hair plans and your hairdresser will have endless possibilities. Opt for a full-blown flower crown or gently weave a few white blossoms into your updo. Your wedding day is an opportunity to get creative with your look and try something that you wouldn't normally have the time to do on an everyday basis. Treat yourself to looking like a princess!
Shop bridal headpieces on Wish >
17. Flower Girl Basket
Who is one of the biggests stars of any wedding, after the bride? You guessed it — the flower girl. Every wedding needs a cute white wicker basket the right size for a flower girl to hold: not too big, not too small, and definitely not too heavy. You don't need to spend too much on the basket because chances are, it'll only be used once.
Make sure that you try out a few different options and do a trial run with your flower girl. It should look natural in her hands and she should be able to carry it the full distance without it becoming too heavy. You definitely don't want her dropping it or getting too tired halfway down the aisle!
The flower girl basket will hold whatever kind of flower petals you choose for your special day. Everyone will "ooh" and "ahh" as the flower girl walks down the aisle, announcing that the bride is on her way. Pro-tip: choose a delicate basket that you can then gift to the flower girl after the wedding, to be used for Easter, Halloween or just for fun!
Shop flower girl baskets on Wish >
18. Napkin Rings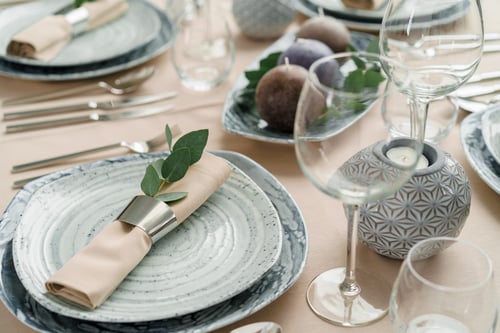 Photo credit: fotofabrika - stock.adobe.com
One simple way to class up a wedding reception or rehearsal dinner is to fold your napkins elegantly. You don't need to hire an expensive catering service to help you with this; simply use a decorative ring to help the napkins keep their shape. Cloth napkins are classiest, but paper napkins work too.
Lay the folded napkins gently atop the dinner plates and make sure your napkin rings match your color scheme. A metallic napkin ring in the design of your choice adds a formal flair to the table. A simple gold band, like a wedding band, is effortlessly elegant. Or, choose the napkin ring design to complement the wedding theme or season, like a leaf for an autumnal wedding or a pearl for a seaside one.
Wondering whether you can DIY this one as well? You know we've got you covered! While you can get crafty and make your own napkin rings, note that you'll need to make one for every single guest and this task can quickly become time consuming and expensive. You can find affordable napkin rings at the link below that will likely cost the same (or less) as making them yourself.
19. Wedding Welcome Sign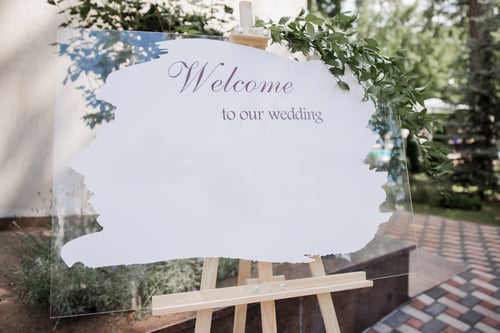 Photo credit: dyachenkopro - stock.adobe.com
A wedding welcome sign assures guests that they are in the right place. Even if your venue isn't hard to find, welcoming your guests to your wedding is a great way to make a wonderful first impression. Station them at each gathering point of the rehearsal, ceremony, and reception.
You can also use some of the previous items on this list as complements to your welcome sign. For example, put balloons, a guest sign-in book, or a table for gifts next to the welcome sign to greet guests. It also helps with crowd control to have signs posted to move people along. Ultimately, every activity related to guests, down to the restrooms and the coat closet, will need signage for everything to flow seamlessly.
You can purchase affordable pre-made signs or you can create your own. While you don't need to spend a lot, remember that this sign doesn't need to just go in the trash after the wedding. Hang it up in your bedroom or hallway at home to remind you of the day you began your life together.
Shop wedding welcome signs on Wish >
20. Paper Wedding Lanterns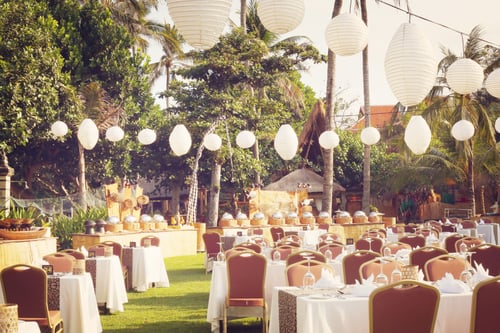 Photo credit: triocean - adobe.stock.com
Looking for a little something extra to pair with your fairy lights? Warmly lit paper lanterns floating above a dance floor at night sets the mood for a fun and memorable evening. Paper wedding lanterns are ideal for outdoor ceremonies and receptions, and can also function as a guide along pathways to lead guests toward the reception hall.
Some wedding lanterns are hung from the ceiling with a place to attach your own lights, and others are meant to be lit and float away as a send-off to the new bride and groom. Whichever one you choose, this is an affordable way to create an incredibly romantic atmosphere instantly.
Not to mention, both kinds of lanterns are easy to assemble and affordable. The send-off lanterns are not only memorable — most are also biodegradable!
Shop wedding lanterns on Wish >
21. Boutonnieres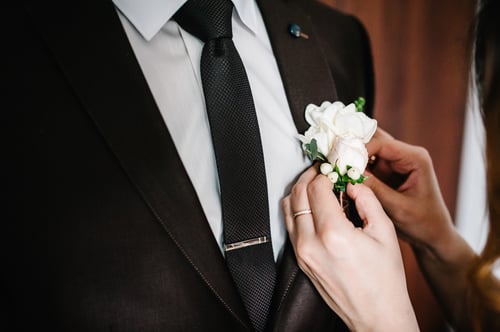 Photo credit: Serhii - stock.adobe.com
Boutonnieres aren't just for prom! And you don't need to spend a fortune on real flowers that just wilt on a hot summer day. Boutonnieres are the flowers that go on the left lapels of the featured men in the wedding. The groom, groomsmen, ushers, ring bearers, and fathers of the bride and groom wear boutonnieres. They are typically a single blossom or bud, with perhaps a few leaves or other tiny flowers resembling a miniature bouquet.
Getting artificial boutonnieres allows you to purchase them way ahead of time, which is one less thing to worry about on the wedding day itself and will save you money on fresh flowers. They can also be brought home as memorabilia, or put in a glass bottle as a memento of your wedding day. Select the flower type and color to match the other bouquets at the wedding.
22. "Just Married" Car Decorations
This is the classic purchase for a post-wedding celebration! Driving away from your wedding ceremony with a "Just Married" car decal or banner on the back is a once-in-a-lifetime opportunity. Get ready for lots of congratulatory honks on the road!
These decals are modestly-priced and easy to attach, or you can create your own. The "Just Married" banner can also be hung by the venue's exit for a priceless photo of the bride and groom walking toward their getaway car. Whether you want to go for the classic car sign or you and your soon-to-be spouse like to spice it up, this is a great way to seal the deal!
Shop Just Married Car Decorations on Wish >
Use Wish to Complete Your Wedding Checklist
Finding elegant wedding ideas on a budget can be difficult, but with Wish, it's a breeze. We have everything you need at the best prices, so you can focus on planning your wedding day — not budgeting for it.
Whether you're looking for pre-made guest books or you're planning to make DIY decorations for your big day, we've got you covered. Search thousands of options by category, or simply type in your desired item in the search bar to see what deals we have in store for you. Explore Wish to start shopping and saving today.