17 Dog Essentials for New Dog Parents
So, you've decided to bring home a new member of the family: a puppy! Or perhaps you fell in love with a senior dog at the shelter. Either way, before you begin your picturesque life together cuddling on the couch and playing fetch for hours, you need to make sure you have all the things you need for a dog on hand.
To help your pup get off to the best start, we've put together a new dog shopping list of items that are an absolute must. From doggie basics to travel must-haves to ensuring your pooch's health, we've got you covered. Keep reading for more!
17 Must-Have
Dog Essentials
Having everything you need before bringing your furry friend home is crucial for getting off on the right foot. Use this first-time dog owner checklist to make sure your home is dog-ready!
1. For walking: dog leash
When it comes to necessities for dogs, a dog leash is probably the first thing that comes to mind. Naturally, you'll need a leash so that you can take your dog out for those long, therapeutic walks. Adding a new dog to your wolf pack? A double dog leash lets you walk two dogs at once with just one easy grip handle. Keep one hand free to pick up after your dogs, or pick up a phone call. No more leash tangles during daily walks. This double dog leash is five and a half feet long in total with four feet of individual leash length. It comes in five different color choices.
Shop dog leashes on Wish >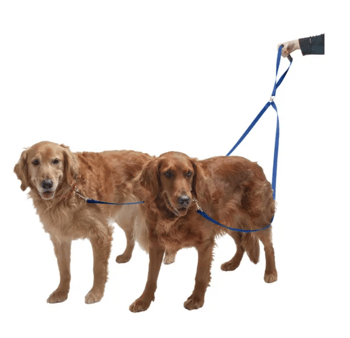 FurHaven Pet Dog Leash
2. For safety and identification: dog collar
Collars are basic must-haves for dogs. Even if you use a harness for walks, keep a collar on your dog at all times with their ID tag for safety. Get one in a style that matches your pup's personality: sparkly pink or studded black. Be sure to choose the right fit and width for their current size; you can always buy another as your puppy grows bigger. Plus, if you have multiple dogs that look the same, different collars can help you quickly decipher the difference.
Shop dog collars on Wish >
3. For playtime and bathtime: dog swimming pool
A doggie swimming pool is super fun to have on hand in hot weather. Dogs sweat through their paws, so hopping in a pool cools them down. If your dog is not a fan of water, this small swimming pool can also double as a dog bath when it's time for at-home cleaning. It comes in small, medium, and large for all-size dogs. Foldable for easy storage. It has a non-slip base and is made of non-toxic materials.
Shop dog swimming pools on Wish >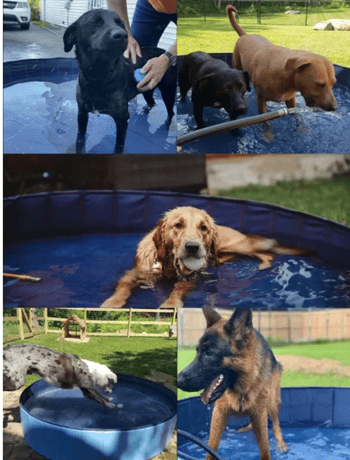 Foldable Dog Swimming Pool
4. For sleeping: cozy dog bed
A dog's bed is their special place in the home that they get to call their own. Add this memory foam quilted sofa-style dog bed to your dog supplies list. It gives dogs the option to rest their head on the side with supportive bolsters, or to splay out on the open side. It comes in small, medium, large, jumbo, and jumbo plus for all dog sizes. Made of insulated medical-grade memory foam, this bed is gentle on old dog joints. To clean, simply unzip the cover and toss it in the washing machine.
Shop dog beds on Wish >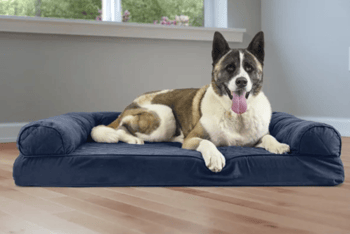 FurHaven Pet Dog Bed
5. For mealtime: food and water bowls
Food, water, and love are the basic dog needs. Money can't buy love, but for food and water bowls, it sure comes in handy! Some bowls are floor-level and some are elevated. Elevated bowls are especially helpful for large dogs or dogs that have trouble crouching down to reach them. Whether you opt for regular bowls or an automatic self-feeder, be sure to get the right size for your dog. Pro-tip: get your pup some travel bowls for hydration on the go!
Shop food and water bowls on Wish >
6. For travel: car seat cover dog bed
Whether you plan to take your dog on long road trips or just across town to visit Grandma, it's always smart to invest in a car seat cover that doubles as a dog bed. A seat cover protects your car's interior from mud, scratches, and fur. Plus, it allows your dog to have their own special area to curl up in the car. This car seat cover slips onto the headrest or a single seat or rests hammock-style across the whole back seat. Choose black, clay, or gray to match your car's interior. This quilted car seat cover dog bed has water-resistant fabric and adjustable straps.
Shop car seat cover dog beds on Wish >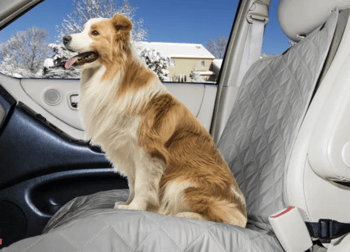 FurHaven Pet Car Seat Cover
7. For mental and physical stimulation: chew toy
Every dog needs toys — but not all dog toys are created equal. Find a puzzle-treat toy that is nontoxic, easy to clean, and tough so your dog won't immediately destroy it upon their first play session. Bonus points if you find one that holds treats inside and dispenses them to keep your pup engaged.
Shop chew toys on Wish >
8. For trips to the vet: dog crate
Don't worry, we haven't forgotten the little dogs! This 36 inch collapsible and portable dog crate is perfect for small dogs or puppies. Use it whenever transportation is needed, whether you're going on a trip or taking them to the vet. Simply use a seat belt to strap it in on car trips. Add this lightweight pop-up crate to your list of must-have dog items for camping, too! Alternatively, you can use it at home for puppy training. This crate is gray with breathable mesh windows. It includes a storage bag to take up less space in messy closets.
Shop dog crates on Wish >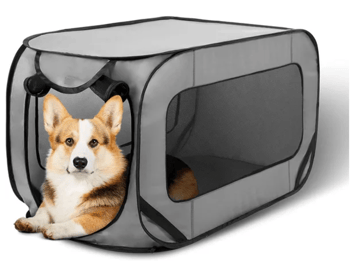 Portable Large Dog Bed
9. For grooming: a pet comb or brush
We love our furry friends but finding their hair everywhere in your home isn't always fun. No matter how many times you vacuum or mop, there will always be that sneaky ball of hair rolling across the floor as you walk by. Help reduce shedding by brushing them regularly.
Shop dog grooming tools on Wish >
10. For protecting your furniture: furniture cover dog bed
While there are many joys of bringing a new dog into your home, your furniture will suffer. From scratches to stains, it's inevitable that your rambunctious pup is going to do some damage (or just make it their second bed at some point). To keep your couch free of dog hair and protected from teeth and claws, this reversible dog cover bed lets you snuggle with your pup without any damage to the furniture. To accommodate dogs of all sizes, this cover comes in four sizes and two colors. It includes supportive bolsters on three sides so your dog can rest his head. Plus, it's water-resistant and reversible!
Shop furniture covers on Wish >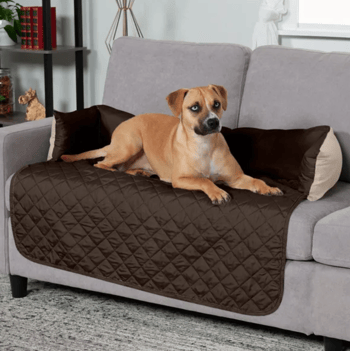 FurHaven Pet Furniture Cover
11. For adventurous pups: backpack dog carrier
No matter how short their legs are, you can bring your dog along on your next adventure! Let your dog see the sights from a different point of view with a backpack-style dog carrier. Perfect for hiking, biking, or even walking around a new city, it carries dogs up to 22 pounds. A lightweight and breathable carrier will keep your pup safe and secure with leg, arm, and tail holes. Want to keep an eye on your dog? Wear it as a front-facing backpack!
Shop backpack dog carriers on Wish >
12. For hot summer days: dog shoes
We all know those impossibly hot summer afternoons when even the air feels hot. But did you know that the pavement warms to such a high degree that it can burn your dog's paw pads? To determine whether the pavement is too hot, try the seven-second rule. For those hot days, keep their little paws protected with ultra-breathable dog shoes.
Shop dog shoes on Wish >
13. For oral health: dog toothbrush toy
Think humans are the only ones who can get gingivitis? Gingivitis is very common in dogs, and prevention starts early. Find a dog toothbrush toy that is the best of both worlds: it keeps your dog's gums and teeth clean while keeping them occupied with a chew toy. They are great for teething puppies or to entertain any dog. Gnawing at a rubber toy targets plaque on molars. Tip: slather some peanut butter on it as a doggie reward or distraction!
Shop dog toothbrush toys on Wish >
14. For outdoorsy pups: water-repellent dog coat
If you don't want to get soaked in the rain, why should your pup? This fitted water-repellent dog coat is essential if you live somewhere prone to rain and hate that wet dog smell. Simply unzip it to hook the leash onto the harness or collar. Stretchy with an insulated interior, this coat covers much of the front legs as well. It is lightweight yet warm enough for rain, snow, or cold wind. Its reflective strips will make your dog more visible at night for a little extra safety. Machine washable and dryer friendly.
Shop water-repellent dog coats on Wish >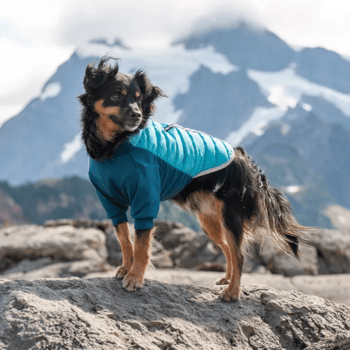 FurHaven Pet Coat
15. For bathtime: dog bath essentials
Bathtime and grooming are essential not just for keeping your dog healthy and smelling fresh, but doing both yourself can save you money over time. Look for a 2-in-1 bath brush and shampoo dispenser that helps you lather up while massaging the shampoo into your dog's skin and fur. Pour in water and liquid shampoo into this brush dispenser and watch the suds flow out when you press the button. Or use the gentle silicone bristles on dry fur to brush your dog without water.
Shop dog bath essentials on Wish >
16. For nervous dogs: dog anxiety vest
Just like humans, dogs suffer from anxiety as well. Especially when going someplace new or in times of transition. Signs of anxiety in dogs include pacing, panting, and shaking. A dog anxiety vest helps keep your dog calm when they might be feeling stressed, like when going to the vet or moving to a new house. A snug, fitted vest provides gentle pressure that soothes an anxious pup. Whether it's for thunderstorms, fireworks, or the vacuum cleaner, an anxiety vest can help soothe them. An anxiety vest is one non-medicinal way to calm them until the stress passes.
Shop dog anxiety vests on Wish >
17. For daily clean-ups: poop bags
Last but not least, poop bags are a must for all dog owners. It's not the most fun part of being a dog owner, but it comes with the territory. Cleaning up after your dog is not only the neighborly thing to do, it also keeps your lawn clean (and worry-free as you're walking through it). Plus, it's good for the environment! A poop bag dispenser that clips to your belt loop allows you to keep several on hand at once. Whether you opt for compostable bags or regular ones, be sure to get the right size for your pup.
Shop dog poop bags on Wish >
Complete Your
Shopping List for New Dog
Items with Wish
Ready to stock up on dog essentials? The Wish app has everything you need to keep your dog happy and healthy for life! Whether you're looking for bedding for your dog, a cute costume, or a new toy to reward your pup, Wish has you covered. Start browsing and discover fantastic online deals today!