How to Successfully Plan a Chocolate Tasting Party
Chocolate lovers unite! We've compiled everything you need to host a bash to celebrate the sweet treat. But, first, let's dive into some history real quick.
Chocolate has been shared and savored as a delectable treat for hundreds of years. When it comes to chocolate tastings, "chocolate houses" emerged in France and Britain in the early 1600s — think of it like a coffee house but for the super elite.
iIt wasn't long before the European elite consumed chocolate regularly as a form of celebration. Its decadent, rich texture was revered, and many spent a hefty sum to get their hands on it.
As time went on, the process by which chocolate was made was modernized, and the accessibility of chocolate expanded. Today, chocolate is available to the masses and is one of the world's favorite sweet treats.
It's clear that chocolate is a treasured and beloved indulgence, making it a perfect invitation to gather friends and loved ones together. This is why (if you've been thinking about hosting a social affair) we recommend throwing a chocolate tasting party.
Trust us—your guests will be so glad they attended!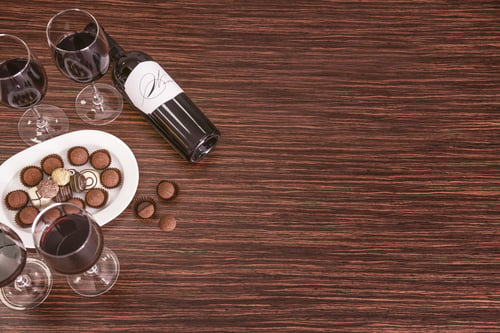 Photo credit: stock.adobe.com - Africa Studio
What is a Chocolate Party?
A chocolate party, or chocolate tasting party, is a social event where those in attendance sample various types of chocolate and learn more about their distinct flavor profiles, the process by which they're made, and how they pair with wines and other accompaniments.
Preparing for a Chocolate Tasting Party
1. Choose a Convenient Time
Chocolate tastings aren't meant to be a substitute for regular daily meals, so it's important to schedule your event for a time when people aren't too hungry or too full. It is also best practice to encourage your guests to avoid any intense flavors, such as spicy peppers, seafood, or olives, for a minimum of 30 minutes before the tasting, as these foods can impact their ability to taste the chocolate accurately.
2. Provide Palette Cleansers & Pairings
Serving accompaniments with chocolate is strongly encouraged, as it enhances flavor profiles while also providing a reprieve between courses by cleansing the palette. Wine, spirits, beer, nuts, cheese, berries, honey, salt, and spices can all be served with chocolate to intensify the flavor and provide a more well-rounded tasting experience.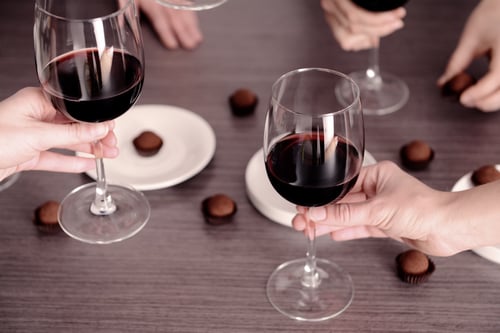 Photo credit: Africa Studio - stock.adobe.com
3. Create a Tasting Menu
You want your guests to gain new knowledge and feel informed throughout the experience, which is why you should always provide a menu at your chocolate tasting event. It will guide your attendees through the entire collection, one step at a time, allowing them to ask questions and memorize the selections they enjoyed most.
Use a chalkboard to present your offerings, styling it with fun handwriting and designs to make the party feel totally customized.
4. Set the Table
Ambiance is a crucial part of creating a pleasant chocolate taste testing experience for your guests. Candles, soft background music, a fun centerpiece, and a clean, uncluttered dining space all create a more welcoming atmosphere.
It's also important to provide each guest with their own individual side plate and a pen and notebook so they can take notes or jot down the names of their favorite samples.
Of course, no chocolate tasting party is complete without wine. Pick wine glasses for your table that speak to your own style.
5. Do Your Research
As the host of your chocolate tasting party, you'll want to come prepared with all the essential information about each item on your menu. Your guests will look to you to clarify flavors, inform them of ingredients, and share interesting tidbits. On the bright side, this is an excellent excuse to indulge a little extra!
Different Types of Chocolate Tasting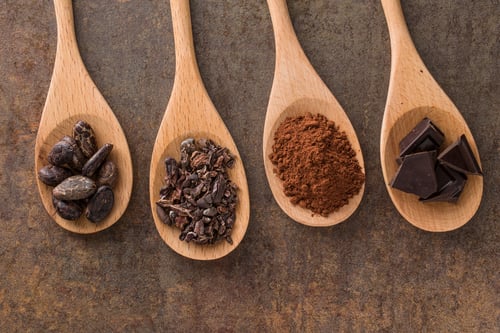 Photo credit: Jiri Hera - stock.adobe.com
1. The Spectrum Tasting
This is the best method of tasting chocolate for anyone looking to try a wide range of flavors and chocolate types. A variety of chocolates are presented in a single sequence, providing guests with a comprehensive experience, and introducing them to many different options. Typically, chocolates will range from light to dark, as well as sweet to bitter, with texture and flavor variances as well. We recommend a spectrum tasting if your guests are new to chocolate tasting, since it's the most immersive.
2. The High or Low Tasting
If you're looking to put a fun spin on chocolate tasting chocolate, a high or low tasting is a perfect fit. Choose expensive chocolates (high) and affordable options (low) and have your guests guess which samples are which. They will have a blast learning whether they guessed correctly, and it's an excellent opportunity to focus on their unique flavor preferences rather than price point!
3. The Fondue Tasting
Warm, ooey, gooey, melted chocolate—you really can't go wrong! Fondue provides the opportunity to combine flavors by dipping a variety of foods, including fruit, cheese, candy, pretzels, and graham crackers, into a selection of melted chocolates. A great option for hosting a chocolate tasting at home, especially during the colder months! We recommend a chocolate fountain to add an extra dash of excitement to a chocolate tasting.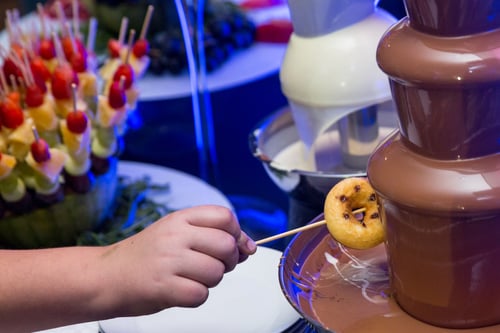 Photo credit: fotosr52 - stock.adobe.com
4. The Blind Tasting
If your guests have attended chocolate tasting parties in the past, try a blind tasting to increase the difficulty of identifying flavors while also heightening the senses. Blind tastings mean your guests have no idea which type or brand of chocolate they are sampling, turning your tasting into an entertaining guessing game they'll be raving about for weeks to come.
5. The Curated Tasting
For experienced audiences, a curated chocolate party is likely the best option. In these tastings, the host chooses a theme or flavor journey they'd like their guests to experience and selects each chocolate to align with their greater vision. It could be a collection of chocolates from a specific country, a chocolate and wine tasting party where each chocolate has a thoughtfully-chosen accompanying wine or culinary experience where each dish features a specific chocolate.
How to Host a Chocolate Tasting at Home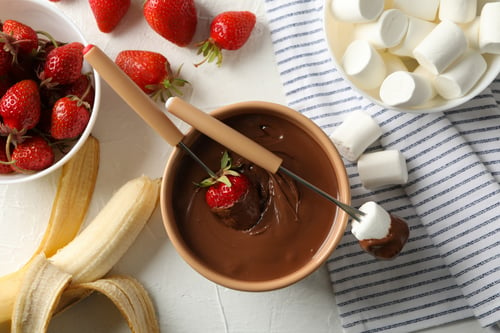 Photo credit: Jiri Hera - stock.adobe.com
We recommend keeping the following points in mind when hosting an at-home chocolate tasting event:
Send out party invitations. They set the tone of your tasting and give guests a glimpse of what's to come.
Invite a small group of 6-8 people. This is the ideal amount to ensure guests can chat intimately while still feeling engaged by their host (you).
Break samples into small pieces. You want your guests to intentionally savor each sample, not over-indulge.
Create table place cards. Make your guests feel extra classy by adding table place cards to your table setting.
Ask guests to rate each sample. This will make your tasting more interactive and engaging. Plus, it allows you to make recommendations based on the person's individual flavor preferences.
Provide party favors and the end of your event. It's not mandatory, but giving your guests a parting gift is a wonderful way to put a cherry on top of their chocolate tasting experience. Full-size chocolate bars, cheeses, and jams are just a few examples of culinary surprises you can include. You can also create your own candy gift bags filled with some of your favorite chocolate confections.
What to Consider When Tasting Chocolate
There are four things to consider when sampling chocolate:
Aroma (How does the chocolate smell? What scents are present?)
Texture (Is the chocolate smooth? Chewy? Coarse?)
Appearance (Is the chocolate light? Dark? Does it have a glossy sheen? Are there decorative elements or toppings?)
Snap (When you break the chocolate in two, does it make a dull or crisp snap sound?)
With this guide to chocolate tasting, you'll be able to host an incredible chocolate tasting party for your friends, family, or peers. Start prepping today by browsing our inventory of chocolate products and accessories!