10 Casual Outfit Ideas for Every Occasion
Casual outfits are often overlooked. After all, they're just what we wear the most often, right? Just something we throw on while walking the dog, running errands, or lounging around the house?
Wrong! Casual outfits are a fashion staple on their own and can be low-key, elevated, or ultra-fashionable (just ask Gen Z whether they prefer high fashion or casual looks). The casual outfits of the 90s are making a comeback and baggy jeans, loose sweaters, and white sneakers are taking over the scene!
Keep reading for fashion inspo and outfit ideas that show comfort is key and informal wear is stylish. And, when you're done, head over to the Wish app to explore our revamped fashion category experience, available on Android and iOS globally.
Casual Outfit Ideas
So, what are some casual outfit ideas that will make you feel confident and fashionable? These 10 casual cute outfit ideas combine style and comfort for all seasons and occasions.
1. High-Waisted Mini Skirt and Long-Sleeved Shirt Tucked In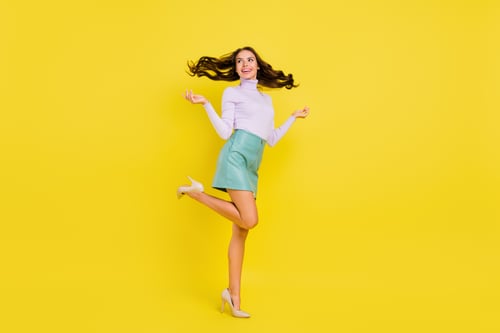 Photo credit: deagreez - stock.adobe.com
Don't you love when cute, casual clothing doubles as casual, fancy outfits? We've got the perfect combo that will take you from day to night.
A high-waisted mini skirt with a long-sleeve, tucked-in shirt morphs from daytime to casual to a sophisticated evening look.

A zippered corduroy skirt is the ultimate autumn skirt, and it's super soft and cozy.

If you're in the beginning of spring, opt for a light-wash denim skirt. For the long-sleeved shirt, consider a stretchy turtleneck or a cotton V-neck.
Wear with thigh-high boots and tights to dress it up, or opt for sneakers and a denim skirt to keep it casual. A scarf and large purse completes this quintessential look for fall, while bright or floral colors embody the essence of spring.
Shop high-waisted mini skirts on Wish >
2. Flannel and Boyfriend Jeans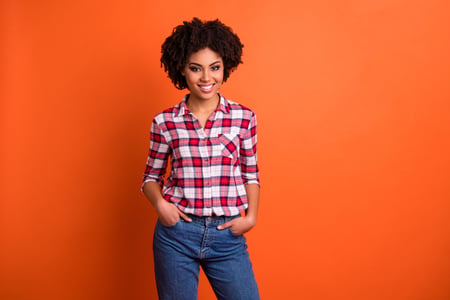 Photo credit: deagreez - stock.adobe.com
Everybody loves flannel — there are so many different ways to wear it!
Button it all the way up, or button a few buttons at the bottom to show a shirt layered underneath.

Keep only the top few buttons unbuttoned for a loose-fitting, ultra-casual look.

Or, go completely unbuttoned, and wear the flannel shirt as a jacket.

Working with warmer weather? Wear the flannel tied around your waist. This can create a waistline, or just be for convenience if you need to shed a layer.
That's four ways to wear one garment, making it supremely versatile! It's essential for comfortable casual outfits, especially when worn with loose-fitting boyfriend jeans.
3. Athletic Shorts and Tee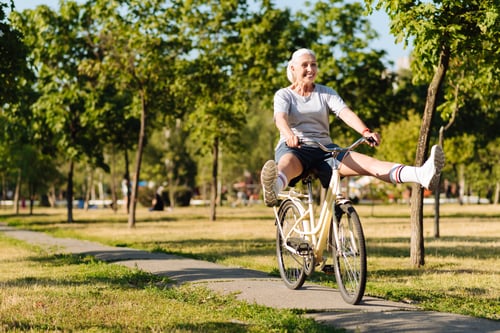 Photo credit: zinkevych - stock.adobe.com
Wearing athletic shorts and a plain T-shirt is perfect for lounging around the house and looking cute at the grocery store! Whether you're going to and from the gym or just running errands, you don't need to be an athlete to dress like one. Athletic shorts are built for comfort, flexibility, and movement.
You have several options when it comes to what kind of athletic shorts, so you can always find something that fits your style. Loose-fitting short shorts and spandex biking shorts are both in style, so pick your preference. Both pair perfectly with a plain white tee. With ankle socks and sneakers, this is the go-to look for when you don't have the time, energy, or interest in accessories.
Shop athletic shorts on Wish >
4. Oversized Hoodie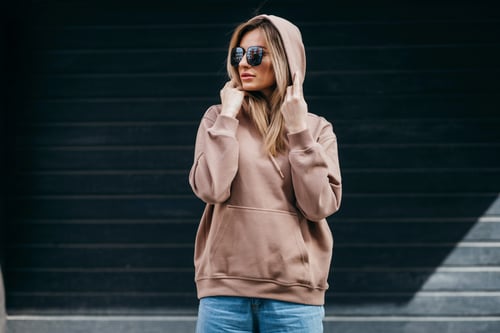 Photo credit: andrew_shots - stock.adobe.com
Oversized hoodies are absolutely dominating the casual teen outfits landscape. Nearly every celebrity has been photographed in an oversized hoodie lately, showing that this comfy garment is for everyone. Gone are the days of tight tracksuits!
Don't like the hood? Opt for an oversized crew neck instead! Wear it over leggings, shorts, jeans, a dress, or just as-is with tights and boots. We recommend pairing tights or bike shorts with an oversized hoodie or crew neck to really nail the casual, effortless vibe!
Shop oversized hoodies on Wish >
5. Joggers and Casual Top
Similar to hoodies, joggers are making a big splash on the casual fashion scene. Whether they are tapered or straight leg, cropped or full length, joggers are part of trending casual outfits for a reason: their consistent comfortability. It's the closest you can get to wearing pajamas all day, while still looking stylish!
Wear joggers with sneakers and a casual top for a refreshing "just got out of yoga class" look, with hair in a pony or messy bun. Can't pick a color? Go for gray. Gray joggers are classic, neutral, and look great with any color top.
6. Overall Dress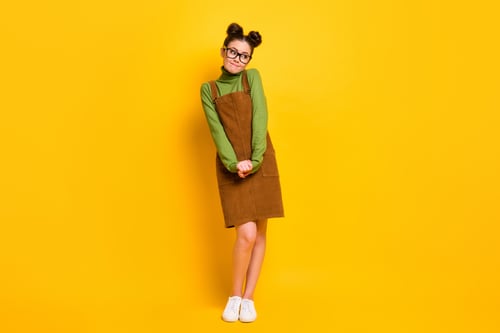 Photo credit: deagreez - stock.adobe.com
Casual, girly outfits combine the femininity of a dress with the durability of overalls fabric. An overalls-style dress has two shoulder straps. They are often loose-fitting and come with pockets (who doesn't love a dress with pockets?!). Overall dresses are usually made of denim, corduroy, or other durable material. Varieties include mini, mid-calf, or full length.
Layer a crop top, T-shirt, three-quarter length shirt, or long-sleeve shirt underneath. Or, layer a sweater over top of the dress if you prefer. This outfit looks fantastic with ankle boots and leather purse!
Shop overall dresses on Wish >
7. Jumpsuit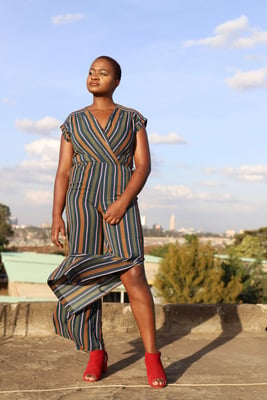 Photo credit:
Esther Sweeney - stock.adobe.com
A jumpsuit is great because it cuts down on decision fatigue when you are honing your casual clothes style. Jumpsuits combine a shirt and pants in one, structured or belted in a way to look flattering on all body types. They come in a variety of sleeve lengths and fabrics, from velvet sleeveless to chiffon three-quarter puffy sleeves.
Ankle boots are a great look for this style. Go for a solid shoe color and a patterned cardigan if you need an extra layer. To complete this outfit, gold hoop earrings are always classic, and pair well with all colors and patterns.
8. Oversized Knit Sweater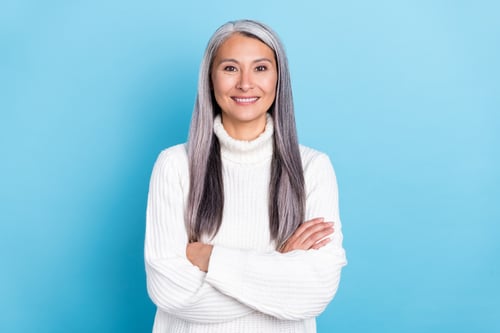 Photo credit: deagreez - stock.adobe.com
Like the oversized hoodie, the oversized knit sweater is a simultaneously trendy and comfortable garment. A slouchy sweater worn over a sleeveless maxi dress offers a laid back, romantic look. Or, wear an oversized sweater with distressed jeans for a more down-to-earth casual vibe. If the sweater is super long, you can belt it to turn it into a sweater dress and wear it with soft suede boots.
Buttoned or pullover, wool or cotton, here are so many wonderful options in the oversized sweater aesthetic. The options are truly endless with this one!
Shop oversized sweaters on Wish >
9. Baggy Jeans and Graphic Tee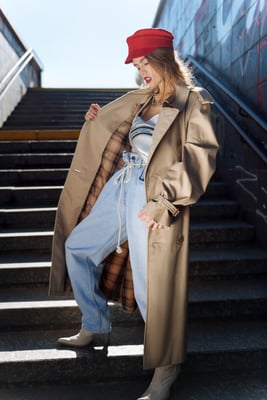 Photo credit:
Viacheslav Yakobchuk - stock.adobe.com
Fashion always cycles through to make room for comebacks — and that means baggy jeans are back! Say goodbye to those tight, skinny jeans and embrace the loose. Wear them with a modern graphic tee for a '90s grunge-inspired look. The graphic tee may have your favorite band's logo, or be spray painted for a streetwear look all your own. Casual, trendy outfits like this give off a cool and effortless vibe.
Don't be afraid to try denim-on-denim: a jeans jacket completes this casual look. Wear with combat boots or sneakers for a laidback style. Accessorize with sunglasses, layered bracelets, and necklaces for a little extra flair!
10. Bomber Jacket and T-shirt Dress
The bomber jacket is recognizable by its collar and cuffed sleeves — perfect for accentuating the waist while still giving off I-just-threw-this-on vibes. For an urban-chic streetwear look, pair it with chunky sneakers over a T-shirt dress. For the fit of the jacket, oversized is in, but a fitted look is always classic, so choose whichever fit you love.
These are a great look for fall, especially when paired with distressed jeans and knee-high boots. Shopping for spring? Pair a bomber jacket with high-waisted shorts, a crop top and white sneakers for an effortlessly cool ensemble.
Shop Wish for Casual Outfit Essentials
Seeking more cute and casual outfit ideas? Head on over to Wish for all your fashion needs!
Wish's recently revamped in-app fashion category page now has more detailed product descriptions, a size guide, as well as filter and sorting functions. In addition, explore our new landing page where you can browse seasonal collections handcrafted by our merchandising team; explore merchant-funded sales/discounted items; or, view an infinite feed of trendy listings. There's also a new navigation page to allow for browsing by sub-category. Shoppers can also benefit from hassle-free returns* if they would like to swap out select items for a different color or size, when available.
Download the app and start shopping today!
*Exceptions may apply