35 Carry-On Essentials for Long Flights and Layovers
There's nothing quite like the excitement of going on a trip to a faraway destination. As your departure date nears, your mind begins to wander, imagining all the new sights you'll see and the experiences you'll have. It could be visions of gliding down the canals of Amsterdam in a riverboat or swimming in the cool, crystalline caves of Belize — whatever your next adventure may be, the fun you'll have is surely at the front of your mind.
Unfortunately, this excitement can work against you in terms of packing and preparing for your trip. You may forget to include essential items because you are busy daydreaming! And trust us, the last thing you want is to settle into your seat on a 12-hour flight, ready to enjoy your vacation, only to discover you've left one of your most important belongings behind at home.
That's why we're here to help! We've compiled a comprehensive list of carry-on essentials for long flights so you can easily review what you've packed and be absolutely certain you have everything you need.
Because when you're prepared, it's so much easier to savor the moment!
A comfortable, high-quality travel pillow is an absolute must-have for any long-distance flight. They allow you to sleep soundly and prevent neck cramps, making for a more enjoyable and rejuvenating travel experience. Plus, they reduce the likelihood of snoring, saving you from any embarrassing moments while you snooze.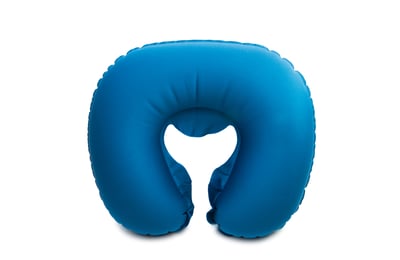 Photo credit: ksena32 - stock.adobe.com
Crying babies, rumbling jet engines, chatty passengers — there's no telling what sounds you'll be forced to listen to on your flight. Unless, of course, you stay one step ahead by packing a pair of earplugs in your carry-on bag. They'll allow you to enjoy a noise-free flight at any point. Simply pop them in your ears, sit back, and revel in the silence!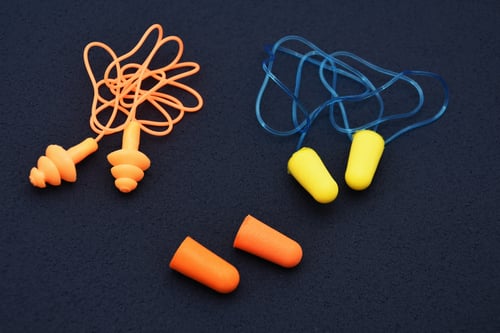 Photo credit: Laurenx - stock.adobe.com
Avoid the panic of thinking you've misplaced your passport or boarding pass by keeping your purse tidy. Purse organizers slide conveniently into the main compartment of your purse, providing additional pockets in which you can sort the items that typically clutter the bottom of your handbag. Lipsticks, loose change, pens, documents, keys — now conveniently accessible whenever you need them with these airplane travel essentials!
We all rely on our devices to do our work, connect with friends and loved ones, and pass the time with much-needed entertainment, which is why a portable charger is one of the most important things needed for long flights. You can enjoy hours' worth of movies or play your favorite mobile games as long as you'd like! All you have to do is charge it before you leave and take it with you in your carry-on bag.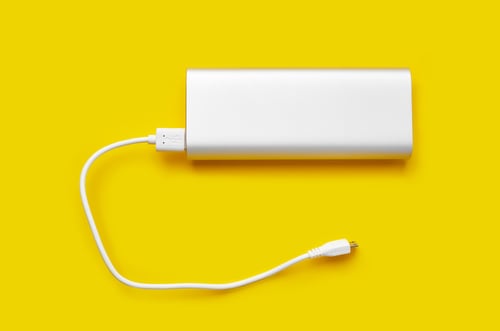 Photo credit: stas_malyarevsky - stock.adobe.com
Keeping your clothing clean during a long flight is often a challenge, but one way to guarantee your outfit remains fresh and presentable is to bring a lint roller in your carry-on. They're super cheap and also super handy to have nearby in a pinch! Whether it's crumbs from your in-flight meal, dog fur from all the cuddles you gave your pup prior to leaving, or fuzz from your favorite blanket, you'll be able to clean up your look in just a few seconds.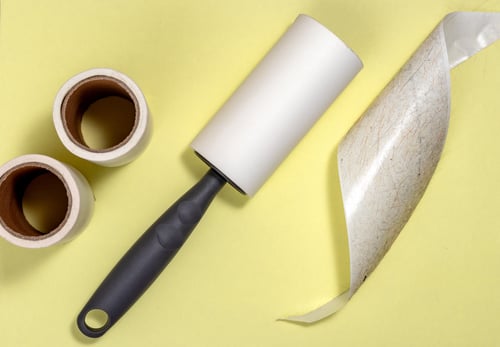 Photo credit: vahit - stock.adobe.com
Medications
When considering what to bring on a long flight, prescription medications, as over-the-counter medications that may be of benefit during your travels, should always be top of mind. Be sure to bring your prescription meds in their original containers so airport security personnel can easily verify they belong to you. It's also a good idea to check the storage recommendations for your medications, as many need to be kept in a cool, dark place.
We couldn't complete a list of carry-on essentials for long flights without mentioning cell phone chargers. You'll want your mobile device to be fully charged and operational when you arrive at your destination, so bringing it in your carry-on bag will allow you to charge it while you travel. Most planes now have built-in charging stations in every seat, but if yours doesn't, just be sure to bring a portable charger (mentioned above).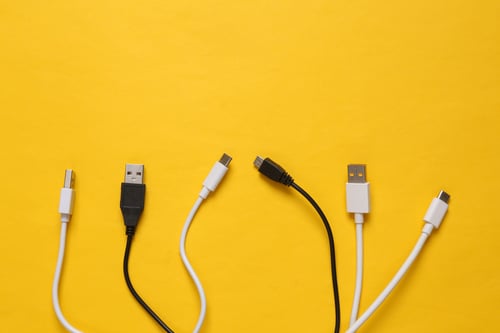 Photo credit:
splitov27 - stock.adobe.com
A travel toothbrush is perfect for keeping your teeth pearly white and polished while traveling thousands of miles in the air. Plus, you won't have to worry about bad breath while seated in close quarters with other passengers! We recommend looking for a toothbrush that comes in a travel case to avoid water leaking onto other items in your carry-on.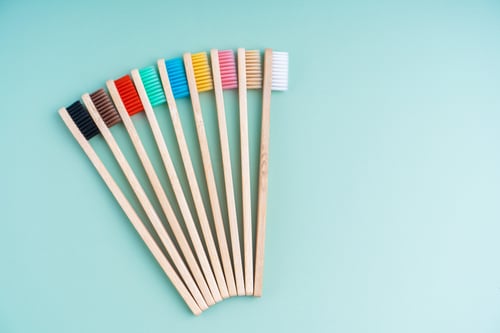 Ekaterina - stock.adobe.com
It's difficult to catch some z's when you're traveling in the middle of the day or your seat-mate is using the overhead lamp while reading a book. A sleeping mask is ideal for blocking light and making it possible to get quality rest. You can even get sleeping masks with wireless headsets and built-in Bluetooth speakers!
Write down activities you'd like to do during your trip. Journal about your travel experience. Jot down reminders to yourself. You can use a notebook for just about anything, so there's no doubt that it'll come in handy at some point during your flight.
The air in the cabin of a plane has very little moisture due to high altitude, so you'll quickly notice your lips becoming chapped — and that's never a good thing. We highly encourage adding lip balm or a hydrating gloss to your list of air travel essentials for this reason. Trust us. When your lips are soft and silky smooth, you'll be so glad you did!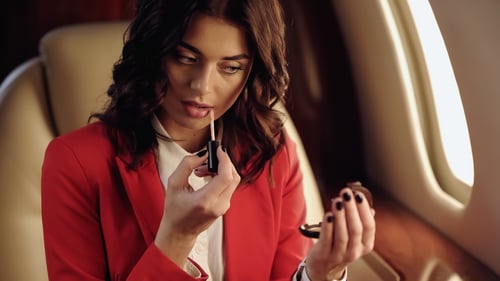 Photo credit: LIGHTFIELD STUDIOS - stock.adobe.com
A blanket is a critical travel companion for anyone prone to feeling cold or who plans to nap during their flight. If you will be traveling for hours, why not make your trip as comfortable as possible? Bring a warm, fuzzy blanket, play your favorite movie, and you'll arrive at your destination before you know it.
This is one of the essentials for long flights that's commonly overlooked, but having a hair brush with you during your flight is a convenience you'll be happy you have when your mane is messy or tangled. A quick brush-through is all it takes to refresh your look and feel your best!
Want to protect the environment by avoiding the single-use plastic cups provided during flights? Prefer to drink from a cup with a lid so you don't have to worry about spilling? A collapsible coffee cup is the solution you've been looking for. Most of these cups are leak-proof, making them ideal for travel, and they can be reused for years before you need to upgrade!
If you're visiting someplace warm, you'll want to include sunglasses on your list of plane travel essentials. The airport you arrive at may be a considerable distance away from your hotel or accommodations, and the last thing you'll want is to be hailing a taxi or walking a long distance with the sun glaring in your eyes. Tuck a pair in your carry-on and avoid the hassle!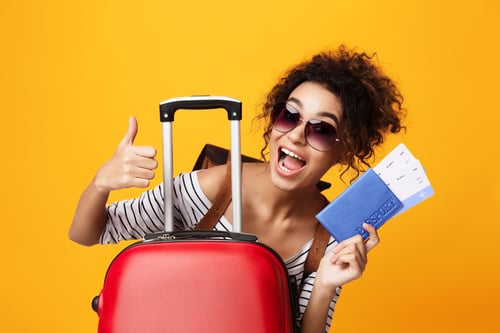 Prostock-studio - stock.adobe.com
If you use a tablet device, a stand or holder is a great investment. Your hands and arms will grow tired after hours of holding up your device while watching a movie or playing games. A tablet stand makes it easy to continue using your device without the discomfort of holding it for long periods.
If you plan to work while you're abroad or prefer to navigate your computer using a mouse instead of a trackpad, packing a USB mouse is a smart idea. The USB option is best, as opposed to a wireless mouse, since you won't have to bother with tracking down batteries if they die.
Contact Lens Case and Solution
Eyesight is one of our most critical needs during travel. If you use contact lenses, be sure not to forget your lens case and cleaning solution! These items should be in your carry-on for easy access at all times. Since contact solution is considered an essential non-prescription medication, you're allowed to bring more than 100mL with you. Just be sure to declare the item to airport security during your screening.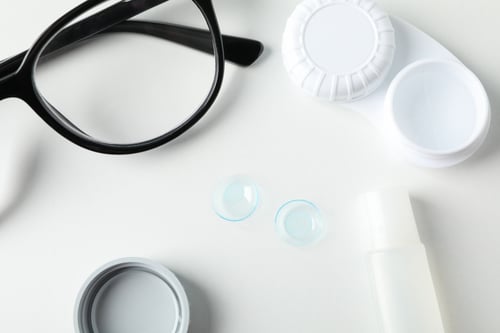 Photo credit: Atlas - stock.adobe.com
Even if you bring a cell phone charger and portable charger, there's a chance your phone could die or become damaged during your travels. For this reason, it's always advisable to wear a watch so you can tell time without relying on your mobile device. Many digital watches can also be set with reminders (to take important medications, for example), monitor your heartbeat, and even measure the distance you've traveled by foot, making them ultra-convenient!
All of your electronic devices, from curling irons to cell phones, laptops, Bluetooth speakers, and digital cameras, need to be plugged in to use or charge their batteries. Keeping an international power converter in your carry-on will ensure you aren't caught in a pickle if your luggage is lost en route, allowing you to use your devices without tracking down a replacement converter.
Purses, bags, cell phones, boarding passes, coffee cups — there's so much to carry while you're rushing through an airport! This is why we encourage you to consider a wheeled duffle bag as you make your list of what to bring on an international flight. A wheeled bag will free up space in your hands and arms for other essential items and make navigating a crowded terminal far easier!
Not all headphones are created equally! Some produce far better sound quality and minimize outside noise more effectively. A great pair of noise-canceling headphones will prevent you from being distracted while you work, watch your favorite film, or listen to music. Totally worth the investment!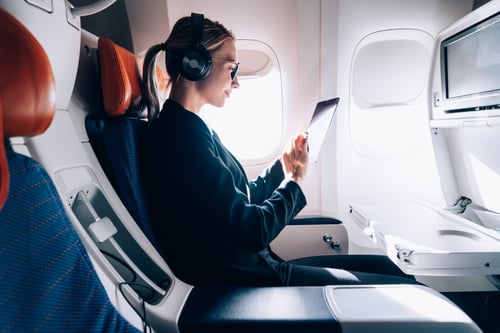 Photo credit: BullRun - stock.adobe.com
A sewing kit is one of those things you don't appreciate until you really need it. Sure, it isn't one of the most obvious things to bring on an airplane, but it's certainly one of the most useful if you find yourself in a situation where it comes in handy. Whether it's repairing a rip in your pants, reattaching a button to your blouse, or replacing a zipper — there's so much you can do with a sewing kit!
Yes, there is an overhead lamp above your seat, but it may not be bright enough for nighttime reading. Bringing your own book light is the best way to ensure you can read without straining your eyes. Most of these lights clip onto your book for hands-free use!
If you are traveling to a destination where the weather can be unpredictable, a rain poncho is the perfect carry-on solution. They are easy to store and don't take up much space, so you don't have to worry about losing valuable real estate in your carry-on bag. You can also choose a lightweight, disposable option, which can be folded up quite small and discarded when it is no longer needed.
Prone to overheating? Don't worry. There's a fix for that. Pack a personal handheld fan in your carry-on bag, and you can enjoy a cool breeze at the click of a button whenever you please! Many handheld fans are USB rechargeable, so you don't have to worry about batteries. Simply plug into a portable charger or laptop, and it'll be ready for use again in just a few minutes.
There's a lot of walking involved in international travel. Airports can be thousands of square feet, and you'll likely have to walk from one end to the other while transferring between flights. A supportive pair of shoes will help ease the pressure on your feet and make traveling by foot much more comfortable. Be sure to choose your shoes wisely! It makes all the difference.
Spills happen. Checked luggage can be lost. You never know what a flight may bring! Packing an extra t-shirt guarantees you can change at least once if needed. Plus, when folded up neatly, they take up very little space, making them one of the most practical in-flight travel essentials.
It really is the little things that make a big difference when traveling long distances. Hair ties not only allow you to change your hairstyle, but they can be used for a wide range of things, like keeping cords organized, sealing an unfinished bag of chips, or rolling up cash for safe storage!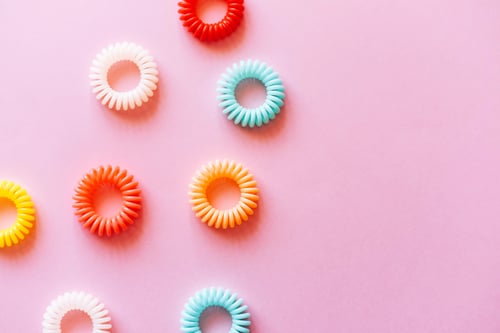 Photo credit: ​​
Maryna - stock.adobe.com
Not only are razors convenient to have on hand, but depending on what part of the world you're traveling to, they can be hard to find! This is why it's always best to bring razors in your carry-on and ensure you'll have them when you arrive at your destination. Remember, however, that your razor should be stored in a plastic or metal holder to pass through security, and loose razor blades will likely be confiscated.
The notebook we mentioned earlier in this list won't be of much use if you don't have a pen! Plus, pens can be used for a broad spectrum of purposes — from jotting down a last-minute change to your travel arrangements and creating a to-do list to playing tic-tac-toe with your seatmate!
Not only does gum freshen your breath on the go, but it also helps with popping in your ears, which can be pretty intolerable for many travelers. We recommend keeping a pack in your carry-on so you can chew a piece during takeoff and landing when ear pain and popping are most likely occurring.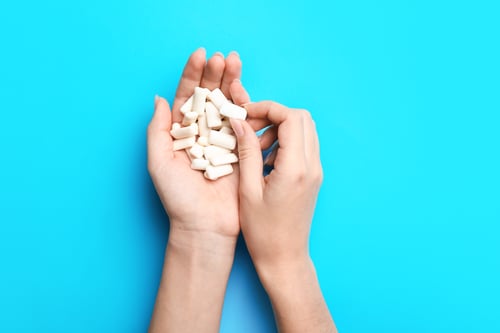 Photo credit: splitov27 - stock.adobe.com
Extra Passport Photo
Having an extra copy of your passport photo on you is critical when traveling abroad, as it improves the likelihood of being able to get your passport replaced. Without it, the process could take much longer. Keeping extra copies of your passport photo could also benefit you if you need to file a police report while in a foreign country or in any other situation where identification is required. Be sure to carry them separately from your passport (so you don't lose them all at once!) and keep them in a plastic bag where they are safe from potential water damage.
Toilet Paper Roll
A lot of travelers aren't comfortable using the bathroom on an airplane, doing their best to wait until they have arrived at an airport, which can add urgency. But what happens if you get in the restroom only to realize there isn't any toilet paper? Keeping toilet paper or tissues in your carry-on is a great way to avoid this predicament!
If you're a tea lover, why not bring your own tea bags in your carry-on? Most airplanes can provide hot water but may not have the type of tea you prefer. Add a few of your favorites to a plastic bag, and you won't have to worry about enjoying a piping hot cup of tea whenever you please!
Some Extra Tips to Plan Your Greatest Getaway Yet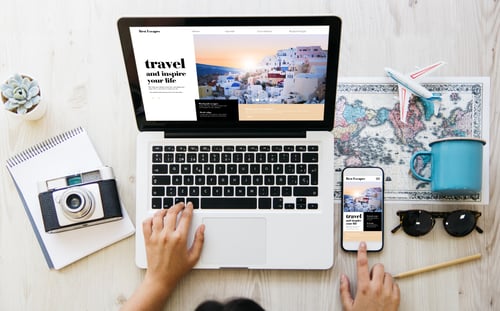 Photo credit:
MclittleStock - stock.adobe.com
The secret to a perfect vacation is preparation. Stocking up on all the essential items you'll need is one part of prepping. But there are other tips to keep in mind to ensure you enjoy a seamless and stress-free travel experience.
Here are a few additional steps you can take to cover all your bases:
Book your activities in advance. Whether it's a guided walking tour, a hike to the top of a mountain, or a boat ride off the coast of Greece — confirming your activities and all relevant details will ease your mind and make your trip a breeze.
Confirm all your reservations just before you leave. Double-check the dates. Verify any add-on services you've requested. You want everything to be exactly as you specified upon your arrival!
Buy travel insurance. It will protect you in case of a flight cancellation, medical emergency, or if your luggage becomes lost or stolen.
Check for travel warnings and advisories. When visiting a foreign country, this is of utmost importance. A spike in crime rates, political unrest, extreme weather, and other urgent matters could put your health and safety at risk. It is always best to review travel warnings and advisories regularly before your trip.
Arrange transportation to and from your accommodations. It is always best to confirm transportation before your arrival. It is more challenging to find safe and timely transportation in some countries than others. Look for reputable shuttle or bus services, read online reviews, and confirm all details before you depart.
By taking the steps above, you'll minimize the majority of risks associated with poor travel planning and give yourself the best chance of enjoying a setback-free vacation.
Find Carry-On Essentials For Long Flights with Wish's Discovery Based Shopping Experience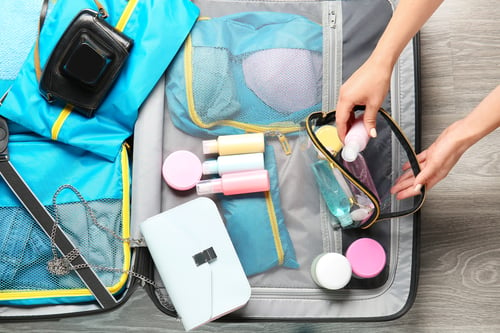 Photo credit: Pixel-Shot - stock.adobe.com
If you are preparing for travel, whether short or long distance, go to Wish.com or download our app to find the items you need. Our eCommerce marketplace is full of affordable products — and they're all available at your fingertips. Remember, thousands of merchants are virtually selling their products on our platform, so there's a great chance you'll be able to find exactly what you need for your next trip and more!
How does Wish Work?
Create an Account
It's free to sign up, and you can quickly set up your profile.
Search For a Product
Visit our website or use our mobile app to find the product you have in mind, or scroll through your feed to discover items.
Read Product Reviews
Read product reviews from previous customers to get an understanding of what to expect from a specific product.
Confirm Shipping Details
It's important to remember that shipping times vary from merchant to merchant. For this reason, verifying all shipping details before finalizing your purchase is essential, especially if you need it by a specific time. You can learn more about shipping methods here. If you need helping with your order, check out this article.
Complete Your Online Payment
We do our very best to make purchasing products on our platform as simple and straightforward as possible. Click here for more information on payment methods.
Ready to Get Started?
Shop online today and let the adventure begin!