Brands on Wish: How Morgan Cosmetics' Argan Oil-Based Brand Gives Back When you Shop
A trip to a family farm in Morocco unveiled a centuries-old beauty secret that needed to be shared with the world.
You've probably got a number of products lined up to tackle your individual beauty woes, but what if you only needed to focus on one ingredient for your head-to-toe needs? Enter Morgan Cosmetics. Stay with us and prepare to learn why argan oil is about to become your next beauty staple.
The story of family-owned Morgan Cosmetics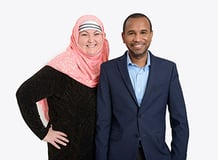 Jennifer and Bachir Abba
What does a family vacation, argan trees, and eczema have in common? On a trip to Morocco, founders Bachir and Jennifer Abba visited Bachir's family farm, which produces a number of high-quality ingredients for suppliers across the world. Jennifer, who had been suffering from terrible eczema, had seen multiple specialists to heal her skin and medical prescriptions just didn't work. Jumping to her rescue, Bachir gave her some of the argan oil produced from the farm and within two weeks her skin completely healed.
They could have kept it under wraps but the couple felt obligated to share this chemical-free, centuries-old secret of argan oil's protective and moisturizing properties. So, in 2012, they launched Morgan Cosmetics featuring the family's organic and ethically sourced argan oil. Today, the line consists of over 60 different types of face, hair, skin, and nail care products, many of which you can buy on Wish, including the single-ingredient 100% pure argan oil that Jennifer used to help her skin.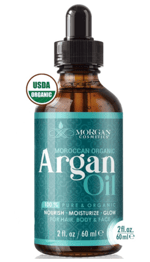 Morgan Cosmetics Argan Oil 100% USDA Certified Organic

Back up. How is the argan oil produced?
The journey from farm to bottle begins on the majestic Atlantic coast of Morocco, where a family farm in the city of Essaouira is home to acres of prized, thorny argan trees. These trees produce nutrient-packed nuts which are carefully hand-processed by women-owned co-ops.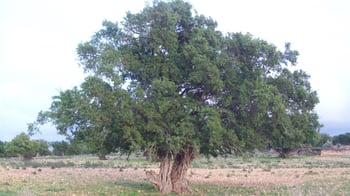 An argan tree (Image courtesy of Morgan Cosmetics)
The work is time-consuming. In short, they manually crush the nuts and kernels between stones, roast them, grind them with a stone mill, extract the oil, and then cold press—all by hand. The oil extracts are made using the cold press method to preserve integrity of all the potent nutrients when it gets to your door.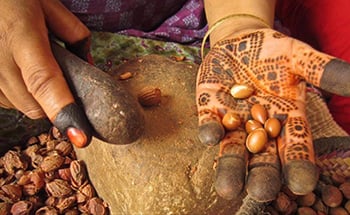 Moroccan woman holding argan nuts (Image courtesy of Morgan Cosmetics)
Agran oil is a source of economic empowerment for the local Berber women. A percentage of all sales of Morgan Cosmetics are given back to the community responsible for transforming the nuts into the precious, golden-hued argan oil used as the brand's hero ingredient. The funds the women earn helps alleviate poverty, builds schools, improves literacy, and contributes to other community-building programs, so you can feel good about giving back with every purchase you make on the brand's Wish store.
Sounds great, but what are the benefits and uses of argan oil?
According to the brand, argan oil is the ultimate multi-tasker and rich in vitamin E, antioxidants, and fatty acids.
"Argan oil is one of the few oils that easily penetrates skin, specifically because of its oleic acid and linoleic acid compounds, so it absorbs after a few minutes without leaving a shiny residue," explained Bachir. "A few drops goes a long way and it can be used by all genders. For the skin, it can be used to soothe conditions such as psoriasis and eczema, or as a face or body moisturizer to aid in wrinkle-prevention, boost moisture, and lock in hydration. When it comes to hair, it can be used as a leave-in conditioner to tame hair frizz, as a hair mask to add shine, or for scalp health. It can also be used on cuticles. You name it, argan oil can probably be used for it."
"Interestingly, in the U.S. market, people think argan oil is only for hair and skin, but it's edible," said Bachir. "We serve it in Morocco for dipping bread or on salads. There is even a study that suggests that consuming argan oil may be beneficial in preventing diseases, including cancer."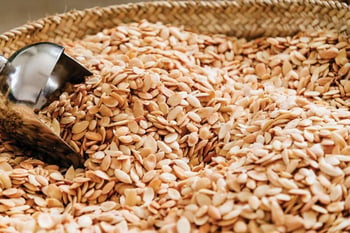 Argan kernels (Image courtesy of Morgan Cosmetics)
How natural is Morgan Cosmetics?
"We pay strong attention to ingredients and believe what we put in our skin goes directly into our bloodstream so we try to make sure to bring natural and healthy beauty to the world," said Bachir. "For example, the Environmental Working Group (EWG), which rates product ingredient safety on a scale of 1 to 10, has given our products a low hazard rating between 1 and 2. We also perform microbiology testing in labs for bacteria and unusual water activity before distribution to ensure product safety."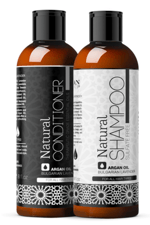 Is argan oil safe for everyone?
In general, argan oil is considered safe for most people, but as with any new product, always do a patch test on a small area of skin to see if a reaction, such as dermatitis, occurs before fully diving in. If you have a tree nut allergy, it's best to avoid or consult with your doctor before trying.
What else should you try from Morgan Cosmetics?
In addition to argan oil, the brand's access to the family farm in Essaouira has allowed Morgan Cosmetics to expand its product line with other superstar ingredients.
Notably, its Organic Prickly Pear Seed Oil from Morocco boasts 87% fatty acids that is meant to aid in supporting long-lasting skin hydration.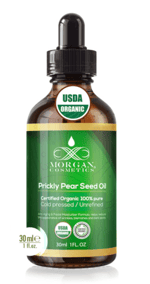 Also, if you're in search of a new toner or makeup remover, check out the brand's Pure Moroccan Rose Water which features the hydrosol (also known as flower water) from distilled damascus rose petals that grow in Morocco's "Valley of Roses."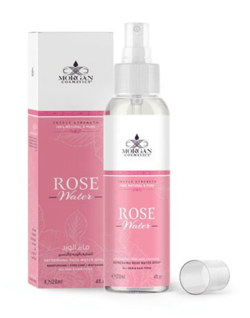 Morgan Cosmetics Pure Moroccan DAMASCUS Rose Water

Interested in seeing what else the brand offers?
Click here
to shop the full line of Morgan Cosmetics products on Wish.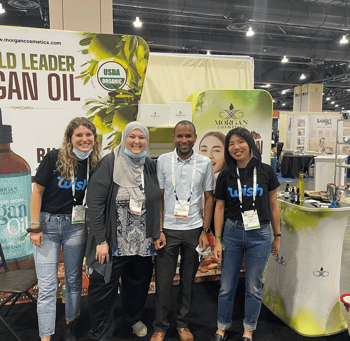 Morgan Cosmetics founders with Wish employees at Natural Products Expo East
Warning - the safety of these products has not been determined. Morgan Cosmetics' products and claims about their products have not been evaluated by the Food & Drug Administration ("FDA"). Morgan Cosmetics' products are not intended to diagnose, treat, cure, mitigate, or prevent any disease or health condition, and they are not to be considered an FDA-approved or regulated drug.