Brands on Wish: Take Self Care to the Next Level with Pure Spa Gifts
Who doesn't love the magic of a bath bomb? After dropping one in the tub, it fizzes while releasing an explosion of scents and colorful swirls, ready to transport you to a self care oasis⁠. If you're in need of some mind and body TLC then look no further than Pure Spa Gifts (also known as Pure by Rachelle Parker). The brand offers a collection of natural and cruelty-free personal care products designed to help you indulge in a spa-like experience within the comfort of your home. And, bath bombs are just one of the brand's many offerings to help you unwind and immerse yourself in sensorial luxury.
Turning a passion into a beauty brand
After becoming a mom, Rachelle Parker took an interest in natural products, but looked at beauty store shelves and didn't feel like there were enough options available. She began making her own products and shared her creations with friends and family. Eventually, what started as a hobby, turned into her own full-fledged business of chemical-free, high-end beauty products available at affordable prices.
She soon found her niche with gift-giving options, which are beautifully packaged to excite anyone who receives the special treat of a Pure Spa Gifts set. From coworkers to teachers to moms, the brand aims to delight anyone in need of the gift of at-home relaxation. When you need a moment of self care, grab one for yourself. Or, if you purchase it as a gift, you'll have the option to include a personalized note.
Now, back to the bath bombs (for adults and kids)
Not only do the bath bombs by Pure Spa Gifts dissolve into an enchanting form of water art, but they are packed with nourishing ingredients so you can exit the tub feeling incredibly soft. The skin-loving ingredients include shea butter, cocoa butter, dead sea salt, clay, and essential oils. The effervescent spheres are handmade using 100% natural ingredients, and are uniquely designed with decadent blends of aromatic fragrances and colors. They're also vegan and gluten free, and are individually wrapped to ensure freshness.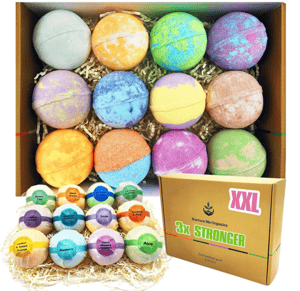 When it comes to kids, they go wild for the stuff, explains Florence Parker, the brand's Chief Marketing Officer.
"Kids get so excited to see the bubbles and colors, and it's great because sometimes they don't like taking a bath so it's a nice incentive for parents to have on hand," she said. "We also have some really cool bath bombs with toys hidden inside, and kids love watching the surprise get reveled. We also have different shapes that appeal to them such as hearts, animals, and lollipops. It's every parent's dream because kids go running to the bathtub."
Gift sets that include everything but the bathroom
If bath bombs aren't your thing, there's plenty of goodies to explore from the brand for the ultimate pampering experience. For example, various gift baskets in indulgent scents come equipped with self care essentials such as body butter, waffle slippers, massage soap, spa socks, and more.

Renew, recharge, rejuvenate:

self-care tips
"In our fast-paced world, our bath time gets overlooked. Sitting back and relaxing in a tub can do so much to ease stress," said Florence.
Here are her top self care tips:
Indulge in a luxurious bath only when you have time. Although it's amazing to use these products daily, you'll get maximum relaxation benefits when you set aside time to dedicate to the experience.

If time isn't on your side, try aromatherapy shower steamers. Simply drop in your shower and enjoy a moment of relaxation as the delicious scents are dispersed by the running water.




Do a scent test to see what you personally gravitate towards. For example, if you need to chill out, try lavender, but if you want something more uplifting, then a citrus scent may do the trick.

Don't expect magic. While the bath products are fantastic at helping you destress, you need to be fully present and allow yourself to embrace the serenity.

For the ultimate treat, try their

Nurture Me Spa Gift Basket which has everything you need to decompress pre and post bath including a back scrubber, body wash, shaving cream, muscle relief cream, face scrub, body oil, mesh sponge, bathrobe, and more.

A focus on the customer experience
Your happiness is at the center of their brand. If you are unhappy with something, they want to hear from you.
"We are here for the customers and are passionate about their satisfaction," said Florence. "We stand behind all products, but if you are not happy, we want to make it right for you."
Visit the Pure Spa Gifts store on the Wish app to discover even more of their all-natural, luxurious products.