Brands on Wish: Give Your Activewear a Sustainable & Stylish Upgrade with Mizuno
Imagine wearing a pair of sneakers and knowing that you are helping to contribute to a more sustainable future. When shopping with Mizuno, you don't have to just dream about this possibility. That's because the sporting goods company, which has been around for over 100 years, is on a mission to make meaningful eco-conscious changes to their products and services and pass that planet-friendliness down to you.
Sustainability is nothing new for the brand. In September 1991, Mizuno launched the Crew21 Project, making it one of the first sporting goods companies to pioneer its own global environmental conservation initiative. Now, it's working towards becoming carbon neutral by 2050. What does that mean for you? Low-environmental impact gear without losing style and comfort.
If you're looking for an ultra-stylish brand with eco-friendly values that takes responsibility for their global impact, then look no further. Let's dive into some of the ways Mizuno has stepped up to contribute to a greener earth.
A footprint minus the carbon: environmentally-friendly sneakers
Instead of just talking about sustainability, Mizuno walks the walk—literally. A number of the company's sneaker models feature MIZUNO WAVE, a special wave-shaped plate found in the midsole. The plates are made from Pebax®Rnew®, a biosourced resin derived from sustainable castor crop farming in India. The harvested beans are first crushed to make castor oil, refined into a polymer, molded into the wave plate, added into the sneaker, and then worn on your feet!
Content provided and owned by Mizuno
The wave plate is not just bio-based. It packs some serious functionality and is expertly designed to provide world-class cushioning and stability, stride after stride. We're not saying you're going to become the next legendary runner (we can all dream, can't we?), but if you're looking for comfort and high-performance during your run, sneakers in the MIZUNO WAVE line are worth checking out.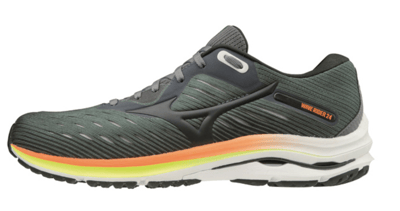 Mizuno - Men's Wave Rider 24 Running Shoe
In 2021, the company reported selling over 10 million pairs of shoes worldwide with the technology, cutting its CO2 emissions by over 4,700 tons versus if they had used traditional petroleum-based materials. The sustainable efforts don't just stop there. In addition to the wave plate, Mizuno also utilizes recycled polyethylene terephthalate (PET) materials to manufacture different parts of the shoes, such as the mesh, laces and the collar. Using recycled PET materials means giving plastic another life instead of sending it to landfills, while also cutting down on the greenhouse gasses that would result from using raw materials to create new products.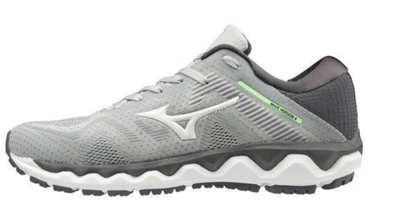 Mizuno - Women's Wave Horizon 4 Running Shoe
Thinking outside the shoebox with 100% recycled paper
In January 2021, Mizuno pledged to begin switching its shoe boxes to 100% recycled paper. As a bonus, each box arrives with a QR code that can be scanned so you can learn more about their sustainability initiatives. The rollout is still in process but as shoes are one of Mizuno's key product categories, the move is expected to reduce the company's CO₂ emissions by 160 tons per year compared to if they were to continue using conventional boxes.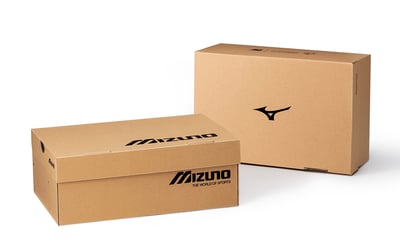 Photo courtesy of Mizuno
The three R's
to lessen waste in the environment
As part of its effort to reduce waste Mizuno has actively participated in projects that help reduce, reuse, and recycle its materials. This includes making donations to programs that help upcycle pre-loved footwear into new products such as gym mats, athletic tracks, retail flooring, and playgrounds. In addition, the company is striving towards using renewable energy, reducing water usage, adopting more recycled plastics and plant-derived materials, and improving the durability of its products so they last longer for you and don't end up as waste.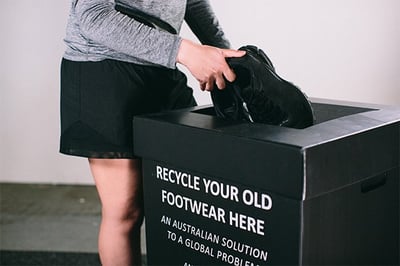 Photo courtesy of Mizuno
From seed to growth: expanding the mission
In 2021, Mizuno decided it's time to speed things up and take on some new causes. They announced that they would not just laser-focus on the environment, but on social and economic areas as well. The three renewed areas are: environmental conservation, physical and mental health through sport, and respect for humanity. The name of the project has been updated to MIZUNO CREW 21, and is accompanied with a swanky redesigned logo that reflects a human embracing a seedling meant to represent the brand's optimism for positive change.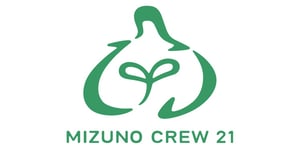 Logo image provided by Mizuno
In a nutshell, Mizuno is aiming to up its game in sustainability, and just like the brand's tagline "Reach Beyond," the steps they are taking really extend far above just carbon neutral initiatives. Mizuno does not see this work as optional, but essential, because they are committed to leaving behind a healthy and beautiful world for the future generations.
Click here to check out some of Mizuno's products on the Wish app.