Brands on Wish: Stock Up on Affordable Back-to-School Items from BIC®
We hate to be the one to break the news, but the summer break is almost over. While your brain may still be in full on vacation-mode, you probably want to take a glimpse of your back-to-school supplies list to begin preparing for your return to the classroom. Whether remote or in-person, preparing for college or entering high school, we suggest starting with the most important supplies needed—writing gear. We're talking sleek markers for doodling, long-lasting ballpoints for note-taking, and smooth pencils for exams.
Finding the best-of-the-best does not have to feel like homework, because we've done the research for you. In this article, we've rounded up the most cutting-edge items from one of the most iconic writing brands on the market — BIC. Known for their top performance, longevity, and value, BIC has been offering a wide range of reliable writing instruments for over 60 years at accessible prices. Here are our top picks from the brand to add to your back-to-school shopping list to get you all the way from the first day to finals.
Pens
The BIC ReVolution Ocean Bound ballpoint pen is an option that features a gorgeous ocean-blue exterior. If you want a beautiful looking pen that stands out, then this is it. It's made from 73% ocean-bound recycled plastic that was collected within 50 km of a shore or waterway that leads to the ocean. When it comes to the product's packaging, it is made from 100% recycled content.

Combining environmental awareness and functionality in one, the BIC ReVolution Round Stic BallPoint Pen is made with 74% recycled plastic and features packaging made up of 100% recycled content. A 1.0mm medium point will help you take on any writing task, and the translucent barrel lets you see just how much ink is left—no more guessing!

If you're looking for a classic that will give you smooth writing, then the Clic Stic Retractable Ball Pen may be the right one for you. With a 1.0 mm medium point, writing is smooth, and the round barrel makes the pen comfortable to use. The retractable design means missing caps are a thing of the past.. Plus, it features a break-resistant pocket clip so you can easily attach it to anything from bags to shirts, keeping it handy while you're on-the-go. When these pens run out of ink, BIC has a partnership with Terracycle to help you recycle the products properly for free.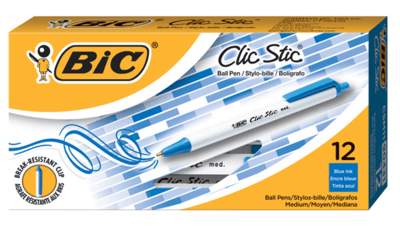 Mechanical Pencils
BIC Xtra Smooth Mechanical pencils feature super-smooth writing with #2 lead, and built-in erasers designed to clean up mishaps without smudging. All it takes is a simple push to quickly unveil the 0.7mm medium point, so no need to stop and look for sharpeners while you're in the middle of important writing, drawing, or puzzle activities. The colorful clips add a stylish flair to your pencil case.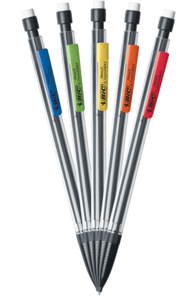 BIC has got you covered with its ReVolution 0.7 mm point version which features a barrel made from 65% recycled plastic and a box made out of 100% recycled packaging. A built-in eraser will help you take care of any mistakes, and you're going to love the vibrant color options that include yellow, green, red and blue barrels. It's also long-lasting with additional lead inserts.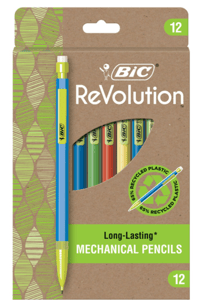 Markers
The worst part about using markers can sometimes be the smell, but not to worry with BIC's Intensity Permanent Markers which have a low-odor and acid-free ink (no added acid, no measurable pH). You will get some seriously bold color payoffs from a fine tip designed to work on almost any surface, including glass and metal. Plus, its unique Snap Cap feature keeps marker dry outs at bay.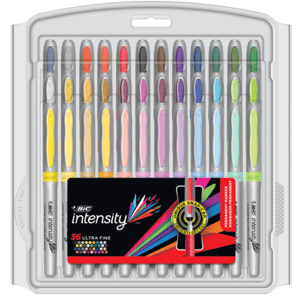 Dry erase markers are not just for teachers. You can use these nontoxic BIC Dry Erase Markers at home on dry erase wall calendars to keep track of assignments, or for to-do lists kept on your fridge. These markers are made to easily wipe off, and the bold color options make sure that you will have plenty of options to make important tasks stand out.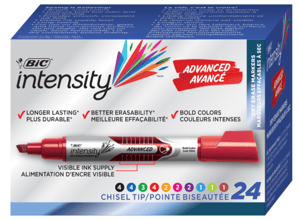 Visit the BICⓇ store on Wish to see more from the brand. Make sure Wish is on your list for back-to-school supplies, including backpacks, notebooks, calculators and more.
Heading to college? Check out this article for a list of must-have dorm room essentials.