Affordable Graduation Party Ideas That Will Wow in 2022
Graduation is an exciting time of year that should be celebrated in style; but, that doesn't mean you have to break the bank. From snack bars to festive party decor, we've gathered a few creative budget-friendly ideas to get the party started after those caps get tossed in the air.
1. If you want to make a big impact for less: tried-and-true favorites
Transform a space with unique placement of balloons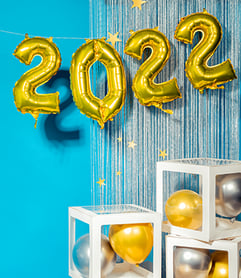 Balloons are perhaps one of the most essential decor items needed to dress up any space with a celebratory vibe. Of course, you can use balloons that match school colors, or go the traditional black and gold route. But, you can also go the extra mile for the big day with balloons that spell out the graduation year, which will also serve as an important timestamp for nostalgic photos from the day.
Additionally, if balloons will be your main decor, dream up creative ways to style them. Some ideas include forming into an arch against a wall as a photo backdrop, using them as the main centerpiece for tables, or placing them inside of clear boxes.
Shop graduation balloons on Wish >
Effortlessly set the atmosphere with graduation banners
Graduation party decorations do not have to be over-the-top. Similar to balloons, illustrative party banners instantly liven up any room and are an easy way to impress guests. Don't limit the banners to walls, you can also use them to decorate food and gift tables.
Shop graduation banners on Wish >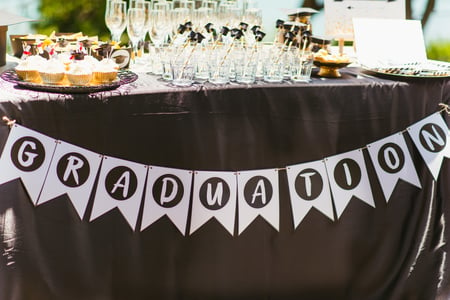 Photo credit: Emiliya - stock.adobe.com
2. If you want to make the day memorable: inspire event photography
Create a social media hashtag and place it around the venue
Want to see the photos attendees are taking all in one place? Create a special event hashtag and put up signs encouraging guests to use it when posting their party photos on social media. You'll be able to view missed moments after the event, while friends and family who couldn't make it can use the hashtag to follow along the joy-filled gathering.
Set up a photo booth station
Create a photo booth by setting up a special area with a graduation-themed backdrop. Or, go simple with glitter curtains that you can reuse for other events. Help guests create dynamic on-theme photos by including a box filled with decorative photo props. If a dedicated photographer doesn't fit your budget, add a selfie stick to the prop box, or guests can have fun taking pictures of one other.
Shop graduation photo booth backdrops and props on Wish >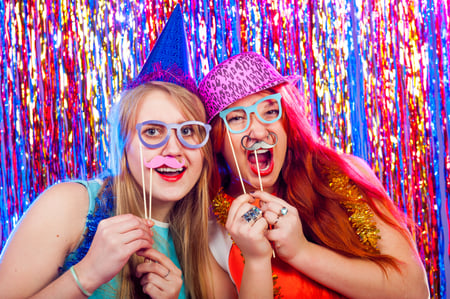 Photo credit: Anton Gvozdikov - stock.adobe.com
3. If you have outdoor space: adorn the grad party hotspot
Decorate the entrance with an eye-catching door banners
Welcome guests to the festivities with a banner that will help them easily spot the celebration, and build excitement as they arrive. Plus, it will serve as a cool backdrop for photo ops to commemorate the special day.
Shop graduation front door banners on Wish >
Display graduation yard signs
Go the extra mile with eye-catching yard signs. They can be used on your front lawn to direct guests, or placed throughout a backyard as extra decor to extend the party theme.
Shop graduation yard signs on Wish >
4. If you want to make sure no one goes hungry: grab-and-go snacks
Add a sweet touch with a candy bar or dessert table
A sweets station can serve as a special focal point for the event and even be used to showcase the cake. Plus, guests will be eagerly full of anticipation when they see it, because who doesn't love a table full of confections? You'll need clear jars of various sizes, scoops, display stands, and small bags or boxes for guests to put their treats into so they can take it home as a party favor. Level up desserts with graduation-themed toppers for a special touch.
Shop candy bar essentials on Wish >
Shop graduation cap candy boxes on Wish >
Shop graduation cake toppers on Wish >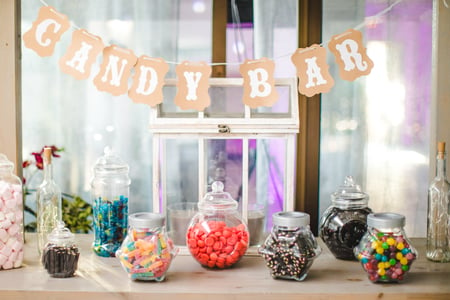 Photo credit: lorabarra - stock.adobe.com
Bring in a popcorn machine
A popcorn machine is an age-old favorite party addition to bring delicious snacking to your guests. Simply keep the kernels stocked and provide popcorn bags, and people can help themselves.
Shop popcorn machines on Wish >
5. If your party gets dark: get glowing with festive lights
Enhance the ambiance with dazzling mason jar lights
Outdoor lightning can get expensive, and whether your party goes into the night or starts late, you'll need to keep the venue lit. For a unique and special touch, add string lights to mason jars or purchase ready-made mason jar lights. Many of these lights are LEDs or can be charged with solar energy, helping you save some cash.
Shop mason jars lights on Wish >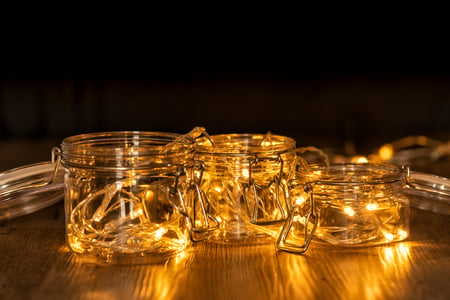 Photo credit: Rob Wilkinson - stock.adobe.com
Light up the night with lanterns
Lanterns are another affordable and show-stopping option to make sure there's enough light while celebrating. They can also be a stunning decorative piece during the day when you want to easily add character to a space.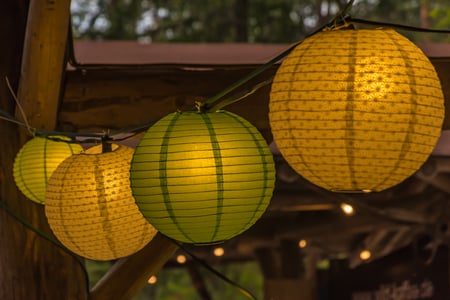 Photo credit: driendl - stock.adobe.com
Looking for more ways to celebrate Class of 2022? Click here to browse graduation party supplies to make your event memorable.
If you're looking for graduation gift ideas, click here to browse the fun options available on Wish.