8 Fun & Authentic Ways to Celebrate St. Patrick's Day
Every year, on March 17, St. Patrick's Day is celebrated around the world. The expressively green holiday is a great opportunity to learn about Irish traditions through food, crafting, family time, parades and (of course) partying. If you're looking for fun and inspiring ways to commemorate the day, we've completed a list of ideas that are better than a pot o' gold.
Sham-rockin ideas in this article (click to navigate to each section):
1. Celebrate with St. Patrick's Day Decorations and Party Supplies
St. Patrick's Day is known for many things, including celebration. In fact, some people look forward to it so much that on September 17th, a pre-celebratory holiday called "Halfway to St. Patrick's Day," brings out enthusiastic early birds who just can't wait until March. And, when the big day does come around, it's a joyful explosion of all things Irish when it comes to decor. If you're looking to jazz up your space, here are some easy and affordable ways to decorate.
According to Irish folklore, shamrocks are the ultimate symbol of good luck and some even believe they have magical powers. Hang shamrock garlands over windows, walls, or doors to bring a bit of Irish luck to your home.





Go green with balloons which will instantly brighten up any room with the symbolic color of the holiday.




2. Fill Your Belly with Traditional Irish Food
The best way to celebrate St. Patrick's Day is through the stomach with a classic, fun recipe of Shamrock Shepherd's Pie brought to you by Wish's very own Marketing Manager, A.J. Reddy.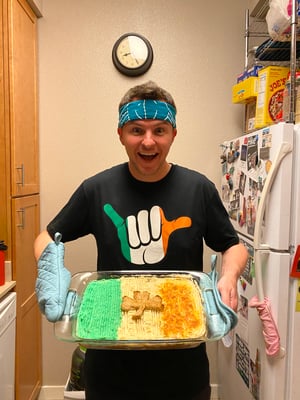 Shamrock Shepherd's Pie recipe
| | | |
| --- | --- | --- |
| Prep time: 15 mins | Cook time: 50 mins | Total time: 65 mins |
Ingredients:
1 teaspoon salt, plus more to taste

3 large (1 1/2 to 2 pounds) potatoes , peeled and quartered

8 tablespoons (1 stick) butter, divided

1 medium onion, chopped (about 1 1/2 cups)

1 to 2 cups mixed vegetables, such as diced carrots, corn, or peas

1 1/2 pounds ground beef

1/2 cup beef broth

1 teaspoon Worcestershire sauce

Pepper and/or other seasonings of choice

Green food coloring

Shredded cheese

1 slice of bread of your choice
Method:
Bake it like it's hot!
Preheat the oven to 400°F.
Prep school!
Peel the potatoes and cut into quarters.

Place the peeled and quartered potatoes in a medium sized pot. Cover with at least an inch of cold water. Add a teaspoon of salt.

Bring to a boil, reduce to a simmer, and cook until tender (about 20 minutes).
What's cooking good looking?
While the potatoes are cooking, melt 4 tablespoons of the butter in a large sauté pan over medium heat.

Next, add the chopped onions and cook until tender, which will take about 6 to 10 minutes. If you are including vegetables, add them according to their cooking time. Carrots, for example, should be cooked with the onions, because they take as long to cook as the onions do.
Let's get the party started!
Next, you'll want to add ground beef to the pan with the onions and vegetables and cook thoroughly.

Drain the pan of excess fat, if necessary (you'll know if there's too much if there's anything more than 1 tablespoon).

Season with salt and pepper.

Add the Worcestershire sauce and beef broth.

Bring the broth to a simmer and reduce the heat to low.

Cook uncovered for 10 minutes. Feel free to add more beef broth if necessary (this keeps it from drying out). Also, you can add in more seasoning to adjust for your own liking.
Mash it up
When the potatoes are done cooking (you'll know because a fork can easily pierce it), remove from the pot and place in a bowl with the remaining 4 tablespoons of butter.

Mash with a fork or potato masher, taste, and adjust seasonings with salt and pepper. You can also add butter for more creaminess.
Layer the flavor
Spread the cooked filling in an even layer in a large baking dish (9 x 13-inch dish).

Start with your meat on the bottom, then your vegetables, and lastly spread the mashed potatoes over the top.

Rough up the surface of the mashed potatoes with a fork; this will give you peaks that will get well browned. You can even use a fork to make creative designs in the mashed potatoes.




Time to Bake
Place in a 400°F oven and cook until browned and bubbling. It should take about 20 to 30 minutes. If necessary, broil for the last few minutes to help the surface of the mashed potatoes brown. Be careful when broiling using Pyrex or glass dishes as they have been known to shatter under the high heat of the broiler.
Rep your colors proud!
Get creative and add some food coloring and shredded cheese like I did for the Irish Flag.

If you're aiming for extra points, toast some bread and cut out a 4 leaf clover.
It doesn't get any more Irish than a good cooked home-meal. Enjoy!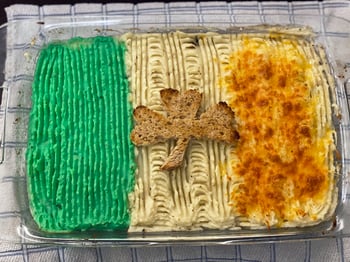 3. Wear Green on St. Patrick's Day to Stay Pinch-Proof
According to legends, wearing green on St. Patrick's Day makes you invisible to leprechauns and if you're not wearing the hue, you'll get pinched because apparently, that's what those tricky creatures like to do. Hey, we don't make the rules, but if you want to avoid the consequences of family and friends carrying out this painful tradition, you can deck yourself out in green from head to toe or simply wear cute themed socks like these.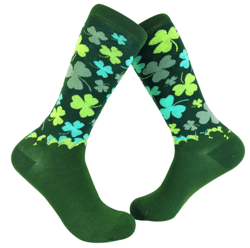 4. Spread Some Luck with an Irish Blessing
Start the day on a high note by reciting an Irish prayer or blessing. Whether you're Irish or not, the heartwarming words are sure to bring an extra feeling of peace and comfort. Keep the traditional wishes of good fortune in sight by hanging signage in your home with your favorite saying. It also makes a perfect housewarming present.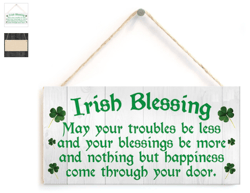 5. Show off Holiday Pride with St. Patrick's Day Nails
Holidays are a great time to lean into nail trends and what better way to express your love for the holiday through a DIY manicure. Grab some green polish and St. Patrick's Day nail design stickers, and you'll have an easy-breezy professional-looking mani to wrap around a green beer or smoothie.
6. Spread Some Charm with St. Patrick's Day Gifts
Let someone know they're your lucky charm with novelty gifts or beautiful jewelry. It's an especially thoughtful option if you want to send some joy to loved ones who may not live near you. Feel free to also treat yourself with something special.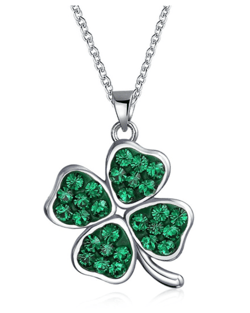 7. Get Crafty with St. Patrick's Day Coloring
Coloring is a fun way to creatively celebrate the magic of the occasion, and it's a family-friendly activity all ages can do. From simple to intricate St. Patrick's Day coloring pages, the illustrations of the holiday can be brought to life with crayons, colored pencils and markers.
8. Learn About Irish History and Culture
While there are millions of ways to celebrate St. Patrick's Day, it's important to spend time learning about the rich heritage of the Irish people, from music to poetry to dance. Take advantage of the many free online articles and videos, or order a book to have on hand to highlight and reference as you learn more about the past.
Feeling lucky? Check out the
Wish app
for more items to make the day unforgettable.