Fun 40th Birthday Party Ideas for an Unforgettable Celebration
Turning 40! Whether that statement conjures up feelings of surprise or accomplishment, it is a milestone. The end of a decade and the beginning of another deserves to be recognized and celebrated. Now it's time to decide upon a 40th birthday theme for the celebration.
30 Unique

40th Birthday Party Ideas
The great part about turning 40 is that you may have a better idea of who you are, what you like, and how to party. Here are 40th birthday themes for him and her – plus adult party ideas for introverts, extroverts, food lovers, travelers, and more!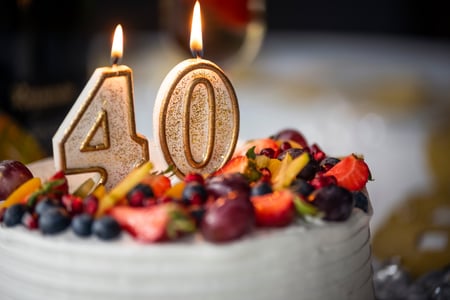 Photo credit: arnoldes - stock.adobe.com
Dream Big with Birthday Getaways
Let this birthday be an excuse to get out of your routine and go someplace you love. What kind of getaway is calling your name?
1. Weekend Getaway with Friends
Pick your favorite place, like a beloved mountain cabin, or try out a new beach. When you recreate the carefree nature of a bachelor or bachelorette weekend with your best friends, you can all split the cost of lodging. Get matching sunglasses or tote bags: these items will look super cute in photos and make it easier to identify one another in a crowd.
2. Party for Two
Alternatively, birthday party ideas for adults can be as simple as a party for two. This is perfect if you are planning a birthday celebration for your significant other. Whether your romantic weekend is a staycation or a getaway to somewhere special, don't forget a romantic birthday gift. Sometimes you don't need a big party; you just want to spend uninterrupted quality time with someone you love.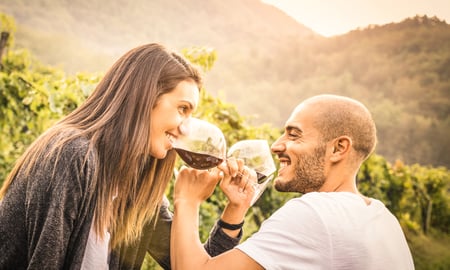 Photo credit: Mirko Vitali - stock.adobe.com
3. Day Trip
Celebrating solo this year? A day trip to a neighboring town is easy to do solo or with others. This kind of trip can be super last minute, spontaneous, or meticulously planned – whatever the moment calls for. Get a car pillow to stay comfy on the road, blast some music, and be a tourist for a day!
4. All-Out Trip
Consider an all-out trip for your 40th. We're talking about an international celebration! Get travel essentials like a passport holder and a travel neck pillow to prepare. This trip can have a solo "find yourself" vibe or be a social opportunity with friends, family, or significant others. Turning 40 is a chance to reflect upon the places you've always wanted to visit but never prioritized. With some research, you can find flights on a budget and lower the cost when you split the lodging among friends!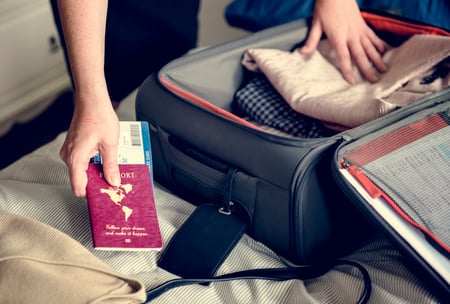 Photo credit: Rawpixel.com - stock.adobe.com
5. Family Reunion
Take your 40th birthday as an opportunity to connect with family in a place you all love. As a commemorative activity, get matching baseball caps and customize them with fabric markers! Be sure to include all generations in one big group photo. Note: the more people you invite, the more planning the party requires. Make sure to have suitable accommodations for kids and adults.
Shop travel accessories on Wish >
Make it All About the Food
Ready to make your 40th birthday a night to remember? Gather your nearest and dearest food lovers because it's time to create some delicious memories! Let the good times roll with five fun adult party ideas focusing on drinks, treats, and great company.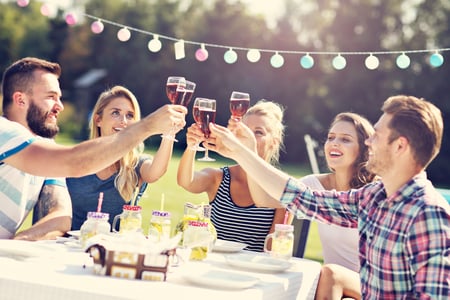 Photo credit: Kalim - stock.adobe.com
6. Backyard Cookout
Break out the picnic blankets! A backyard cookout is family-friendly and always a crowd-pleaser, especially in mild weather. (For the cold weather equivalent, gather 'round the campfire for some smoked sausages or s'mores!) Whether the main dish at your birthday cookout is barbeque chicken or a vegan specialty, all ages love a good meal outside in the breeze. Plus, eating outside means easy cleanup and no-stress messes!
7. Potluck
Don't make the birthday person do all the work! A potluck means each guest brings a dish to share. Do a themed potluck or encourage everybody to bring their favorite dishes to prepare. Be sure to create a sign-up sheet beforehand, so there's an appropriate amount of appetizers, drinks, desserts, sides, and entrees. Don't forget the disposable plates!
8. Brunch
Calling all brunch lovers! Settle in at your favorite restaurant or try out a new place. Brunch is great because it's a relaxed weekend activity. Everyone has decompressed from the work week and is ready to unwind with a leisurely meal. Be sure to call ahead for large group reservations. If you are arranging a birthday brunch for your loved one, get there early and decorate the table with confetti! And consider asking the waitstaff to lead the group in singing "Happy Birthday" when the time comes.
9. A Nice Dinner Out
A fun night out at your favorite restaurant is a classic way to celebrate a 40th birthday. Maybe you'd like to try out a new restaurant that's just opened or revisit one you haven't been to in a while. To make it memorable, get a private room and add birthday table decorations like balloons or a table runner. Be sure to call ahead for reservations for large groups.
10. Grab a Flight at Your Local Brewery
There's no better excuse to check out what's on tap than a milestone birthday. Some breweries have quite the food menu, too. There's no better way to unwind than enjoying a local brewery's casual, social atmosphere. Wear a birthday sash and you might get a free drink! Though many breweries welcome kids, decide if your 40th birthday will be for adults only or if kids are invited.
You may need to stock up on party napkins when hosting a birthday meal. Shop paper napkins on Wish >
Be the Ultimate Host
Flex your hosting skills with these home birthday party ideas for adults!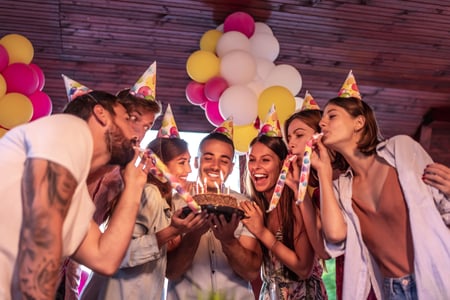 Photo credit: ivanko80 - stock.adobe.com
11. Decorate with Balloons
When your home is the party venue, you can truly go all out with decorating. Tie balloons to the mailbox, so there's no question about where the party is. Create a birthday balloon arch around a doorway; it'll double as a dazzling backdrop for a group photo. Choose themed balloons or decorate plain ones by writing funny messages on them!
12. Use Traditional Stationery for Party Invitations
In today's digital world, it's not often we get party invitations in the mail anymore. Sending out elegant paper invitations will make your guests feel extra special and set the tone for a memorable celebration. Beautiful and intentional stationery is perfect for a 40th birthday party on the more formal side.
13. Play Games
Just because you're turning 40 doesn't mean you're too old to play games! And nothing brings a group together better than some friendly competition. Board or card games are great for small gatherings. Games are the glue of a social function. They give guests something to do between food, drink, and delicious desserts. Make the game space fun by decorating with streamers!
14. Cocktail Party
A cocktail party is an excellent choice for a fun 40th birthday – especially if you've been itching to break out your inner mixologist. It's an excuse to finally use that cocktail shaker set and experiment with fun and fresh flavor combinations. Choose a Friday or Saturday night in advance to allow guests to hire babysitters. Blast tunes from your favorite musical era, and be sure to serve hors d'oeuvres for snacking.
15. Offer Party Favors
Why should party favors just be for kids' parties? Fill small bags with goodies like homemade cookies, nail polish, mini liquor bottles, facial masks, or whatever you and your friends love. The bags themselves could be the party favor, too. Need help serving snacks, drinks, and party favors? Shop serving trays on Wish >
Bond Over Fun Activities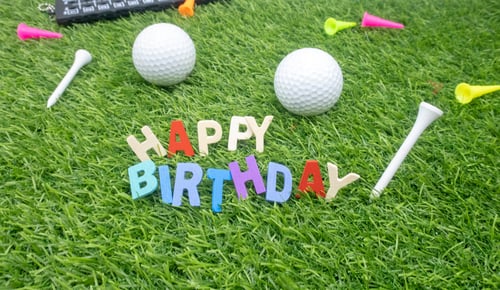 Photo credit: ivanko80 - stock.adobe.com
Nothing bonds a group faster than activities. If the birthday party includes friends who don't know each other well, activities are an easy way to facilitate connection and fun.
16. Try Something New
Unique birthday party ideas for adults centered around learning a new skill, activity, or hobby expand the mind and create confidence in tackling the unknown. Why not try out some ghost-hunting equipment with friends? Learn new recipes in a group cooking class. Get your hands dirty in a group ceramics class and create something homemade to take home.
17. Share Your Favorite Hobby Among Friends
Let your favorite hobby set the tone for your birthday. Whether you love tinkering with cars or playing guitar, gather friends who love that hobby and do it together. You can also let your 40th birthday be an opportunity to finally fill out those family photo albums or host a scrapbooking party. You know you've been meaning to!
18. Get Sporty
For your 40th birthday, gather a group to play a game of pickup basketball, a set of tennis, or a round of golf. Even if not all party guests are the best at your favorite sport, your birthday is an opportunity to get moving and play for fun. You can also consider making your favorite sport the party theme. Maybe getting tickets to a baseball game or watching one on TV is more your vibe. Whatever your favorite competitive game is, get prepared with sporting goods of all kinds.
19. Have an Arts and Crafts Party
As an adult, there never seems to be enough time to nurture a love of arts and crafts. But a milestone birthday is the perfect time to shower our inner child with love. Have a paint night with wine, build a birdhouse, or make adult friendship bracelets with jewelry craft supplies. Even if your craft isn't a masterpiece, the creation process will bring out the fun in everyone.
20. Go to a Concert
What kind of concert would you enjoy most: local live music, a sit-down classical concert, a rave, or seeing your favorite musical act perform? Music is a great way to mark the occasion of a 40th birthday. It makes people happy and connects everyone. But for a big stadium show, you might need earplugs!
Want to explore more unique birthday activities? Shop craft kits on Wish >
Brainstorm

40th Birthday Themes
As you brainstorm themes for your 40th birthday party, take inspiration from upcoming holidays or the current season. Make it funny or traditional. It's your day. Do what you want!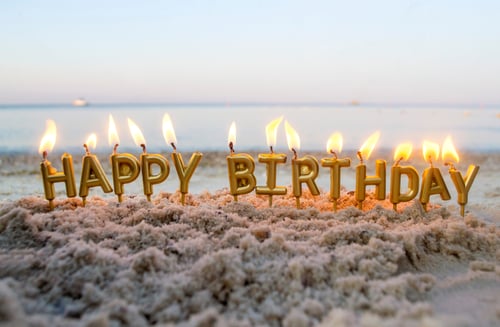 Photo credit: mari1408 - stock.adobe.com
21. Tropical
You don't have to wait until the summer to bring the sunshine to a birthday party. A tropical-themed party could be just the thing to liven up a winter birthday or the perfect way to complement a summer birthday. Go wild with tropical party decorations, serve piña coladas, and play background music featuring the ukulele and bongo drums. If you can't get enough tropical breezes, salt water, and sunshine, this party theme is for you. Plus, it's cheaper than a vacation!
22. Jazzy
"1920s Jazz Age" is one of the most fun party themes ever. A jazz playlist is a must, of course. Encourage a costume party with fringed dresses, glittery headpieces, and tuxedos. Temporarily convert your home into a speakeasy, with party guests saying the password to enter, or host it at an authentic speakeasy! At home, serve drinks standard at the time, like an Old Fashioned. Don't forget the party cups!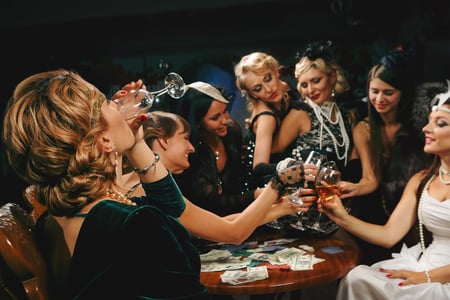 Photo credit: Oleg - stock.adobe.com
23. Nautical
If you're a sailor, a fan of watersports, or just love being out on the water, a nautical-themed birthday is for you. Use nautical theme decor featuring anchors and ocean waves to set the tone. Or kick it up a notch with a whimsical pirate theme. Serve seafood (or just shrimp cocktail) with rum-based drinks and refreshing mocktails.
24. "Way Back When"
As you approach 40, don't fight the urge to lean into nostalgia. Make it the theme of your party. Ask guests to come prepared with funny stories of the mischief you used to get up to together. Incorporate games from your youth and set the mood with table decor. If you go the costume party route, dress up as you did as a teen. Award prizes for the most committed, tacky, or trendy.
25. Favorite Franchise
Choose your favorite movie or TV series to inform the decor and activities. Have it running in the party's background as you play a trivia game. (Tip: sometimes it can be hard to gather everyone in front of the TV, so project the show or movie on a movie projector so everyone can see.) Don't forget to break out the popcorn and candy!
If you host the themed party at home, be prepared to clean up, too: shop cleaning supplies on Wish >
Join Up with Local Events
Hitch your 40th birthday party to a pre-existing local event or venue!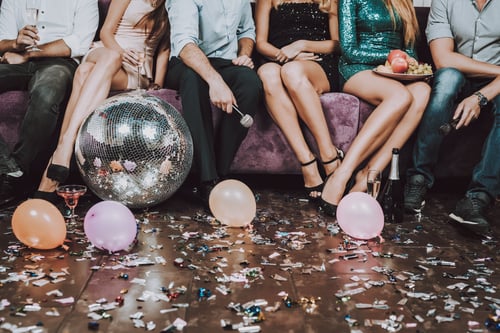 Photo credit: VadimGuzhva - stock.adobe.com
26. Hit the Clubs
If you and your friends have the energy, hit the clubs! Dance the night and your worries away. Spritz on some perfume or cologne, dress up, and enjoy yourself. For a guaranteed good time, see if there is an upcoming night of themed music from your teen years.
27. Local Festival
Let a food truck festival, craft fair, or other local festival help you celebrate your 40th. With plenty of food, drinks, and entertainment, these events essentially plan the party for you. They're easy to walk around solo, but when going with a group, pick a place to congregate. Bring your own collapsible chairs at a large outdoor festival for this purpose. Tip: to keep the party going, you can always add this to another party idea, like brunch beforehand.
28. Rent Out a Venue
Renting a venue or room for your birthday ensures privacy, and it's perfect if your home doesn't have the space (or parking) to accommodate a party. Complete an online venue search for available party rooms, or choose an activity-based venue, like a movie theater. Get there early to decorate with a birthday banner! Inquire if the place supplies any food or drinks you need to bring. Tip: it's not a bad idea to post "Party This Way" signs outside the entrance if guests are unfamiliar with the area.
29. Escape Room
An escape room is the ultimate test of friendship or family bonds. Can you all work together to solve the clues? If you've got unbeatable problem-solving skills and love mysterious riddles, an escape room is the perfect birthday party challenge. Reward yourselves afterward (even if you lose) with birthday candy.
30. Tour a Local Distillery
For fans of distilled spirits, witnessing how the liquor is made is a great way to spend a 40th birthday. Enjoy the product, take some home, and see if they offer any special birthday packages, like providing a private room. It's the perfect occasion to wear a funny boozy shirt or to dress up, depending on the venue.
Thinking of going to an outdoor event for your 40th birthday? Keep your skin protected by shopping sunscreen on Wish >
Tips for Planning a Successful

40th Birthday Party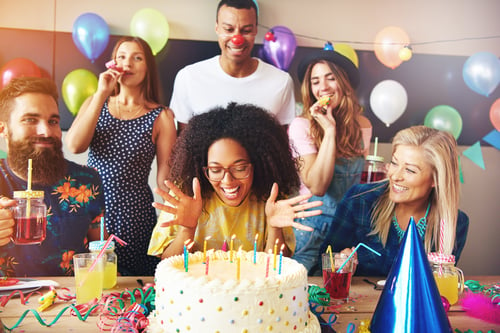 Photo credit: Flamingo Images - stock.adobe.com
Now that you have some initial 40th birthday party ideas, themes, and activities to center the party around, here are a few more tips to ensure a successful celebration.
Stay true to your personality when you're party planning. Introverts love a lowkey, intimate gathering, whereas going out dancing in a large group is a better fit for an extrovert. Even though turning 40 is a significant milestone, do not feel pressured to throw a specific type of party if it's not your idea of fun. Whichever kind of party you choose, guests are there to celebrate with you on your special day. The important thing is to create happy memories.
If you are planning the party on behalf of a loved one, remember to prioritize their likes and dislikes. That includes the food, drinks, invitation list, venue, activity, and party duration. Don't let a party guest with a more dominant personality take over at the expense of the person you're celebrating.
When considering how large of a party you should throw, prioritize invitations to those you really care about. Then consider the size-to-space ratio. Inviting too many guests to a small party venue won't end well! But a yard, porch, deck, or outdoor venue will accommodate more people.
Consider the budget, especially for outings and getaways. Will guests pay their own way? Are there affordable options for all guests?
Finally, gifts! When party guests ask what birthday gifts you'd like, be prepared to answer! Help guests by creating a wish list that includes items you really want. This list can serve as a gift guide if they need one.
Find Party Supplies Galore with Wish
No matter which theme or activity you choose, Wish is here to help you throw an unforgettable 40th birthday bash. Wish is your affordable ecommerce marketplace for party products, gifts, home goods, clothing, and more! Join the millions of online shoppers who make the most of Wish's competitive deals and worldwide reach. Download the Wish app to discover more!