11 Must-Have Items to Create the Perfect Play Space for Your Kids
We're back and here for the parents! Being at home with the kids must be quite the experience. But, really, how's it going?
Toys everywhere? What does the word routine even mean? Let's help you put out one fire.
How about creating a kid's corner which can be a designated play space or reading nook for them and them only?
We've created a list of all the essential Wish play space items that you need!
The List:
The Set-Up
Start creating a designated play space with a mini teepee and some chairs.
The chairs mean friends (even if it's just their favorite stuffed animal) are welcome and the teepee creates a space of their own.
Make It Comfy
When it's reading hour, make sure it's extra comfy and cozy.
A chair pillow is a wonderful back support for parents, while a letter pillow continues to make the space feel like their own.
Add Some Furry Friends
A kid's corner wouldn't be special unless furry friends came (real or make belief). We want to give you the real deal, so we asked Sobia, a real-life parent from the Wish team: what helps make playtime more independent?
Sobia said she gets her daughter into the "habit of including her stuffed animals and dolls in the activity." This can only encourage the kids to become more independent and spark some imagination.
In Case Nap Time Happens
We all know that playing can get wild, crazy and exhausting!
This can only mean one thing, a parent's most desired wish. As Sobia says, "I'm clutching for dear life to the best, most sacred moments of the day when my daughter is napping."
AND just in case, the blessed nap occurs in the playspace, make sure to have a plush rug and super soft blanket to ensure peace and quiet for a while.
Keep Everything in One Place
Lastly, to make sure this space doesn't turn into absolute and utter chaos, stay organized.
Use these small baskets and a small laundry hamper for tidy book, toy or craft storage.
A Whole New World
If setting up a play space or a kid's corner just is too much shopping and comparing what to get, this is a one-stop shop, the playhouse.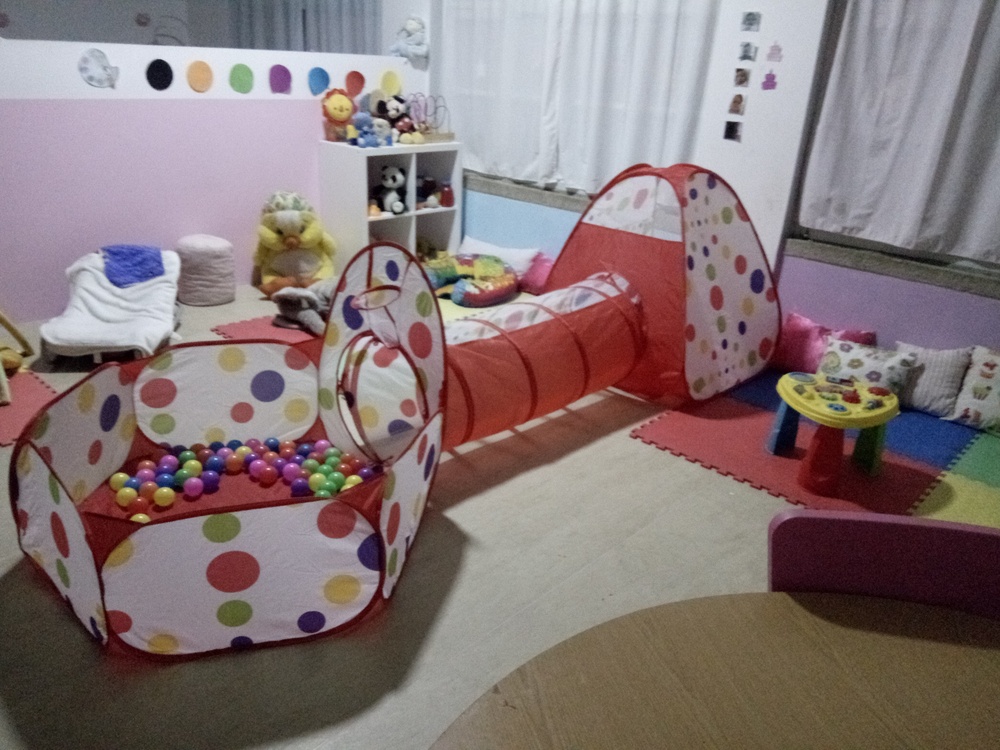 There's a tunnel, a mini basketball hoop, a tent and balls galore! What else could they ask for?
If you'd like some more inspiration on how to create the ideal kid's corner, check out this article, by Lolly Jane. She's created a magical reading corner and play space for her daughter.
The kids might have taken over the house at this point BUT remember there's always a solution. Create this special play space for your kids and let them own it. (Invites will be extended when necessary.)
Take time to remember that being at home is sacred, like Sobia says, "the plus side to staying at home has been us spending a lot of quality time together, whether that be through activities, cooking and baking or catching up on TV shows."
If you need some more tips on how to keep the kiddos out of trouble, head over here.