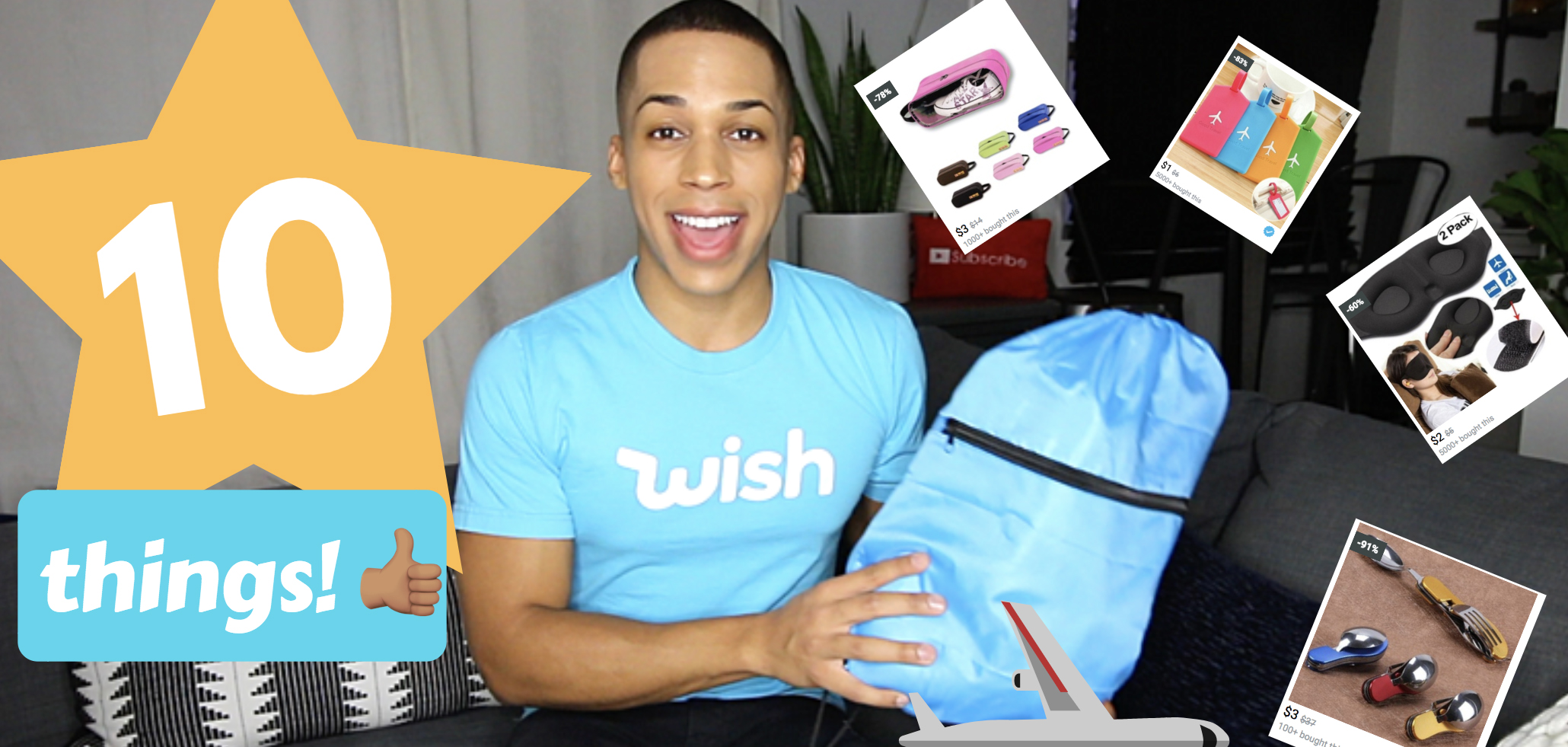 Senny Dey, flight attendant and YouTuber, recently posted this video of 10 must-have items for traveling (also recommended for flight attendants)! Be sure to read on to hear about what and who inspires him and his advice for shopping like a pro on the Wish App.
https://youtu.be/JITRo2NPyWY
Q: Tell us a little about yourself. What are you doing now and where do you come from?
A: Earlier this year, I became a flight attendant for a major airline in the US. I grew up in the Midwest near Chicago, but since then I've moved to Dallas, New York, and now I live in Los Angeles. Having such a love for experiencing new scenery, I guess you can say it was natural that flight attending chose me!
Q: How did you start your channel?
A: Whenever I was curious about a product, I would turn to YouTube to search for reviews. A lot of the videos out there were less-than-great quality or were too long, didn't answer all the questions that I had, etc. I've always been pretty tech-savvy, and having studied acting before, I missed the feeling of making a connection through the camera. I kept thinking, "if I made a review, this is how I'd do it." So then I did it. Once I was hired as a flight attendant, I decided to take my channel in that direction by focusing on creating video-blogs to help other people.
Q: Why do you enjoy shopping on Wish?
A: I like shopping on Wish because the prices are fair, and they have so many interesting finds. Plus, who doesn't love the feeling of getting a package in the mail? It's always exciting to guess which item has arrived.
Q: What is something that your audience doesn't already know about you?
A: One of my guilty pleasures is watching reality TV baking/cooking show competitions—yet I hardly ever cook, myself. It's my goal to sign up for a class at some point this year!
Q: What's the hardest lesson you've had to learn from developing your channel?
A: When developing a channel you have to wear so many hats—it isn't about just recording and uploading. You're in charge of directing, lighting, audio, set design, editing, graphics... and then you need to have the right on-camera presence and energy. It's a lot of work, but I love creating so it's a labor of love.
Q: If you could do a video with any other YouTuber who would you choose and why?
A: I would definitely have to say Issa Rae. She is a boss! I've followed her journey from when she began on YouTube creating skits, to producing and acting in her own successful TV show on HBO and starting a production company. She's definitely someone who I look up to. I actually ran into her recently out in West Hollywood and I could barely speak. It was pretty embarrassing, but she was cool about it.
Q: Best advice for people shopping on Wish?
A: Read the reviews! Well, whichever ones are in the language you speak. Also, look for items where customers have uploaded their own personal images. That gives you a more realistic idea of what things look like in person. Buy things that you want but don't need immediately, because shipping can take a little time. Most importantly, have fun!